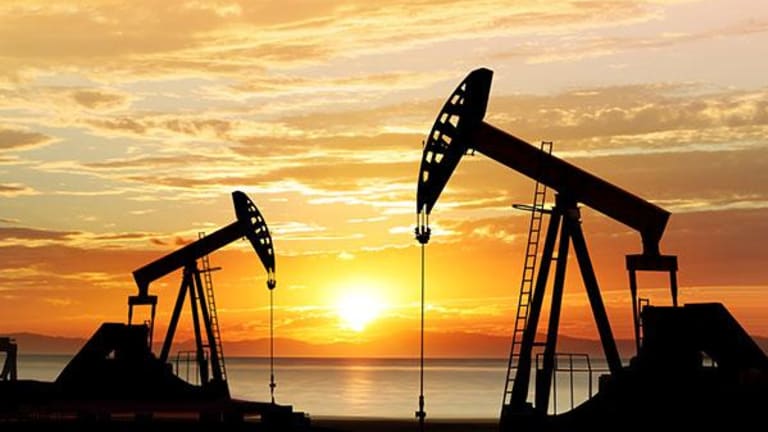 Stocks Close Mixed as Crude Enjoys Best Weekly Gain Since April
Stocks ended the day mixed, coming off of the worst of the session's lows, after another increase in crude prices gave oil the best weekly close since April.
Stocks ended the day mixed, coming off of the worst of the session's lows, after another increase in crude prices gave oil the best weekly close since April.
The S&P 500 was down 0.09%, the Dow Jones Industrial Average slid 0.21%, and the Nasdaq added 0.09%. The Nasdaq hit a new record close on Friday, while the S&P 500 and Dow's slight losses kept them within range of their own highs achieved a day earlier.
Crude oil prices ended the week with hefty gains, climbing 6.4% over the past five days. An oil rally continued through the afternoon, undeterred by the latest data that showed rising rig activity in the U.S. for the seventh straight week. The number of active U.S. rigs drilling for oil increased by 15 to 396, according to Baker Hughes data.
West Texas Intermediate, the U.S. benchmark, rose 2.67% to $44.67 a barrel on Friday, ending the day at three-week highs. Its weekly gains were its best since the week of April 8. 
A massive rally in crude oil and better-than-expected quarterly performance from the retail space helped to drive the S&P 500 to new highs on Thursday. The S&P 500 closed at 2,185.78, a new record high which beat Friday's record by just a few points. The Nasdaq and Dow also closed at new record highs. It was the first time since 1999 that all benchmark indices closed at records at once.
U.S. retail sales were flat in July, a disappointing read after three months of growth. Analysts had expected sales to climb by 0.4% in July after a revised-upwards reading of 0.8% in June. Auto sales were the biggest driver, climbing 1.1% in July, its strongest move since April. Excluding auto sales, retail sales fell 0.3%, well below analysts' estimates of 0.1% growth.
"Retail sales started the third quarter of the year weak, with a flat reading compared to June," Wells Fargo analysts wrote in a note. "Once again, the biggest negative in July was a 2.7% decline in gasoline station sales, more than reversing the 2.2% increase recorded in June."
Producer prices also came in weaker than expected in July as inflation pressures from energy prices continued. The U.S. producer price index fell 0.4% last month compared to an expected 0.1% increase. Excluding food and energy, producer prices came in flat.
"This data shows the U.S. economic recovery is still not firing on all cylinders and gives the [Federal Reserve] two more reasons to continue to hold interest rates at their current levels," said Chris Gaffney, president of world markets at EverBank. "Consumers typically drive the economic recovery, and U.S. consumers look to be tightening up their purse strings in reaction to global uncertainties including Brexit and the upcoming U.S. elections."
Consumer sentiment in August remained elevated, though did not reach the levels analysts expected, according to a preliminary reading from the University of Michigan. The consumer sentiment index increased to 90.4 in August compared to a final reading of 90 in July. Analysts expected the measure to increase to 91.5.
In earnings news, Nordstrom (JWN) - Get Free Report jumped 8% after reporting a better-than-expected second quarter. Earnings of 67 cents a share beat by 11 cents, while revenue fell 1.4% to $3.65 billion, largely in line with consensus.
Planet Fitness (PLNT) - Get Free Report exceeded analysts' estimates on its top and bottom line over the recent quarter. The gym chain earned 17 cents a share on revenue of $91.47 million, nearly 16% higher than a year earlier. Analysts expected earnings of 15 cents a share on revenue of $85 million. Shares rose 10%.
Graphics chipmaker Nvidia (NVDA) - Get Free Reportreported strong earnings on Thursday. The company earned 53 cents a share, breezing past estimates of 37 cents a share. Revenue of $1.43 billion exceeded expectations of $1.35 billion. The company also raised its earnings estimates for the next quarter. Shares were up nearly 6%.
J.C. Penney (JCP) - Get Free Report was up 6% after narrowing its quarterly loss and affirming positive adjusted earnings for the full year. The retailer narrowed its per-share loss to 18 cents, less than a loss of 38 cents a share a year earlier. An adjusted per-share loss of 5 cents was better than an expected loss of 14 cents. Same-store sales increased 2.2%, lower than consensus of 2.4% growth.