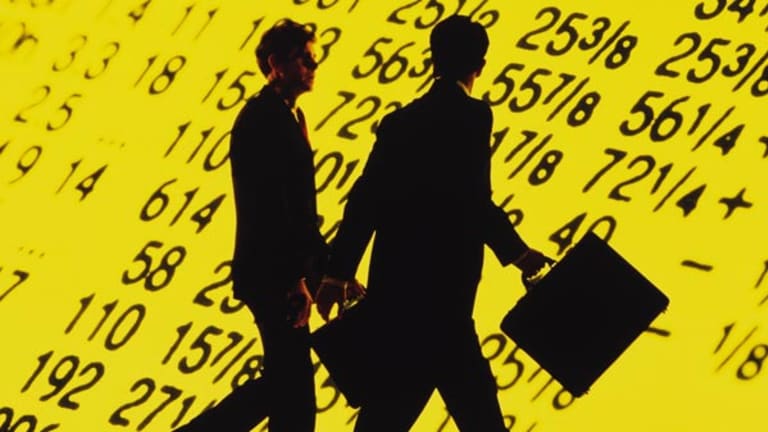 Publish date:
Stocks Close Lower on Recovery Woes
Stocks finished lower Tuesday as energy stocks slumped and concerns about the pace of economic recovery lingered. Gregg Greenberg has The Real Story.
Stocks finished lower Tuesday as energy stocks slumped and concerns about the pace of economic recovery lingered. Gregg Greenberg has The Real Story.
NEW YORK (
) -- The
Dow
suffered a triple-digit loss by the closing bell Tuesday, as lingering concerns about the pace of economic recovery, both at home and abroad, weighed on stocks all day.
The Dow Jones Industrial Average finished lower by 104 points, or 1%, to 10,286. The
S&P 500
fell off by 11 points, or 1%, to 1092 and the
Nasdaq
slid 17 points, or 0.8% to 2173.
Energy stocks saw some of the steepest declines today, with the NYSE Arca Oil Index, Philadelphia Oil Service Sector Index and NYSE Energy Index slumping 1.9%, 2.5% and 2%, respectively.
> > See 5 Stocks with Room to Run
Recovery-related worries and dollar strength pressured oil prices. The January crude contract settled at $72.62 a barrel after losing $1.31. Dow components
Exxon Mobil
(XOM) - Get Report
and
Chevron
(CVX) - Get Report
retreated 1.1% and 1.8% each.
After the market close,
Texas Instruments
(TXN) - Get Report
increased its fourth-quarter guidance in a mid-quarter update. The chipmaker offered an earnings range of 47 cents to 51 cents a share compared to a previous outlook of 42 cents to 50 cents a share. Revenue is forecast at $2.9 billion to $3.02 billion vs. a prior view of $2.78 billion to $3.02 billion. Still, investors sent shares down by over 2% in the extended hours session.
The downbeat tone for the day was set early on. Global debt concerns curbed investors' appetites for risk after Moody's Investors Services docked its ratings on companies controlled by the Dubai government and Fitch Ratings lowered its credit rating on Greece. The Athens Stock Exchange was down by roughly 6% after Moody's delivered the one-step cut to BBB+, citing concerns about the country's ability to meet debt obligations.
Chip Hanlon, founder and president of Delta Global Advisors, said the fears about foreign debt issues are valid.
"When you start to get worries about sovereign debt and you have the makings for a powerful selloff, we'll see if it gets worse from here, but it could," Hanlon said.
Additionally pressuring international markets and heightening global recovery concerns was an unexpected slump in Germany's industrial production. The country's industrial output dropped 1.8% in October, marking the first decline in three months. Economists had been anticipating an increase of 1%.
"The world should question the return-to-growth thesis," Hanlon continued, speaking of the global economic recovery challenges. "We're not doing anything to fix structural economic challenges. We're just putting band-aids on this. Makes sense the market would worry about this at some time. If now is the time, so be it."
He added, "if I was a short term trader, I'd worry that this could gain steam. It should with these sorts of worries."
Overseas, Hong Kong's Hang Seng declined 1.2%, and Japan's Nikkei fell 0.3% despite the government's unveiling of its
$81 billion stimulus plan. The FTSE in London slid 1.7%, as was the DAX in Frankfurt.
President
unveiled a job growth plan in a speech to the Brookings Institute, but it had little impact on the market. The proposals for more spending on infrastructure, energy efficiency incentives and tax credits for actively hiring small businesses didn't veer from expectations. A portion of leftover funds from the Troubled Asset Relief Program will go toward to the cost of the plan -- although a final price tag wasn't specified.
Lawrence Mishel, president of the Economic Policy Institute, believes infrastructure investments hold the greatest promise for real job growth.
"The constellation of tax cuts aimed at small businesses seems to be a roundabout way of addressing the very real problem of credit availability for small and medium-sized firms," Mishel said. "I would prefer a new loan program that gives small businesses access to the credit they need to meet their specific needs, rather than less-targeted tax breaks."
The U.S. dollar continued to show strength against foreign currencies Tuesday afternoon, as the dollar index rose 0.6%. Gold prices continued on their downward course with the most actively traded February contract settling at $1,143.40 an ounce, down by $20.60.
Unemployment and tight credit conditions remain significant hurdles to economic recovery, as emphasized by banking analyst Meredith Whitney in a morning appearance on
CNBC
. The analyst expressed bearishness toward the financial sector, which has been closely watched by the market for signs of
TARP payment plans.
On the corporate news front, shares of
McDonald's
(MCD) - Get Report
lost more than 2% after the the Dow component reported
weak domestic sales for November.
Another blue chip that was weighing on investor sentiment was
3M
(MMM) - Get Report
, which issued a
for 2010. The stock slipped over 1% by the closing bell.
Also,
Kroger
(KR) - Get Report
was a big mover after the supermarket operator disappointed Wall Street with its
third-quarter results and reduced year-end earnings expectations. Its stock slipped nearly 12%.
FedEx
(FDX) - Get Report
, however, was a bright spot as the Memphis-based package delivery company said after Monday's closing bell that it is seeing
improved shipping volumes. The company raised guidance for its just-ended second quarter and shares closed Tuesday higher by 2.7%.
-- Written by Melinda Peer and Sung Moss in New York
.