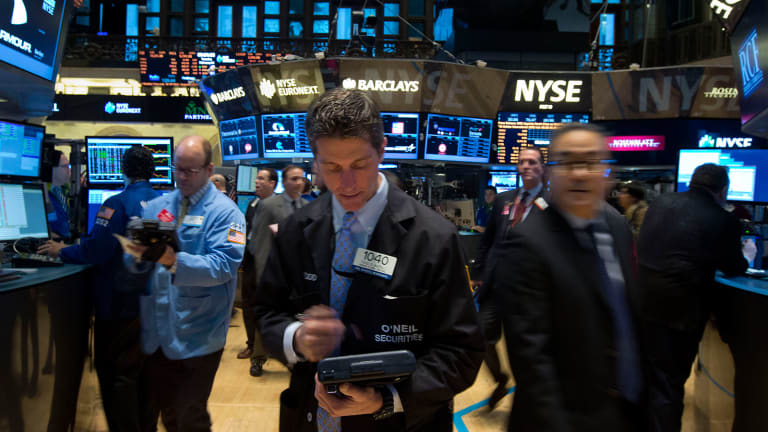 Stocks Close Lower, Led by Retail and Energy Shares
Stocks had another lackluster day, with lower oil prices and a troubled retail sector giving the market little reason to move higher.
Stocks had another lackluster day, with lower oil prices and a troubled retail sector giving the market little reason to move higher. 
The S&P 500 closed down 0.26%, Dow Jones Industrial Average fell 0.21%, and the Nasdaq declined 0.22%.
Macy's ( (M) - Get Macy's Inc Report ) shares fell more than 14% after the retailer reported lagging sales of winter clothing because of warmer weather and a decline in tourists visiting Macy's flagship store locations, said CEO Terry Lundgren.
Third-quarter revenue was nearly $5.9 billion, down from $6.2 billion a year earlier, marking the third straight quarter that sales have decreased. The company reported adjusted earnings of 56 cents a share, down from 61 cents a year earlier.
J.C. Penney (JCP) - Get J. C. Penney Company, Inc. Reportshares fell a little over 2% despite the company reaching an agreement to settle a class-action lawsuit in California over false advertising. This comes after the retailer's third-quarter same-store sales increased 6.4%, marking its best quarter since the first quarter of 2014.
Kohl's (KSS) - Get Kohl's Corporation Report  fell 5.6% as the market anticipates disappointing fiscal third-quarter earnings from the retailer on Thursday. Analysts estimated a year-over-year decline in earnings per share, but a slight increase in revenue.
Oil giant Exxon Mobil's (XOM) - Get Exxon Mobil Corporation Report  shares declined nearly 1%, while Chevron (CVX) - Get Chevron Corporation Report  fell more than 1%, and Marathon Oil (MRO) - Get Marathon Oil Corporation Report  took a 8.36% hit as lower oil prices pressured the sector.
According to the American Petroleum Institute, U.S. crude stockpiles increased 6.3 million barrels last week, which was more than expected. West Texas Intermediate crude fell 2.53% on Wednesday to $43.09 a barrel.
Anheuser Busch InBev (BUD) - Get Anheuser-Busch InBev SA/NV Report  finalized a $107 billion bid for SABMiller (SBMRY)  . A combination of the two companies would create the largest beer company in the world. Both AB InBev and SABMiller share rose over 2% to close the day.
Alibaba (BABA) - Get Alibaba Group Holding Ltd. Report  fell nearly 2% after reporting record profit on Singles Day, a big shopping holiday for singles. The company reported sales of $14.3 billion Wednesday, beating expectations and its prior-year record of $9.3 billion.
Kroger's (KR) - Get Kroger Co. Report  stock was down nearly 0.58% after it announced a deal to buy Midwest grocery store chain Roundy's (RNDY) . Roundy's rose about 64% on Wednesday.
Apache's (APA) - Get APA Corp. Report  stock continues to fall more than 7% after Anadarko Petroleum  (APC) - Get Anadarko Petroleum Corporation Report  withdrew an offer to buy the oil and gas company.
"We are unwilling to pursue the transaction without access to detailed non-public information, and based on our analysis, which shows that Apache appears to trade at or near full value currently, the offer was withdrawn," said Al Walker, Anadarko CEO, in a statement.
ADT (ADT) - Get ADT, Inc. Report  climbed more than 4% after the company reported quarterly profit of 48 cents a share, exceeding estimates.
Lastly, Cisco Systems  (CSCO) - Get Cisco Systems, Inc. Report  is expected to report earnings Thursday. The company is estimated to report 51 cents per share, up from the 48 cents per share reported a year earlier. 
The bond market was closed Wednesday for Veterans Day and limited economic data was released.