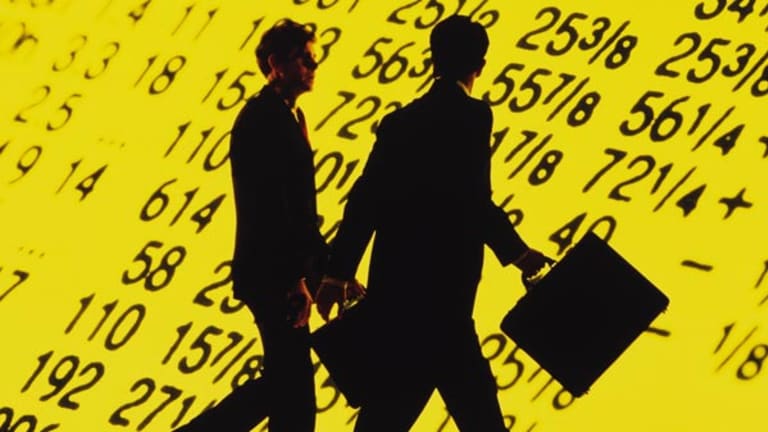 Stocks Close Lower; Financials Strong
Stocks edged lower at the close, despite strength in financials and a big deal from Schlumberger. Gregg Greenberg has The Real Story.
NEW YORK (
) -- Stocks closed to the downside Monday, despite gains across the financial sector.
The
Dow Jones Industrial Average
finished lower by 19 points, or 0.2% at 10,383. The
fell 1 point, or 0.1%, to 1108 and the
Nasdaq
shed 2 points, or 0.1%, to 2242.
>>Bulls Take TheStreet's Market Sentiment Poll
Financials were the best performing stocks with
JPMorgan Chase
(JPM) - Get Free Report
and
Bank of America
(BAC) - Get Free Report
topping the Dow.
Earlier, a federal judge accepted a
settlement between Bank of America and the
Securities and Exchange Commission
. The SEC felt the bank didn't provide shareholders with enough information leading up to its acquisition of Merrill Lynch. The stock traded 2.1% higher.
New credit card rules designed to protect consumers also went into effect Monday. Although Bank of America,
Citigroup
(C) - Get Free Report
and JPMorgan have warned they could lose upwards of $400 million in annual revenue as a result of the CARD Act, the new legislation will likely lower the risk attached to banks' credit card businesses.
Volume on the Dow was light at 158 million, compared with an average volume of 200 million.
Investors may be holding back until later in the week, when the market will get a clearer read on the recovery both with several economic releases and with
Chairman
Ben Bernanke's semi-annual testimony on the monetary report on Wednesday and Thursday before House and Senate financial committees.
Although Bernanke's testimony will be the same for both appearances, separate question-and-answer sessions will keep the market watching both days, according to Joseph LaVorgna, chief U.S. economist at Deutsche Bank.
"We expect Mr. Bernanke to reiterate the point that he made in testimony prior to the recent 50 basis point increase in the discount rate which emphasized that a larger 'penalty rate' at the discount window was not intended to reflect a tightening of monetary policy but rather a normalization of the Fed's emergency lending provisions," LaVorgna said.
Obama pushed ahead with his goal to improve health care with the unveiling of a revised plan that increases tax cuts to lower-income workers, expands tax credits to small businesses and seeks to
limit rate increases by health insurers.
Health care provider stocks, however, didn't react to the news.
Humana's
(HUM) - Get Free Report
stock gained 5.6%,
UnitedHealth Group
(UNH) - Get Free Report
added 2.8% and
WellPoint
(WLP)
rose 1.4%.
Schlumberger
(SLB) - Get Free Report
agreed to buy
Smith International
(SII)
in a deal valued at roughly $11 billion. Schlumberger shares declined 3.7%. Smith shares, meanwhile, surged 7.1%.
Competition in the movie rental business is heating up with
Wal-Mart
(WMT) - Get Free Report
getting into the ring with
Netflix
(NFLX) - Get Free Report
and
Blockbuster
(BBI) - Get Free Report
. The retailer announced it is buying online movie service
Vudu
, according to a report in the
New York Times
.
In earnings news,
Campbell Soup
(CPB) - Get Free Report
reported an 11% increase in second-quarter profits and revenue that was 1% higher. An 8% dip in U.S. soup sales, however, has prompted the company to make improvements to its condensed soup business. Shares shed 1.3%.
Constellation Energy
(CEG)
posted a better-than-expected fourth-quarter profit. The stock traded 0.6% higher.
Shares of home improvement retailer
Lowe's
(LOW) - Get Free Report
fell 0.3% after the company topped Wall Street estimates but issued first-quarter guidance that was below expectations.
"We believe that the long-term outlook of the home improvement industry is favorable despite near-term weakness given rising home ownership and the aging of the U.S. housing stock," said Citi analyst Deborah Weinswig, who rates Lowe's stock hold/medium risk.
"Our hold rating is based on our expectation for weak same-store sales, expense deleverage, and slowing earnings per share growth due to a difficult housing market and slowdown in consumer spending. Additionally, we believe the competitive landscape is changing as
Home Depot
(HD) - Get Free Report
is becoming a more formidable competitor," said Weinswig, who is nonetheless positive on the company's long-term growth plans.
Home Depot, which reports fourth-quarter earnings on Tuesday, was among the Dow's top gainers with shares up 0.6%.
No economic releases were planned for Monday.
The greenback was trading lower against a basket of currencies, with the
dollar index down by a fraction.
In commodities markets,
for April delivery, the most actively traded contract on Nymex, gained 25 cents, or 0.3%, to settle at $80.31 a barrel, and the April
gold contract was down by $9, or 0.8%, settle at $1,113.10 an ounce.
The benchmark 10-year Treasury fell 5/32, lifting the yield to 3.794%.
-- Written by Melinda Peer in New York
.