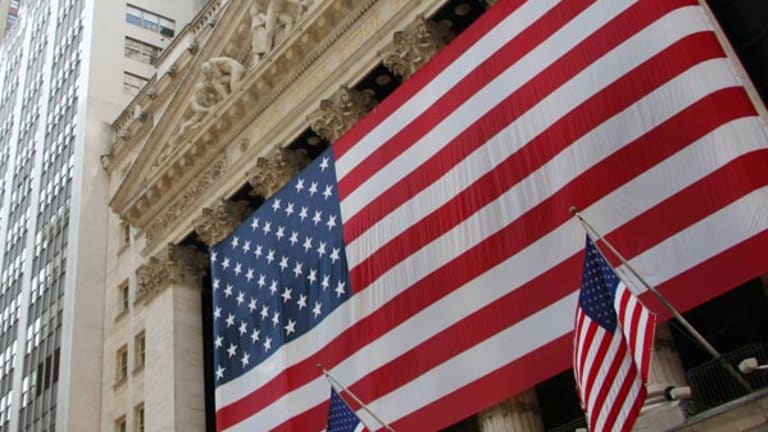 Publish date:
Stocks Close Lower Ahead of Greek Vote on Bailout
Greece's debt woes roiled global markets this week, and probably will do so again next week.
Greece's debt woes roiled global markets this week, and probably will do so again next week.
NEW YORK ( TheStreet) -- Greece's debt woes roiled global markets this week, and probably will do so again next week.  
On Thursday, stocks ended slightly lower ahead of the long holiday weekend (U.S. markets are closed Friday). Investors are awaiting Sunday's referendum in Greece, where citizens will decide whether to accept the latest bailout package, which includes new austerity measures.
The S&P 500 declined 0.03%, the Dow Jones Industrial Average lost 0.16%, and the Nasdaq fell 0.08% For the holiday-shortened week the S&P 500 lost 1.29%, the Dow fell 1.22%, the Nasdaq decreased 1.9%.
Negotiations between the debt-laden nation and its creditors have been halted, at least until after Sunday's vote. Polls show 47% of respondents voting "yes" while 43% voting "no."
Speaking on television Thursday, Greek Prime Minister Alexis Tsipras said, "We're certainly staying in Europe." But a vote against spending cuts in Sunday's vote could stifle future negotiations with European creditors, making the odds of a "Grexit" all the more likely.
"I think the market is probably underestimating the chance of a 'no' vote," Michael Ingram, a market analyst with BGC Partners, told TheStreet TV. "The vote on Sunday almost doesn't matter because it's essentially between a recession via a 'Grexit' or a depression by signing up for further austerity."
Meanwhile, investors took a break from worrying about Greece and shifted focus to Thursday's weak labor report. The economy added a tepid 223,000 jobs in June. Economists were expecting about 230,000 jobs to be added to payrolls.
The unemployment rate dropped to 5.3% from 5.5% in May. Average hourly wages remained unchanged during the month and are higher by 2% over the past year.
"The sizable drop in the unemployment rate was welcome - at least on the surface - but rather reflects a continued exodus of workers, with nearly half a million Americans saying, 'right now conditions in the U.S. labor market are so bad, I'm not going to bother looking for work,'" wrote Stifel Fixed Income chief economist Lindsey Piegza.
The jobs numbers for May were revised downward to 254,000 from a previously reported 280,000. April's figures were also lowered to 187,000 from 221,000.
Crude oil fell 0.63% to $56.60 a barrel. For the week ended June 26, natural gas in storage increased by 69 billion cubic feet, according to the Energy Information Administration. Plus, the number of U.S. oil rigs posted its first increase since December. As of July 2, 640 rigs were in operation.
Yelp (YELP) - Get Yelp Inc Report shares slumped 10%, after a  Bloomberg report surfaced citing sources who said the company is no longer looking for a buyer, for now. The report said the search may resume should CEO Jeremy Stoppelman have a change of heart.
Whole Foods (WFM) shares slumped 0.7%. Co-CEO John Mackey admitted overcharging customers after New York City's Department of Consumer Affairs found evidence of mislabeling on various prepackaged items.
BP (BP) - Get BP p.l.c. Sponsored ADR Report agreed to pay $18.7 billion in claims stemming from its 2010 Deepwater Horizon oil spill. The amount is payable over 18 years. Shares rose 5.3%.
Progress Software (PRGS) - Get Progress Software Corporation Report shares rose 5.8% after reporting earnings per share of 35 cents, beating estimates of 31 cents.
Xoom (XOOM) shares rose 21.4% after eBay's (EBAY) - Get eBay Inc. ReportPayPal unit agreed to buy the online money-transfer company for $890 million in cash.
Health Net (HNT) agreed to be acquired by Centene (CNC) - Get Centene Corporation Report in a cash-and-stock deal valued $6.3 billion. Shares of Health Net rose 10%, while Centene shares lost 8%.
Automaker Tesla (TSLA) - Get Tesla Inc Report delivered 11,507 Model S vehicles in the second quarter, good for a 52% jump from the same quarter last year. Shares increased 3.3%.
As for next week, investors await the minutes of the  Federal Reserve's June meeting, released on Wednesday and a speech by Fed Chair Janet Yellen on Friday.