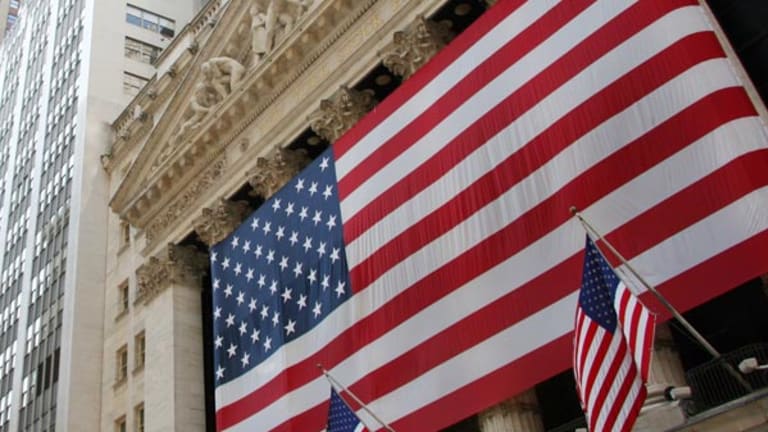 Stocks Close Lower After Debt Drama
They fall as Ford, GM go to junk at S&P.
Updated from 4:08 p.m. EDT
Blue chips stumbled Thursday as Standard & Poor's downgrade of
General Motors'
(GM)
and
Ford's
(F)
bonds to junk sent ripples through financial markets.
The
Dow Jones Industrial Average
, which had traded flat before the downgrade, ended down 44.26 points, or 0.43%, to 10,340.38. It was down more than 80 points earlier. The
dropped 3.02 points, or 0.26%, to 1172.63. The
Nasdaq Composite
lost 0.43 point, or 0.02%, to 1961.80.
Trading volume on the
New York Stock Exchange
was 1.98 billion shares, with advancers beating decliners by a 6-to-5 margin. Volume on the Nasdaq was 1.72 billion shares, with decliners matching advancers.
On Wednesday, the Dow gained more than 1.2% after Kirk Kerkorian offered to buy 28 million shares of GM for $31 apiece.
GM shares closed down $1.94, or 5.9%, to $30.86, giving back about one-third of yesterday's 18% run-up. Ford lost 46 cents, or 4.5%, to $9.70. The automakers have struggled all year with cutthroat worldwide competition and rising domestic costs; both issued draconian profit warnings prior to releasing first-quarter results.
S&P said the downgrades reflect inadequate measures on the part of the automakers' management to address their competitive problems. The rating agency specifically cited the possibility that their big-selling sports utility vehicles will be crimped by higher gasoline prices.
"The downgrade itself is not a total surprise," says Michael Sheldon, chief market strategist with Spencer Clarke LLC. "The only question really was to the timing of it. Previously, S&P had said it would listen to the company's turnaround story and would act accordingly. This sudden downgrade indicates that S&P wasn't impressed at all. The action today demonstrates that GM faces a tough road ahead.
"Ford is in the same boat: Both have adequate liquidity over the short term," adds Sheldon. "The downgrade to junk will raise their cost of funding over time, making it more difficult to raise money in the capital markets in the months and quarters ahead."
Treasuries bonds rose as traders sought a safe haven in fixed income. The 10-year Treasury note was recently up 5/32 to yield 4.16%. The dollar was lower against the yen and euro, and the June crude contract rose 70 cents to close at $50.83 a barrel in choppy trading.
S&P's action has big implications for corporate bond markets, where Ford and GM have $500 billion of debt outstanding. Many bond fund managers are prohibited from owning speculative-grade securities and will have to sell their positions in the automakers.
Economic data Thursday included a Labor Department report showing that first-quarter productivity rose 2.6%, almost a point better than expected. The report's unit-labor cost component rose 2.2%. The department also reported an 11,000-person jump in first-time jobless benefits last week, slightly larger than expected.
"The trend in productivity growth is slowing," said Ian Shepardson, chief economist with High Frequency Economics. "With compensation costs surging, this means unit labor costs -- now up 2.5% year over year, faster than core CPI inflation -- will rise even faster. Hence the
Fed's
determination to keep hiking."
Stronger sectors Thursday included energy, homebuilding and biotech. Weaker sectors included health care, industrials, airlines and utilities.
Trading had been tempered earlier ahead of Friday's report on April employment. Economists are currently expecting a 170,000-job addition to nonfarm payrolls. Earlier, job site Monster.com said online help-wanted ads rose at their slowest pace of the year last month.
"The market seems to have a generally negative tone at the moment, as it's taking bad news pretty badly," says Edgar Peters, chief investment officer with Pan Agora. "This negative sentiment seems like it'll take a while to work it's way out. Even if we get a positive reaction tomorrow to the payroll numbers, I think it'll be very short-lived."
"We've moved the range up, but we're still stuck," says Dave Briggs, head of equity trading with Federated. "Fundamentals over time will help the markets trade moderately better. In the meantime, we're stuck in this ugly, choppy trading."
Thursday saw the monthly deluge of retail sales reports from U.S. chain stores.
Wal-Mart
(WMT)
reported a 0.9% rise in companywide same-store sales in April from a year ago, reflecting a 4.9% jump at Sam's Club and a 0.1% increase at Wal-Mart Stores. The company put May same-store sales growth at 2% to 4%. Wal-Mart gained 12 cents, or 0.2%, to $48.57.
Starbucks
(SBUX)
rose on a 9% jump in April comps, slightly better than Wall Street forecasts. The coffee maker said overall monthly sales soared 23% from a year ago to $487 million. Starbucks added $1.63, or 3.2%, to end at $52.24.
Other retailers posting solid April same-store sales included
J.C. Penney
(JCP)
,
Costco
(COST)
,
American Eagle
undefined
and
Abercrombie & Fitch
(ANF)
.
Brokerages Wachovia and Prudential both downgraded
Aeropostale
undefined
to market perform from outperform and to underweight from neutral, respectively, after the retailer reported that April same-store sales fell 5.7%, compared with an increase of 19.3% a year ago. Aeropostale did reaffirm its first-quarter earnings forecast of 15 cents a share. The stock dropped $1.11, or 3.9%, to close at $27.12.
Retailers reporting a decline in same-store sales for the month were
Dillard's
(DDS)
,
Pacific Sunwear
undefined
and
Limited Brands
(LTD)
.
Shares of
Merck
(MRK)
lost 18 cents, or 0.5%, to $34.75 after the drugmaker announced Richard Clark will take over immediately as chief executive officer and president, succeeding Raymond Gilmartin.
IBM
(IBM)
late Wednesday set plans for up to 13,000 job cuts, mostly in Europe. The technology titan expects to record a charge of up to $1.7 billion to cover both voluntary separations and layoffs. Shares of IBM fell $1.58, or 2%, to $75.50.
In earnings news, video chain
Blockbuster
(BBI)
posted a loss of $57.5 million, or 31 cents a share, in the first quarter, on a 3% rise in sales from a year ago to $1.55 billion. Its adjusted loss of 23 cents a share was 5 cents better than expected. Blockbuster ended down 27 cents, or 2.6%, to $10.03.
Gillette's
(G)
quarterly profit was $449 million, or 45 cents a share, up from $376 million, or 37 cents a share, a year earlier. The company, which agreed in January to be acquired by
Procter & Gamble
(PG)
, attributed the rise in profit to extra shipping days compared with the year-earlier period. On average, analysts expected Gillette to earn 43 cents a share, according to Thomson First Call. Shares lost 43 cents, or 0.8%, to $52.42.
MCI
undefined
, which agreed to be bought by
Verizon
(VZ)
earlier this week, posted an unexpected loss for the first quarter due to higher taxes. MCI reported a net loss of $2 million, or a penny a share, compared with a loss of $388 million, or $1.19 a share, a year ago. Revenue in the quarter fell 12% to $4.8 billion. Analysts had expected the company to post earnings of 14 cents a share on revenue of $4.8 billion, according to Thomson First Call. MCI added 21 cents, or 0.8%, to $25.50.
Energy company
TXU
undefined
reported first-quarter net income of $416 million, up from $173 million in the same quarter a year ago. The company, however, posted a loss of 19 cents a share due to a charge related to an accelerated stock repurchase. Excluding items, first quarter earnings would have been $246 million, $1.01 a share, matching the Thomson First Call consensus. Shares of TXU fell $3.32, or 4%, to $79.10.
FindWhat.com
undefined
posted lower quarterly profit of $3.2 million, or 10 cents a share, down from $3.8 million, or 16 cents a share, from a year ago. The online company blamed the lower profit on rising expenses related to acquisitions. Analysts had expected the company to post a profit of 14 cents a share, according to Thomson First Call. The company also forecast second-quarter and full-year revenue well below analysts' projections. Shares tumbled $1.33, or 21.6%, to close at $4.83.
Overseas markets were higher, with London's FTSE 100 adding 0.5% to 4906 and Germany's Xetra DAX gaining 0.8% to 4299. In Asia, Japan's markets were closed for a third straight day as part of the Golden Week holiday.
To view Aaron Task's take on today's market,
click here.