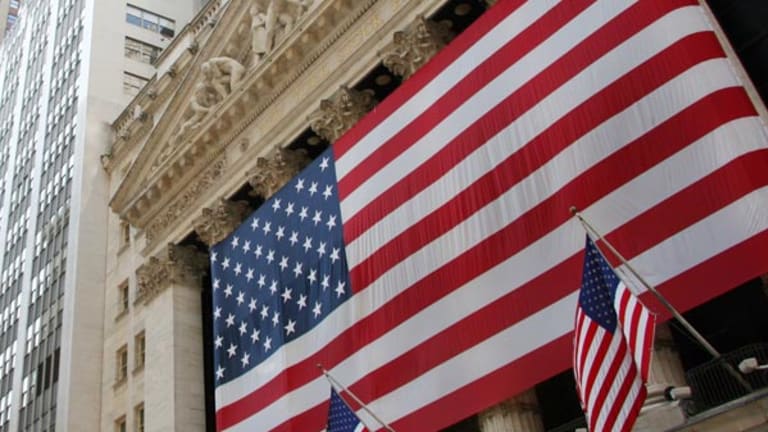 Stocks Close Little Changed
The major averages end with gains for the week.
Updated from 4:09 p.m. EDT
Stocks closed Friday little changed from their opening levels as afternoon gains for the major averages slipped away by the close.
Equities started the day stronger after the U.S. government's jobs report for April came in above expectations, but then pulled back around midday before moving higher again.
For the day, the
Dow Jones Industrial Average
rose 5.02 points, or 0.05%, to 10,345.40, falling from its intraday high of 10,400.60 during the last hour of trading. The
fell 0.75 point, or 0.06%, to 1171.35, and the
Nasdaq Composite
was higher by 5.55 points, or 0.28%, at 1967.35. For the week the Nasdaq added 2.4%, the S&P 500 rose 1.2%, and the Dow gained 1.5%.
"The employment report was stellar, but the offset is that the Fed is back in the equation," said Barry Hyman, equity market strategist with Ehrenkrantz King Nussbaum. "The presumption of the market rally was that in the face of a slowing economy the Fed would be done sooner than later, which is good for the second half of the year.
"Now we're back in a conundrum," he added. "It's a problem when the market doesn't reward good news, like today, and is always concentrated on the next data point or concern, in this case inflation."
Trading volume on the
New York Stock Exchange
was 1.70 billion shares, with advancers matching decliners. Volume on the Nasdaq was 1.51 billion shares. Advancers and decliners were essentially even on both.
In other markets, the 10-year Treasury was down 25/32 in price to yield 4.26%, while the dollar rose against the yen and euro. Oil was higher, finishing up 13 cents to $50.96 a barrel, having briefly topped $52 a barrel earlier. The June crude contract, which posted its third consecutive up session on the Nymex, gained 2.5% for the week.
The Labor Department said that nonfarm payrolls grew by 274,000 in April and that the unemployment rate held steady at 5.2%. The payroll figure beat economists' forecasts by about 100,000. March nonfarm payrolls were revised higher by 36,000.
"This report is very strong across the board and we haven't been able to say that for some time," said Ian Shepardson, chief economist with High Frequency Economics. "The real test now is how May and June hold up in the face of the oil price spike. We see no evidence of Easter distortions in the data."
"I think it's very encouraging but I believe it's not sustainable," said Richard Yamarone, chief economist with Argus Research. "The economy is clearly in a soft patch. Businesses just don't go out on a hiring spree with these economic conditions. Ultimately, I wouldn't put too much confidence in this one number. All of the other economic data we've received has tended to be negative, as opposed to this one positive report."
Stronger sectors Friday included energy, software, tech and materials. Weaker ones included retail, drug and airlines.
Markets were buffeted Thursday by S&P debt downgrades for
General Motors
(GM)
and
Ford
(F)
to junk status. Shares of both fell as much as 5% Thursday afternoon as concerns grew about borrowing costs and the impact on junk-bond markets.
GM finished Friday's session at $30.76, up 10 cents, or 0.3%.
General Electric
(GE)
said Friday that it will restate some financial results back to 2001, which will result in an earnings increase of $381 million. The correction will also restate GE's previously reported first-quarter earnings lower by a penny, to 37 cents a share instead of its previously reported 38 cents.
Separately, the company reaffirmed its 2005 EPS guidance of $1.78 to $1.83 and raised estimates for second-quarter earnings to between 43 cents and 45 cents a share. The Thomson First Call consensus calls for second-quarter EPS of 45 cents and full-year profit of $1.82 a share.
GE also said Friday that its Insurance Solutions unit will sell insurer Medical Protective to National Indemnity, a unit of Warren Buffett's insurance holding company
Berkshire Hathaway
(BRK.A)
. Terms of the deal were not disclosed. Shares of GE ended unchanged at $35.85.
Brocade Communications
(BRCD)
on Friday said it would buy privately held software company
Therion Software
for $9.3 million in cash. Brocade expects to record a charge of $7 million to $10 million in the fiscal third quarter as a result. Shares rose 15 cents, or 3.6%, to $4.33.
In earnings news,
Pixar
undefined
reported first-quarter net income of 67 cents a share, compared with 23 cents a share a year ago. Pixar posted revenue of $161.2 million, compared with $53.8 million in the first quarter of 2004. Analysts expected earnings of 47 cents and revenue of $117.5 million, according to Thomson First Call. Pixar added $2.43, or 5.2%, to $48.70.
Shares of
Revlon
(REV)
tumbled after the company reported a narrower loss but still missed expectations. Revlon posted a first-quarter loss of $46.8 million, or 13 cents a share, from $58.2 million, or 63 cents a share, a year ago. Analysts expected the company to post a loss of 7 cents a share, according to Thomson First Call. Shares dropped 33 cents, or 10.2%, to $2.89.
Video game maker
Activision
(ATVI)
reported earnings of $3.6 million, or 2 cents a share, compared with earnings of $6.7 million, or 3 cents a share, a year earlier. Quarterly revenue rose to $203.9 million from $162.9 million the year before. Results beat Wall Street estimates. Looking ahead, the company said it expects a loss of 3 cents a share on revenue of $200 million in the first quarter of 2006. Analysts expect a profit of 2 cents a share on revenue of $220.7 million. The stock gained 88 cents, or 5.8%, to $15.91.
Coinstar
(CSTR)
after the bell Thursday reported first-quarter net income of $4.67 million, or 18 cents a share, compared with $4.61 million, or 21 cents a share, a year earlier. Revenue in the quarter rose to $105.6 million from $43.1 million last year. Analysts expected earnings of 21 cents a share, according to Thomson First Call. The company offered a second-quarter earnings forecast of 17 cents to 23 cents a share on revenue of $109 million to $115 million. The Thomson First Call consensus is for second-quarter EPS of 25 cents. Coinstar lost $1.39, or 7.3%, to $17.53.
After the bell Thursday,
UTStarcom
(UTSI)
set plans to fire 1,400 workers after warning of a steep sales slowdown in China. The wireless-equipment maker cited a projected drop in sales of its personal wireless access systems in China. The firings would reduce staffing by 17%. UTStarcom says it expects restructuring and other charges to lead to a loss of as much as 80 cents a share on sales of $740 million in the current quarter. Analysts expect a 19-cent profit on $847 million in revenue. Shares plummeted $3.21, or 30.7%, to $7.24.
Among brokerage actions, Wachovia downgraded shares of
Limited Brands
(LTD)
to underperform from market perform, one day after the retailer reported disappointing April same-store sales. Shares fell 75 cents, or 3.4%, to $20.96.
Brokerage firm Raymond James upgraded
CVS
(CVS)
to outperform from market perform, citing a better outlook for 2006. The firm believes that CVS will benefit from an estimated $23 billion in branded patent expirations in late 2005 and 2006. CVS dipped 24 cents, or 0.4%, to $53.66.
Raymond James also downgraded
FLYi
undefined
to underperform from market perform, citing disappointing quarterly results and concerns that the air carrier may file for bankruptcy. The company, which last year transformed from regional carrier to a discount airline, said Thursday it lost $105 million, or $2.28 a share for the first quarter of 2005. A year earlier, it posted a profit of $3.6 million, or 8 cents a share. Shares of FLYi lost 6 cents, or 7.2%, to 77 cents.(
For Aaron Task's take on the market today and this week, please click here for a video presentation.
)