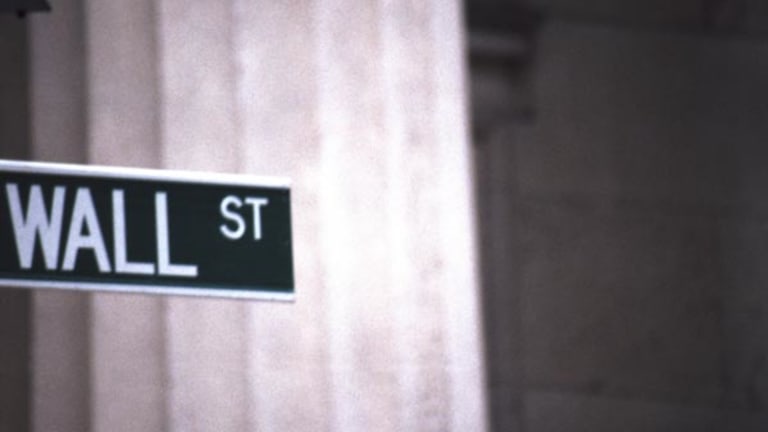 Stocks Close in High Spirits
After a choppy session, the major averages end at or near their highs of the day.
Updated from 4:11 p.m. EDT
Wall Street endured choppy conditions Wednesday while traders dealt with a raft of news on energy and the economy, but stocks closed at or near their session highs.
The
Dow Jones Industrial Average
added 68.78 points, or 0.66%, to 10,481.60, while the
S&P 500
was up 11.92 points, or 0.99%, at 1220.33. The
Nasdaq
gained 22.33 points, or 1.05%, at 2152.09. The 10-year Treasury was up 20/32 in price to yield 4.01%, while the dollar fell against the yen and the euro.
About 1.78 billion shares changed hands on the
New York Stock Exchange
, with advancers beating decliners by a 3-to-1 margin. Trading volume on the Nasdaq was 1.66 billion shares, with two stocks rising for every one that fell.
For August, the Dow lost 1.49%, the S&P 500 fell 1.12%, and the Nasdaq dropped 1.49%.
Oil futures rose back above $70 a barrel overnight as concerns grew over the shutdown of eight major refineries in the Louisiana and Mississippi region following Hurricane Katrina. The damage to refineries, which could take weeks to repair, sent unleaded gasoline futures surging 20% on Tuesday.
October crude fell 87 cents to finish at $68.94 a barrel. In response to the disruptions caused by the hurricane, Energy Secretary Sam Bodman said the U.S. will access the strategic petroleum reserve to fight supply constraints.
"We view this as only a short-term fix," said Barry Hyman, an economist with Ehrenkrantz King Nussbaum "Likely longer-term deteriorating economic conditions require a longer-term fix."
Meanwhile, the Energy Department said crude oil inventories fell by 1.52 million barrels, according to its latest weekly data. Analysts expected growth of about 1 million barrels. Gasoline stores fell by 508,000 barrels, less than expected, and distillate stocks rose by 2.75 million, greater than the consensus forecast.
Two days after the fact, the extent of Katrina's wrath continues to overwhelm both rescue efforts and damage assessments along the Gulf Coast. In New Orleans, efforts to plug a leaking levee failed overnight, and the city of a half-million people continues to take on water. It could be three days before the tide finally recedes.
Anthony M. Santomero, the president of the Federal Reserve Bank of Philadelphia, said in a speech that he believes the "U.S. economy remains on a path of sustained expansion" and that he expects real GDP to grow at a rate of 3.5% to 4% in 2005.
He also addressed the effect of Katrina, saying rising "energy prices, the infrastructure disruption recently experienced in the Gulf of Mexico, and price adjustments in the housing market could affect the pace of growth. Given this scenario, we at the
Federal Reserve
will do our part to help sustain that growth by pursuing a monetary policy that preserves price stability for the long term."
Santomero said if the economy "evolves as I expect, it is likely that we can continue to move the federal funds rate toward neutrality at what we have described as a measured pace, steadily converging to a level of interest rates that supports the current expansion into 2006 and beyond."
Back along the Gulf Coast, no reliable death toll exists as rescuers continue efforts to locate and save people who were unable to flee New Orleans prior to Katrina's arrival Monday morning. Officials have ordered everyone still in the city to leave it, including thousands holed up at the Superdome.
From an economic perspective, gasoline prices continue to be the main pressure point, with the cash market prices for unleaded going above $3 a gallon on Tuesday. In Nymex trading, September futures finished up another 14 cents to $2.61 a gallon.
The release of crude reserves will do little to ease the pressure on gasoline prices, which have soared because of eight refinery shutdowns along Katrina's path. With the price of a gallon above $3 in some areas, economists are growing concerned about the possibility of recession.
"The rise in the energy complex and the ramifications of that should be considered serious to economic growth going forward," said Hyman. "Given this catastrophe, which exacerbates things, it is going to make consumers make choices
about their spending patterns. It's not just from the New Orleans devastation, either. We may see corporations start passing along the cost. The economy may need liquidity and stimulus."
Hyman suggested the Fed should ease off further interest rate hikes in the near future.
"That would be a strong and clear message to the markets and investors that this mature economic recovery, now three years old, could be maintained a bit longer," he said. "An aggressive Fed policy change is needed, or recession will become a media buzzword real fast."
Regarding the overall economy, the Commerce Department said Wednesday that second-quarter GDP was revised to 3.3% from the first reading last month of 3.4%. Economists expected growth to remain at the 3.4% annual rate posted in the advance report.
Also, the National Association of Purchasing Management's Chicago branch said the August reading for its purchasing managers index came in at 49.2, much lower than economists' expectations of a drop to 61.0.
On Thursday, the economic docket will be full, including ISM data for July, personal income and spending for July, last week's initial jobless claims, and auto sales for August.
Hurricane Katrina's sole beneficiary has been the oil sector. Since its Friday close, the Amex Oil Index is up 6.5%, while
Halliburton
(HAL) - Get Halliburton Company Report
shares have added 8.8%;
ConocoPhillips
(COP) - Get ConocoPhillips Report
is up 6.7%; and
Valero
(VLO) - Get Valero Energy Corporation Report
has gained 19.1%.
The price of crude is up roughly 4% over the same period.
Harrah's Entertainment
(HET)
said after Tuesday's close that its Grand Casino in Biloxi, Miss., and its Grand Casino in Gulfport, Miss., have suffered extensive damage due to Hurricane Katrina, closing both for a minimum of four weeks. During the time they both remained closed, Harrah's estimates that its uninsured operating loss will be 0.5% of its annual earnings before interest, taxes and amortization. Harrah's fell $1.34, or 1.9%, to $69.56.
Away from storm news, billionaire investor Carl Icahn, along with an investor group, may acquire as much as 10% of
Time Warner's
(TWX)
shares, according to
The Wall Street Journal
. The article states that Icahn is willing to spend much as $1.5 billion of the $6 billion that's needed to purchase the Time Warner shares. Recently, Icahn and three other investors took a $2.2 billion stake in the media company. Time Warner rose 3 cents, or 0.2%, to $17.92.
In its midquarter report late Tuesday,
Novellus
(NVLS)
cut its third-quarter bookings forecast to a range of $285 million to $290 million, compared with its previous estimate of $280 million to $310 million. Novellus blamed the lower forecast on "substantial bookings" that have been pushed from September to October.
The chipmaker also expects revenue of $320 million and EPS of 20 cents to 21 cents. The Thomson First Call consensus calls for earnings of 22 cents a share on revenue of $324 million in the third quarter. Novellus was lower by 69 cents, or 2.5%, to close at $26.81.
Boeing
(BA) - Get Boeing Company Report
finished higher as union members prepare to vote Thursday on a three-year contract offer. The current contract is set to expire Friday. Leaders of more than 18,000 machinists are advising workers to reject the final offer and strike. Boeing has said that should union members vote to strike, it would have to gradually shut down operations. Boeing rose 28 cents, or 0.4%, to $67.02.
Elsewhere,
General Motors
(GM) - Get General Motors Company Report
said late Tuesday that its turnaround plan for North American operations was back on track. CEO Rick Wagoner said the company was making progress, but gave no timetable and wouldn't discuss earnings forecasts or negotations with the United Auto Workers regarding their health care situation. GM fell by 26 cents, or 0.8%, to $34.19.
Overseas markets were mixed, with London's FTSE 100 up 0.8% to 5297 and Germany's Xetra DAX rising 0.8% to 4829. In Asia, Japan's Nikkei fell 0.3% overnight to 12,414 while Hong Kong's Hang Seng lost 0.1% to 14,904.
To view Gregg Greenberg's video take on today's market, click here
.