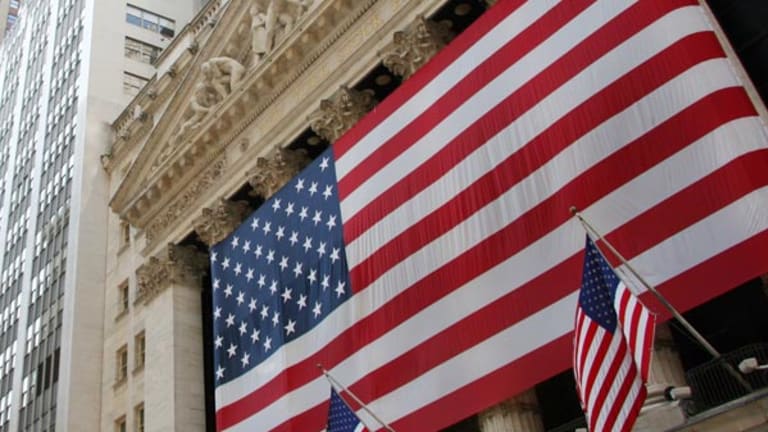 Stocks Close Higher on Light Volume
Stocks ticked higher Friday, as markets digested better-than-expected GDP growth and weak existing-home sales on a snowy day in the Northeast. Alix Steel recaps the action on The Real Story.
NEW YORK (
) -- Stocks inched to a higher close Friday, as strong fourth-quarter GDP growth and a steep drop in January new-home sales failed to make an impression on traders during a sleepy, snowy session.
The
Dow Jones Industrial Average
went higher by 4 points, or 0.04%, to 10,325 and the
added nearly 2 points, or 0.1%, at 1104. The
Nasdaq
gained 4 points, or 0.2%, to 2238.
For the week, each of the major averages lost ground, led by a 0.7% drop in the Dow. The S&P 500 fell 0.4% since last Friday, while the Nasdaq shed 0.3%.
> > Bull or Bear? Vote in Our Poll
Trading volumes were light on a day when heavy snowfall blanketed the Northeast. The
listed volume stood at 3.9 billion today after rising to 4.5 billion on Thursday.
Bank of America
(BAC) - Get Free Report
,
Citigroup
(C) - Get Free Report
and
Ford
(F) - Get Free Report
saw the heaviest volume there.
"I don't think anyone is putting a whole lot of credit behind these things," said Garrett Stevens, chief executive of FaithShares Advisors, who said he wasn't surprised by any of the day's data. "I would have liked to see better housing numbers but it continues the trend of up one month, and down the next."
The Commerce Department kicked off the day's data releases by saying the U.S. economy expanded at a better-than-expected pace in the fourth quarter, according its second read on gross domestic product.
Fourth-quarter GDP, which measures the output of goods and services in the U.S., grew 5.9%, surpassing economists' expectations that growth would hold at a previous estimate of 5.7%.
But investors responded tepidly to the news, as cyclical-driven growth combined with downward revisions to consumer spending merely raised concerns about the sustainability of the economy's recovery.
"Looking ahead, inventory-restocking should continue to be a positive contributor for perhaps a quarter or two, but the sustainability of the recovery still hinges on final demand," said Jim Baird, chief investment strategist for Plante Moran Financial Advisors.
The sentiment was echoed by Keith B. Hembre, chief economist and chief investment strategist at First American Funds of Minneapolis, who noted that 3.9% of the 5.9% growth came from inventories. Additionally, he said, there have been a lot of temporary stimulus measures in place to support purchasing power.
"Markets are waiting to see whether final sales pick up or production normalizes back down to match the pace of sales," he said.
Consumer sentiment in February came in at 73.6, according to the University of Michigan's final read on its consumer sentiment index for the month. The figure was largely in line with economists' expectations for a reading of 73.9 and below January's level of 74.4.
Chicago-area business activity was stronger than expected in February, according to the Chicago purchasing managers' index, which came in at 62.6, compared with January's 61.5. Economists had been projecting a dip to 59.7 in February.
January existing-home sales data were less promising. The National Association of Realtors reported an unexpected 7.2% drop in sales, which came in at 5.05 million, from December's downwardly revised 5.44 million. Economists had expected sales to rise to 5.5 million, from December's initially reported level of 5.45 million.
"It was a mixed bag, and the market has reacted as such," Hembre said, adding that big market moves are more likely to be driven by considerations outside of the U.S. as markets continue to search for direction.
"There's a divergent set of views on the path of the U.S. economy, so you continue to have this tug of war in the market with no clear direction one way or another -- just basically a lot of volatility," Hembre said. "That will probably stay with us for another couple months so the structural and debt issues outside of the U.S., in addition to policy-tightening in places outside of the U.S., such as China, will continue to have a big influence in the market."
Top gainers included
JPMorgan Chase
(JPM) - Get Free Report
,
Bank of America
(BAC) - Get Free Report
and
General Electric
(GE) - Get Free Report
while
Kraft Foods
undefined
,
Pfizer
(PFE) - Get Free Report
and
McDonalds
(MCD) - Get Free Report
were the biggest laggards.
Struggling casino operator
MGM Mirage
(MGM) - Get Free Report
managed to extend the maturity of part of its credit facility, giving the company more long-term financial flexibility. Its stock gained 0.9%, to finish at $10.54.
Bank of America
(BAC) - Get Free Report
is combining its online brokerage with
Merrill Lynch's
online offerings.
Shares of
American International Group
(AIG) - Get Free Report
finished down nearly 10% after the company reported a fourth-quarter loss of $8.9 billion. The company also said
director Dennis Dammerman is resigning from the board of directors for health reasons.
The U.K.'s largest mortgage company,
Lloyd's
(LYG) - Get Free Report
, had a pretax operating loss of 6.3 billion pounds ($9.61 billion) as impairments rose 61%. Lloyd's fell 5%, to $3.25.
Magellan Health Services
(MGLN) - Get Free Report
surpassed Wall Street's profit estimates and confirmed 2010 guidance, lifting shares 6.1%, to $41.92.
Overseas, the
U.K.'s fourth-quarter gross domestic product was revised upward to 0.3%.
Hong Kong's Hang Seng rose 1%, and Japan's Nikkei gained 0.2%. The FTSE in London added 1.5%, and the DAX in Frankfurt advanced 1.2%.
The
dollar was trading lower against a basket of currencies, with the dollar index down by 0.4%.
In commodities markets, crude oil for April delivery gained $1.49, or 1.9%, to settle at $79.66 a barrel, and the April
gold contract added $10.40, or 0.9%, to settle at $1,118.90 an ounce.
The benchmark 10-year Treasury strengthened 4/32, diluting the yield to 3.621%.
--Written by Melinda Peer and Sung Moss in New York
.