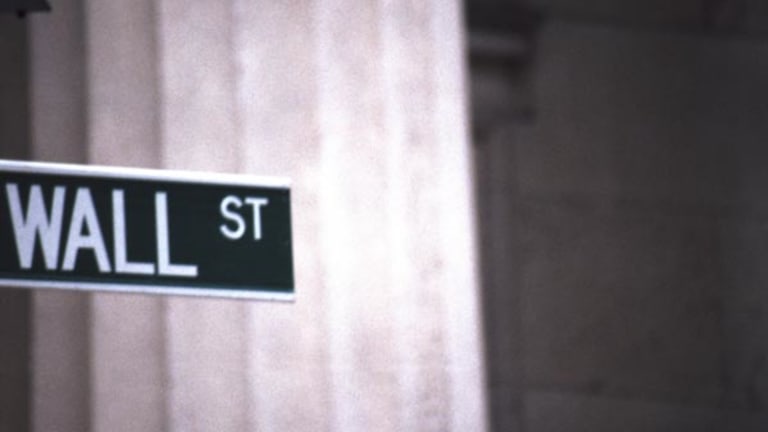 Stocks Close Higher on Greece Aid Plan
Stocks trade higher as investors applaud the eurozone's debt-rescue plan for Greece. Gregg Greenberg recaps the action in The Real Story.
Stocks trade higher as investors applaud the eurozone's debt-rescue plan for Greece. Gregg Greenberg recaps the action in The Real Story.
NEW YORK (
) -- Stocks finished decidedly higher Thursday, as word of a rescue plan for Greece strengthened the euro against the dollar and gave a jolt to commodities.
The
Dow Jones Industrial Average
surged 106 points, or 1.1%, to 10,144. The
S&P 500
added 10 points, or 1%, to 1078, and the
Nasdaq
went ahead by 30 points, or 1.4%, to 2177.
News that European countries will take action to bolster debt-swamped Greece helped global markets shake fears of eurozone weakness, even though European Union leaders are still working out the details of a collaborative assistance plan. Specifics of the plan probably won't be provided until early next week.
>>Five Mid-Cap Stocks With Top Rankings
"It's been the least best-kept secret that something was going to get done in response to these weak eurozone countries, but now there's an understanding in the marketplace that the EU isn't going to let these countries fail, and there's a sense of relief. You may be seeing a little bit of a relief rally -- that Greece is one thing that the market can cross off the list of uncertainties," said Jay Suskind, senior vice president at Duncan Williams.
The greenback traded lower against a basket of currencies, with the dollar index moving marginally lower.
Commodities and related equities received a boost on the news. Crude oil for March delivery settled higher at $75.28 a barrel after adding 76 cents, while the most actively traded April
gold contract gained $18.40 to settle at $1,094.70 an ounce.
Basic materials was a leading sector:
Augusta Resource
(AZC)
,
Exeter Resource
(XRA)
and
Mercer International
(MERC) - Get Report
gained 16.7%, 5.5% and 6.9%, respectively.
Shares of
Freeport-McMoRan Copper & Gold
(FCX) - Get Report
gained 4.4%, to $74.17.
U.S. Steel
(X) - Get Report
added 6% to $47.01, and
Potash
(POT)
rose 5% to $111.12.
Energy stocks also helped lead advancers, as the NYSE Arca Oil Index and Philadelphia Oil Service Sector Index improved 1.8% and 2.3%, respectively.
Chip stocks were outpacing many other tech sectors, with the Philadelphia Semiconductor Index gaining 2.4%.
Activision Blizzard
(ATVI) - Get Report
shares helped the Nasdaq, adding 9.6% after the video game manufacturer posted a fourth-quarter earnings beat late Wednesday.
U.S. stocks, which traded in negative territory for most of the morning session, intially failed to get a boost from news that
initial jobless claims decreased by 43,000 to a seasonally adjusted 440,000 in the week ended Feb. 6. Economists had been expecting 465,000 claims, compared with 483,000 in the prior week.
"The jobs data just confirmed what we've already been seeing. In terms of economic performance, it's a slog. I think 2010 is just going to give us a mixed bag of sluggish data with a discernible upward trend," said Dr. Stephen Wood, chief market strategist at Russell Investments. "Certainly, we're no longer in a recession, but we certainly aren't growing briskly, either."
The latest report from RealtyTrac offered a mixed view of the housing market, as it said foreclosures fell 9.7% in January from the prior month, but that the level was 15% higher than last year.
January retail sales data and the December business inventories report have been tentatively postponed until Friday as severe weather in Washington has largely ground normal business operations to a halt.
Boston Scientific
(BSX) - Get Report
, which was downgraded to hold from buy at Deutsche Bank, was seeing heavy volume on the
New York Stock Exchange
, as were shares of
Citigroup
(C) - Get Report
and
Bank of America
(BAC) - Get Report
. Listed volume on the NYSE stood at 4.4 billion, while the Dow was seeing volume of 194.5 million, compared with an average volume of 200.4 million.
In earnings news,
Credit Suisse
(CS) - Get Report
swung to a fourth-quarter profit of $745.8 million but missed analysts' estimates. American depositary shares traded 0.4% lower.
PepsiCo
(PEP) - Get Report
met Wall Street's fourth-quarter profit expectations, and
Marriott
(MAR) - Get Report
exceeded estimates as it offered in-line earnings and sales guidance. Its stock added 1% while PepsiCo shares rose 1.3%.
Telecommunications gear firm
Alcatel-Lucent
(ALU)
recorded a profit of $63.4 million but said sales fell 20%. American depositary shares dropped 12.3%.
A trio of restaurant concerns --
Cheesecake Factory
(CAKE) - Get Report
,
Chipotle Mexican Grill
(CMG) - Get Report
and
Panera Bread
(PNRA)
-- beat or came in-line with profit expectations in a series of late Thursday earnings releases, though online jeweler
Blue Nile
(NILE)
missed consensus forecasts.
Also after the bell,
Motorola
( MOT) announced plans to divide itself into two independent segments beginning in the first quarter of 2011, with one unit housing its mobile device and home businesses and the other housing its networking and enterprise mobility solutions segments.
In other news,
JDS Uniphase
(JDSU)
agreed to acquire
Agilent's
(A) - Get Report
Network Solutions communications test business for $165 million in cash.
FirstEnergy
(FE) - Get Report
and
Allegheny Energy
( AYE) announced a stock-for-stock merger. Allegheny's stock surged 12% while FirstEnergy's lost 4.5%.
The
CME Group
(CME) - Get Report
announced plans to purchase a 90% stake in the Dow Jones indexes in a deal that values the business at $675 million.
The Treasury Department auctioned $16 billion in 30-year bonds in the afternoon, resulting in a high yield of 4.720% and a below average bid-to-cover ratio at 2.36. Indirect bidders, which typically include overseas central banks, bought up 28.5%, while direct bidders purchased 24.1%.
The 30-year bond slid 22/32, pushing the yield higher to 4.680%.
Overseas, Hong Kong's Hang Seng was higher by 1.9%. Japan was closed for a holiday. The FTSE in London rose 0.6% and the DAX in Frankfurt fell 0.6%.
-- Written by Melinda Peer and Sung Moss in New York
.