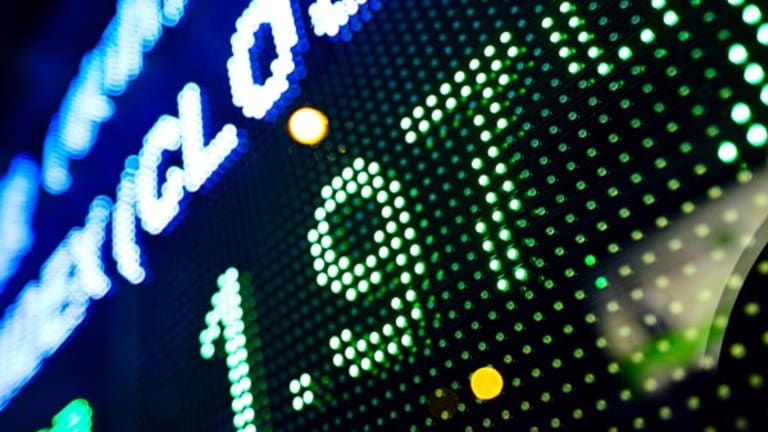 Publish date:
Stocks Close Higher for Third Straight Day
Stocks advance Tuesday as a surge in existing-home sales offsets a downward revision in GDP. Gregg Greenberg reviews the day in The Real Story.
Stocks advance Tuesday as a surge in existing-home sales offsets a downward revision in GDP. Gregg Greenberg reviews the day in The Real Story.
NEW YORK (
) -- Stocks finished higher for the third day in a row as data showing a surge in existing-home sales offset a downward revision in third-quarter GDP.
The
Dow Jones Industrial Average
rose 51 points, or 0.5%, to 10,465. The
S&P 500
added 4 points, or 0.4%, to 1118, while the
Nasdaq
improved by 15 points, or 0.7%, to 2253.
A surge of first-time buyers taking advantage of tax credits sent existing-home sales soaring 7.4% in November to a seasonally adjusted annual rate of 6.54 million units.
>>Five Boring, But Undervalued Stocks
The crush of buyers were racing to beat an end-of-November deadline when the tax credit was originally set to expire, though it was ultimately extended through the spring. The sales pace is the highest it's been since February 2007, according to the National Association of Realtors. The figure also topped forecasts and the 6.09 million rate posted in October.
"I think it bodes well going into the new year," said Peter Cardillo, chief market economist at Avalon Partners. "The tax credit has induced new home buyers. So it'll be interesting to see what happens when the program ends. Of course, it's somewhat inflated. But nevertheless, it's a good number."
The Federal Housing Finance Agency also said that home prices increased by a seasonally adjusted 0.6% in October, while investors pushed housing stocks higher today. The Philadelphia Housing Sector index surged 2.7%. Homebuilders
KB Home
(KBH) - Get Report
and
Pulte Homes
(PHM) - Get Report
advanced 6.8% and 4.7%.
But the better-than-expected home sales showing came amid less-assuring trends elsewhere. A final revision of third-quarter gross domestic product showed that the U.S. economy grew at a 2.2% annual rate during the period. Analysts had expected no change from the previous 2.8% estimate. Despite the downward revision, the economy still grew at its fastest clip in two years.
Cardillo also says that the GDP revision will not subtract from overall strength, as he expects fourth-quarter numbers to come in better.
Boeing
(BA) - Get Report
was one of the leading percentage-gainers on the Dow, rising 1.5%. Earlier, the company said it
bought the remaining stake in Global Aeronautica in a move to enhance control over the assembly of its 787 Dreamliner.
Moody's also downgraded Greece's sovereign debt rating this morning, though the ratings agency tempered the impact of its move by saying that there was little near-term liquidity or financing risks. The cut was also less than many had feared, which helped stocks and bonds rally in Greece after the news.
A snowstorm in the Northeast took a toll on retail sales last week, as the International Council of Shopping Centers-Goldman Sachs index rose just 0.2% compared to the year-ago period. The metric rose 2.4% the week prior.
As the greenback touched a three-month high against the euro earlier today, the Dollar Index was nearly 0.2% higher in the afternoon.
The February gold contract, in turn, settled at $1,086.70 an ounce after sliding $9.30.
Crude oil for February delivery reversed a morning slump ahead of weekly inventory data from the American Petroleum Institute, settling at $74.40 a barrel after rising 63 cents. Oil ministers at a meeting of
the Organization of the Petroleum Exporting Countries
agreed to leave oil production targets unchanged on Tuesday.
The spread between two-year and 10-year notes, again, widened to record levels on Tuesday, fueled by mounting confidence about economic recovery. The 10-year Treasury note was recently down 18/32, boosting the yield to 3.748% after it hit its highest point since August. The two-year note was 3/32 lower to yield 0.905%.
Overseas, Hong Kong's Hang Seng rose 0.7%, and Japan's Nikkei gained 1.9%. The FTSE in London climbed higher by 0.7%, and the DAX in Frankfurt improved 0.3%.
In earnings,
Commercial Metals
(CMC) - Get Report
swung to a wider-than-expected loss of 28 cents a share during the first quarter, sending shares more than 5% lower in Tuesday's session.
Reporting after the closing bell,
Red Hat
(RHT) - Get Report
and
Micron
(MU) - Get Report
beat quarterly earnings forecasts, sending shares higher by 3.8% and 3.1%, respectively, during the extended trading session.
Meanwhile, shares of
Take-Two
(TTWO) - Get Report
added 0.7% after the
video-game publisher reported the sale of a distribution unit and lowered its financial outlook following Monday's close.
Jabil Circuit
(JBL) - Get Report
shares rose after the electronics components concern posted better-than-expected profit and guidance late Monday. Shares rallied more than 14% today.
Elsewhere,
U.K. regulators reversed an earlier decision and gave their blessing
to a merger between
Live Nation
(LYV) - Get Report
and
Ticketmaster
( TKTM).
President Barack Obama met with emissaries from many of the nation's community banks today to discuss the need to boost small-business lending. This comes on the heels of a similar meeting held last week with the nation's largest banks.
--Written by Sung Moss in New York