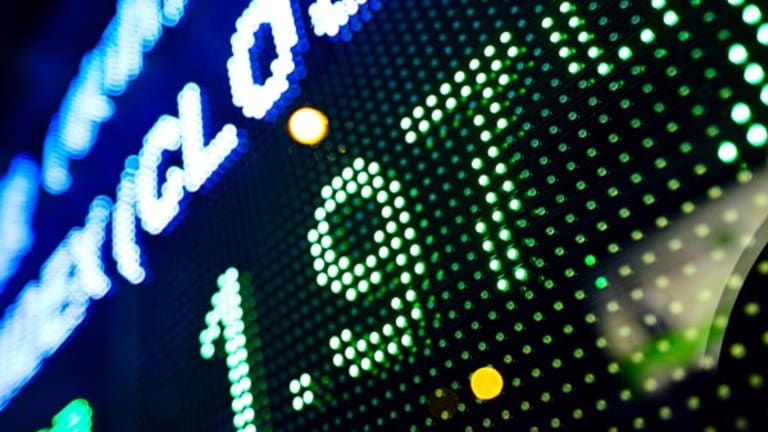 Stocks Close Higher Ahead of Jobs Report
Stocks closed higher Thursday after lower claims and robust manufacturing data from across the globe strengthened confidence in the recovery.
NEW YORK (
) -- Stocks tracked higher Thursday after lower claims and robust manufacturing data from across the globe strengthened confidence in the recovery ahead of a March job report due Friday that's expected to show a boost in payrolls.
The
Dow Jones Industrial Average
finished up 70 points, or 0.7%, to 10,927. The
S&P 500
gained 9 points, or 0.7%, to 1,178, and the
Nasdaq
put on 5 points, or 0.2%, to 2,403.
British and Chinese manufacturing picked up last month, according to economic data released Thursday morning, and in
Japan business confidence rose for the fourth consecutive quarter.
Overseas, Hong Kong's Hang Seng jumped 1.4% and Japan's Nikkei also gained 1.4%. The FTSE in London added 1.2% and the DAX in Frankfurt rose 1.3%.
U.S. markets will be closed on Good Friday when the Labor Department delivers its March nonfarm payrolls report, but investors will be paying attention to the number, which is expected to show robust job growth of 190,000.
Confidence in estimates may have taken a hit after
Automatic Data Processing's
private sector report Wednesday showed continued losses during the month. Most market watchers, however, are standing by their projections for job creation. One notable exception was
Goldman Sachs
, which knocked expectations down to a payrolls increase of 200,000, compared with 275,000 as previously forecast.
"We believe that if there ever was a time in which ADP was most likely to be off the mark, this would be the month," said Deutsche Bank's chief U.S. economist, Joseph LaVorgna, pointing to census hires and weather.
"Census hires -- which we estimate at +75,000 -- are not captured in the ADP data, because this survey measures only private sector hiring. Second, there appears to be no weather-effect in the ADP numbers. This does not gibe with other data series, which suggest weather was a significant impediment to hiring in February," LaVorgna said, standing by projections for growth of 350,000.
Separately, UBS economist Maury Harris, also upheld estimates.
"The ADP series appears to be reliable when the trend in payrolls is steady, but less reliable when the trend is changing -- as we think it is now," Harris said. "We continue to forecast a 135,000 rise in total payrolls in March, with the headline boosted by temporary census hiring and weather effects."
>>The Economy
>>Company News
>>Commodities and the Dollar
>>Treasuries
The Economy
The Labor Department said
initial weekly jobless claims fell by 6,000 to 439,000, which was in line with the 440,000 claims that economists had been expecting.
Construction spending dropped 1.3% in March, worse than the 1% slip that economists had been expecting. Spending in February was weaker than originally thought, falling 1.4% compared with an initially-reported decline of 0.6%.
March manufacturing activity, however, was stronger than expected as the
Institute for Supply Management's manufacturing index came in at 59.6, compared with an expected reading of 57. The level reflects strong growth from February's level of 56.6.
"Manufacturing shook off the February snows in a big way," said PNC chief economist Stuart Hoffman, noting that the report implies the fastest growth rate for the manufacturing sector since July 2004. "Eight out of the 10 components of the ISM Manufacturing Index were up in March, including inventories, production and new orders. The employment sub-index dipped to a still-positive 55.1%, indicating ongoing job gains."
The Energy Information Administration said natural gas storage levels rose by 12 billion cubic feet in the week ended March 26. The level was lower than the 14 to 18 billion cubic feet range that analysts had been anticipating.
>>Overview
>>Company News
>>Commodities and the Dollar
>>Treasuries
Company News
General Motors
reported a 21% increase in March sales, citing the popularity of the Buick LaCrosse while
Ford
(F) - Get Ford Motor Company Report
said sales rose grew 43%. The stock, which was seeing heavy volume on the
New York Stock Exchange
along with
Citigroup
(C) - Get Citigroup Inc. Report
and
Bank of America
(BAC) - Get Bank of America Corp Report
, finished up by 6 cents, or 0.5%, to $12.63.
The NYSE had a listed volume of 4 billion while the Dow saw volume of 159 million, compared with an average 200 million.
Borders Group
( BGP) was one of the NYSE's best performing stocks on news that fourth-quarter earnings doubled and Borders repaid a $42.5 million loan from William Ackman's investment firm, Pershing Square. Shares rose 82 cents, or 47.7%, to $2.54.
Primerica
(PRI) - Get Primerica, Inc. Report
,
Citigroup's
(C) - Get Citigroup Inc. Report
life insurance unit, saw a strong first day of trading on the
New York Stock Exchange
, after pricing above expectations in its initial public offering.
Shares of
Research In Motion
( RIMM) lost 7.4%, to $68.52 after the company reported disappointing fourth-quarter results and as
Goldman Sachs downgraded the stock to sell from neutral.
AZZ
agreed to buy
North American Galvanizing & Coatings
( NGA) for roughly $125.6 million.
Lihir Gold
( LIHR) rejected an $8.5 billion offer from
Newcrest Mining
, deeming it "inadequate." Lihir's stock added $7.45, or 26.5%, to $35.61.
The
Apple
(AAPL) - Get Apple Inc. Report
iPad makes its much-anticipated debut in stores on Saturday. Apple's stock improved 97 cents to $235.97.
>>Overview
>>The Economy
>>Commodities and the Dollar
>>Treasuries
Commodities and the Dollar
Natural gas for May delivery settled 22 cents higher at $4.09 per million British thermal units following the energy department's storage report.
Elsewhere in commodity markets, the May crude oil contract soared to a new 2010 high, hitting $85 a barrel. It finished after adding $1.11 to settle at $84.87 a barrel. The June gold contract, meanwhile, added $11.60 to settle at $1,126.10 an ounce.
The
dollar was trading lower against a basket of currencies, with the dollar index down by 0.5%.
>>Overview
>>The Economy
>>Company News
>>Treasuries
Treasuries
The benchmark 10-year Treasury weakened 8/32, lifting the yield to 3.865%.
The two-year note fell 3/32, raising the yield to 1.064%. The 30-year bond fell 8/32, boosting the yield to 4.730%.
--Written by Melinda Peer and Sung Moss in New York
.
>>Overview
>>The Economy
>>Company News
>>Commodities and the Dollar
>>Treasuries