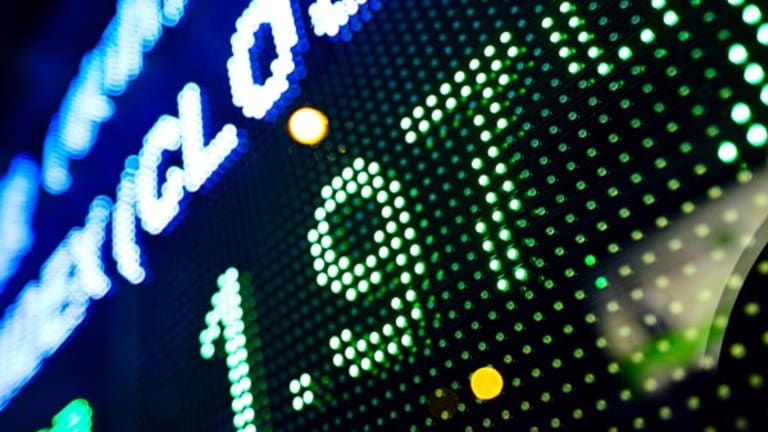 Stocks Close Higher After Late Surge
The averages gain ground on the FOMC's decision to leave rates unchanged.
Updated from 4:12 p.m. EDT
Stocks ended higher Tuesday after the
Federal Reserve
said it would keep rates on hold for a "considerable period" of time.
The
Dow Jones Industrial Average
closed up almost 93 points, or 1%, at 9310, while the
S&P 500
rose almost 10 points, or 1%, to 990. The
Nasdaq
added 25 points, or 1.5%, to 1687.
As widely expected, the Fed decided to leave its target lending rate unchanged at 1%. In its statement, the central bank repeated that "the upside and downside risks to the attainment of sustainable growth for the next few quarters are roughly equal." It also said "the probability, though minor, of an unwelcome fall in inflation exceeds that of a rise in inflation from its already low level."
On balance, it said "the risk of inflation becoming undesirably low is likely to be the predominant concern for the foreseeable future."
Those remarks were identical to ones made in the June 25 policy announcement. This time, however, the Fed added that "policy accommodation can be maintained for a considerable period" under these circumstances. The statement differed from the previous one in a couple of other ways, too. It did not mention that the economy has "yet to exhibit sustainable economic growth," and it referred to labor markets as "mixed" rather that "stabilizing."
"The text was geared toward calming the bond market," said Peter Blatchford, trader at Miller Tabak & Co. "I think they accomplished that."
Treasuries, which had been lower for most of the day, fell a little more after the announcement, with the yield on the 10-year note rising to 4.41%. "The net economic message was mixed for stocks," Blatchford said.
The central bank said "spending is firming, although labor market indicators are mixed. Business pricing power and increases in core consumer prices remain muted."
The previous two FOMC meetings proved to be major events for the bond market, with yields falling sharply after the May 6 meeting and rising sharply in the wake of the June 25 rate cut. Analysts said the Fed needed to walk a fine line this time around so as not to upset participants in either the bond or stock market.
According to a monthly survey by Merrill Lynch, institutional fund managers are forecasting higher worldwide bond yields even though they still expect world economic growth to be modest. Chief investment strategist David Bowers said a growing minority of managers believe the monetary policies of the major economies are too stimulative, and more managers expect the next move in rates to be up rather than down. "This view has precipitated one of the most widespread underweightings of bonds this survey has recorded," Bowers said.
Several retailers were reporting their quarterly results Tuesday.
J.C. Penney
(JCP)
narrowed its losses in the second quarter and beat estimates, but was cautious on its expected third-quarter earnings. However, for the full year, the company predicted a profit within the range of Wall Street's estimates. Shares fell 1.7%, or 31 cents, to $17.76.
May Department Stores
(MAY)
posted better-than-expected earnings for its fiscal first quarter, and
TJX
(TJX)
met analysts' forecasts of 24 cents a share. TJX rose 5.6%, or $1.13, to $21.05, and May gained 0.7%, or 19 cents, to $26.37.
Financial issues moved ahead after Merrill Lynch raised its third-quarter earnings estimates on
Goldman Sachs
(GS)
,
Lehman Brothers,
undefined
and
Bear Stearns
(BSC)
. Lehman rose 3%, Goldman added 2% and Bear gained 3%.
After the bell, chip-equipment maker
Applied Materials
(AMAT)
posted a loss of 2 cents a share for its fiscal third quarter. The company earned 5 cents a share, excluding restructuring charges. That was a penny better than Wall Street forecasts. The stock ended up 0.1%, or 2 cents, at $18.45.
In other corporate news,
Delta Air Lines
(DAL)
said it will stop contributions to a pension plan designed to retain top executives, according to
The Wall Street Journal
. Delta rose 0.5%, or 5 cents, to $10.80.
Sun Micro
(SUNW)
slipped almost 1%, or a penny, at $3.59 after Moody's warned that it might lower the firm's long-term credit rating. The credit review "reflects the continued decline in operating performance and limited profitability."
In the pharmaceutical sector,
AstraZeneca
(AZN)
said it expects to hear Tuesday from the Food and Drug Administration about the approval of its cholesterol-fighting drug Crestor, which will rival
Pfizer's
(PFE)
Lipitor. AstraZeneca gained 1.5%, or 60 cents, to $40.90.
A federal jury on Monday found that software giant
Microsoft
(MSFT)
infringed on a patent of the University of California and a small start-up firm, awarding them $521 million. Shares gained 0.4%, or 11 cents, to $25.73.
Ford
(F)
said the president and operating chief of its European operations is stepping down. Shares rose 0.2%, or 2 cents, to $10.73.
Overseas markets ended higher. London's FTSE 100 rose 0.2% to 4185, and Germany's Xetra DAX gained 1.3% to 3381. In Asia, Japan's Nikkei closed 0.8% higher at 9564, while Hong Kong's Hang Seng rose 0.9% to 10184.
Crude oil futures rose in New York, and the dollar strengthened against the euro but fell against the yen.
On Monday, the Dow finished up 26 points, or 0.3%, at 9217, while the Nasdaq rose 17 points, or 1%, to 1661. The S&P 500 added 3 points, or 0.3%, to 980.