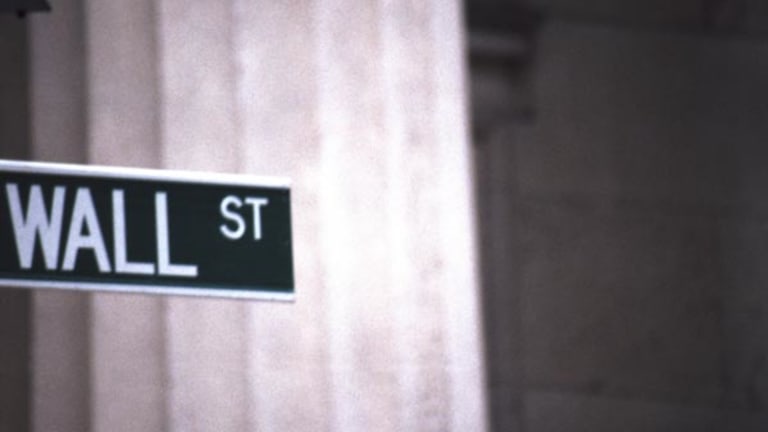 Stocks Close Flat After Bernanke Speech
Stocks closed flat Monday, after Federal Reserve Chairman Ben Bernanke cautioned the recovery could be slow. Gregg Greenberg has The Real Story.
NEW YORK (
) -- Stocks closed mixed but largely flat Monday, after
Federal Reserve
Chairman Ben Bernanke indicated that the central bank expected a slow pace of economic recovery and plans to maintain low rates for an extended period.
The
Dow Jones Industrial Average
added 1 point to close at 10,390. The
S&P 500
lost 3 points, or 0.3%, at 1103, while the
Nasdaq
declined 5 points, or 0.2%, at 2190.
Utility and Telecom stocks helped lead advancers on the day.
Verizon
(VZ) - Get Report
and
AT&T
(T) - Get Report
joined
Boeing
(BA) - Get Report
as Dow leaders in the green.
Exelon
(EXC) - Get Report
and
Duke Energy
(DUK) - Get Report
each advanced 1.7% and 1.4%.
>>See 2 Dividend Stocks to Own for 2010
After the market close,
FedEx
(FDX) - Get Report
shares jumped over 3% after the package-shipping behemoth boosted its second-quarter earnings outlook. FedEx now expects to earn $1.10 a share after earlier forecasting a range of 65 cents to 95 cents a share.
Bernanke's speech to the Economic Club of Washington Monday signaled no new major policy shifts ahead of a meeting by the Federal Open Market Committee later this month. Repeating prior thoughts,
Bernanke said that the U.S. economy is recovering, though it will likely see only moderate expansion next year as high unemployment and tight credit remain issues. He also stated that inflation should remain subdued, and gave no hints about when the Fed plans to increase rates or unwind initiatives used to prop up the economy during the downturn.
Friday's better-than-expected November jobs report suggested a gradually improving employment picture, which bolstered the U.S. dollar and increased market concern about the prospect of higher interest rates.
Before Monday's speech, Deutsche Bank economist Joseph LaVorgna suspected that the Fed is less influenced by the direction of unemployment rate than the actual level. At 10%, it remains uncomfortably close to the post-World War II record high of 10.8% in 1982.
"The linking of the 'extended period' for the zero interest rate policy to the unemployment rate, which is likely to stay elevated for some time, will likely keep the risks of a Fed tightening at bay at least into
the first quarter of next year," LaVorgna said.
The greenback slipped sharply after the speech, though the Dollar Index recently declined by 0.1%.
recovered from session lows and reversed after Bernanke's words. The most actively traded February contract shed $5.50 to settle at $1,164 after at one point losing over $25 earlier in the session.
Gold miners
Barrick Gold
(ABX)
,
Yamana Gold
(AUY) - Get Report
and
Goldcorp
(GG)
, which were pressured by lower gold prices, shed 0.6%, 2.2% and 2.2% each.
Barclays Capital Analyst Suki Cooper said earlier that since speculative interest in gold has soared recently, the liquidation of loosely-committed long contracts will drag on gold prices. Once this plays out, however, Cooper sees gold prices turning higher.
"Although we would not rule out further corrections, external drivers such as concerns regarding the dollar and inflation are likely to keep longer-term interest in gold favorable, as reflected in the steady but elevated gold exposure held through exchange-traded products," Cooper said.
Oil also
traded lower, with the January crude contract settling at $73.93, or down $1.54 a barrel.
Overseas, Hong Kong's Hang Seng declined 0.8%, and Japan's Nikkei increased 1.5%. The FTSE in London dropped 0.2% and the DAX in Frankfurt dipped by 0.6%.
Fertilizer companies commanded attention during Monday's trading session as
CF Industries
(CF) - Get Report
hiked its bid for long-time target
Terra Industries
(TRA)
.
Meanwhile, shares of
Potash Corp.
(POT)
and
Agrium
(AGU)
drove higher by 3.5% and 4.8%, respectively, on analyst upgrades.
Shares across the solar sector brightened as
Barclays lifted ratings on three companies to overweight. Shares of
Sunpower
(SPWRA)
were up by 9.6%,
Suntech Power
(STP)
gained 10.8% and
JA Solar
(JASO)
rose 12.5%.
In morning news, the long-term cost of the government's Troubled Asset Relief Program is now expected to be about $141 billion, or
than initially forecast, according to
The Wall Street Journal
.
(INTC) - Get Report
is delaying the release of its Larrabee graphics chip. Its stock fell 9 cents, or 0.4%, at $20.37.
Nvidia
(NVDA) - Get Report
and
Advanced Micro Devices
(AMD) - Get Report
, the two leaders in the advanced graphics chip market, were the biggest beneficiaries of the news, as shares jumped 12.8% and 8.4%, respectively.
Online video delivery company
Akamai Technologies
(AKAM) - Get Report
also will be watched by investors, after the company
boosted fourth-quarter outlook
. The shares were bid higher by 1.6% higher at $25.37.
Shares of
MetLife
(MET) - Get Report
rose 1% higher on Monday. The insurance provider
raised its fourth-quarter earnings expectations
, citing higher premiums and fees.
Financials lagged on Monday, with the KBW Bank Index down by 1.6%. Still, earlier in the day, Bank of America Merrill Lynch analyst Kenneth Bruch
upgraded
American Express
(AXP) - Get Report
,
Capital One Financial
(COF) - Get Report
and
Discover Financial Services
(DFS) - Get Report
to neutral.
A Fed report also showed that U.S. consumer credit fell by an annual rate of $3.5 billion in October, far less than the $9.3 billion slide forecast by analysts surveyed by Thomson Reuters.
-- Written by Melinda Peer and Sung Moss in New York
.