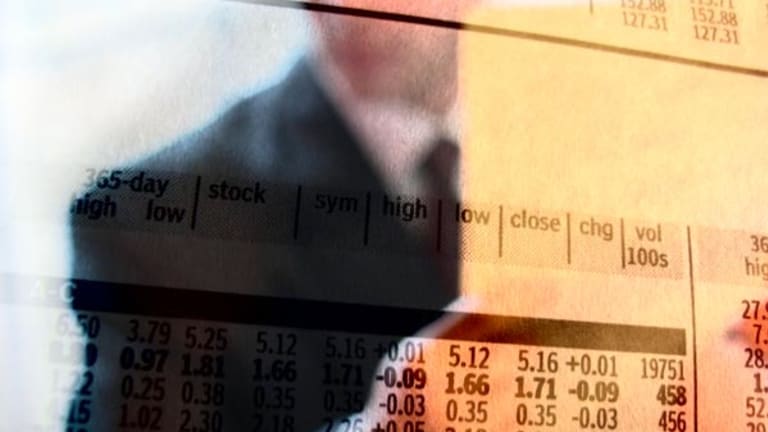 Stocks Climb as Fed Meeting Suggests 2015 Hikes
Stocks closed in the green on Wednesday, but not without something of a struggle as markets bounced around in narrow range-bound trading.
NEW YORK (TheStreet) -- Stocks closed in the green on Wednesday, but not without something of a struggle as the Federal Reserve's latest statement introduced volatility into the narrowly range-bound session.
The S&P 500 rose 0.19%, the Dow Jones Industrial Average added 0.17%, and the Nasdaq gained 0.19%.
The Fed kept rates steady at near-zero crises levels following its June meeting, though signaled it is prepared to move later this year, according to a press release. The Fed also increased its 2016 GDP growth estimate to between 2.4% and 2.7%, up from expectations for 2.3% to 2.7% in March.
The Fed's dot-point graph showing members' rate expectations suggested two quarter-point rate hikes in 2015 and a slower pace of hikes through 2016 and 2017.
"If one believes, as we do, that the Fed is getting set to hike later this year, the Fed's dot plot plays right into that thesis," said Dan Greenhaus, chief strategist at BTIG Research. "The statement does use 'moderate' or 'moderately' three separate times, reinforcing the Fed's hesitancy and nervousness about the outlook. But we think they want to raise rates and the projections support that idea."
Members also saw an improvement in the economy since the slow start to the year, though downgraded their annual GDP forecast in light of first-quarter weakness. The central bank expects the economy to grow 1.8% to 2% in 2015, down from a previous forecast of 2.3% to 2.7%.
"Information received since the Federal Open Market Committee met in April suggests that economic activity has been expanding moderately after having changed little during the first quarter," the central bank said in a statement.
However, though the economy appears to be improving, Fed Chair Janet Yellen still sees remaining weakness in the labor market. In a press conference, Yellen said participation remains too low and subdued wage growth persists.
The release "will prolong the recent environment of sharp (over)reactions to U.S. economic reports over the next few months and sets the stage for a potentially hotly-contested FOMC meeting in September," said Matt Weller, senior technical analyst at Forex.com. "The upshot for traders is more short-term volatility through the historically slower summer months, regardless of the market."
The majority of economists didn't expect the Fed to raise rates at this meeting. Of 79 economists surveyed by Bloomberg, only one expected a hike of 25 basis points at this meeting.
AT&T (T) - Get AT&T Inc. Report shares were slightly higher despite reports the Federal Communications Commission will fine the telecom $100 million for allegedly misleading customers about unlimited mobile data plans, according to Bloomberg.
FedEx (FDX) - Get FedEx Corporation Report shares dropped more than 2% after the delivery company reported a mixed fourth quarter and falling operating margins. The company earned $2.66 a share on an adjusted basis, 2 cents below estimates, while revenue of $12.1 billion missed estimates by $210 million.
Adobe Systems (ADBE) - Get Adobe Inc. Report slipped 2.5% after reporting second-quarter earnings of 48 cents a share, 3 cents higher than expected. The software developer reported revenue of $1.16 billion, 8.4% higher than a year ago and in-line with estimates. The company's outlook for the third quarter, however, was weak.
Kythera Biopharmaceuticals (KYTH) rocketed 22% higher after Allergan (AGN) - Get Allergan plc Report announced it would buy the biotech company in a deal worth $75 a share, or $2.1 billion.