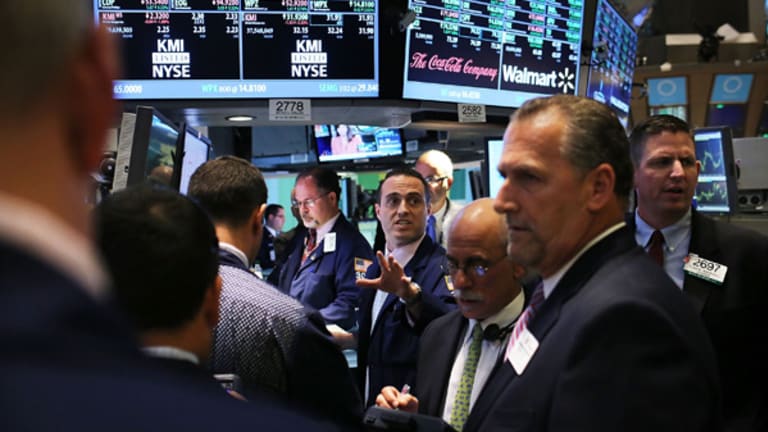 Publish date:
Stocks Mixed as Crude Supplies Climb More Than Forecast
Stocks are modestly higher on Wednesday, clawing back against some of the losses suffered over Tuesday's session.
Stocks are modestly higher on Wednesday, clawing back against some of the losses suffered over Tuesday's session.
NEW YORK (TheStreet) -- Stocks were mixed by midmorning Wednesday, pressured by expectations the Federal Reserve is laying the groundwork for a rate hike as well as a bigger-than-expected rise in U.S. crude oil inventories.
The S&P 500 down 0.02%, the Dow Jones Industrial Average climbed 0.1%, and the Nasdaq fell 0.08%.
A day earlier, benchmark indexes dropped more than 1% and settled at one-month lows. Investors are preparing for the Fed to remove its "patient" language from its release in a two-day meeting next Tuesday, a signal that could mean a mid-summer rate hike.
Jim Cramer says a Fed rate hike is the last thing the economy needs given its risk to global contagion. He makes his case in an article for Real Money Pro. 
Uncertainty over when the Fed's timing of a rate hike pushed the U.S. dollar even higher after notching a 12-year high on Tuesday. The greenback was up 0.91% against the euro, 0.36% against the British pound, 0.42% against the Swiss franc, and 0.21% against the Aussie dollar. 
Crude oil moved lower after the Energy Information Administration reported 4.5 million barrels of oil added to U.S. inventories over the week ended March 6, higher than a forecast 4.4 million. West Texas Intermediate fell 0.27% to $48.16 a barrel.
China's Shanghai Composite was slightly higher as a slew of poor economic data raised the prospects of increased stimulus. Factory production over the first two months of the year increased 6.8%, lower than an anticipated 7.8% gain. Over the same period, retail sales added 10.7%, below forecasts of 11.7%.
European markets were moving sharply higher on the third day of the European Central Bank's quantitative easing plan. The central bank began to purchase sovereign bonds on Monday in an effort to revamp eurozone growth and perk up inflation.
Major U.S. banks will undergo round two of Fed stress tests after the bell Wednesday, in which the central bank releases its examinations of capital return plans. Bank of America (BAC) - Get Report, Citigroup (C) - Get Report, and Goldman Sachs (GS) - Get Report were all higher.
Zogenix (ZGNX) - Get Report was down more than 22% after announcing plans to sell its Zohydro painkiller business to Pernix Therapeutics (PTX) - Get Report for $100 million upfront and $283.5 million in milestone payments.
Lumber Liquidators (LL) - Get Report was moving higher again on Wednesday, a carryover from a rally a day earlier after the company scheduled a conference call for Thursday to discuss its first-quarter outlook. The company also will address product safety after a damning 60 Minutes report earlier in the month.
Google (GOOGL) - Get Report was flat after reports it is close to buying Bangalore start-up InMobi, according to The Economic Times. InMobi, a mobile advertising network, has reportedly been seeking a valuation of more than $2 billion.
Express (EXPR) - Get Report jumped 2.7% after beating quarterly estimates on its top- and bottom-line. The retailer also guided for first-quarter earnings between 11 cents and 14 cents a share, better than consensus of 11 cents.