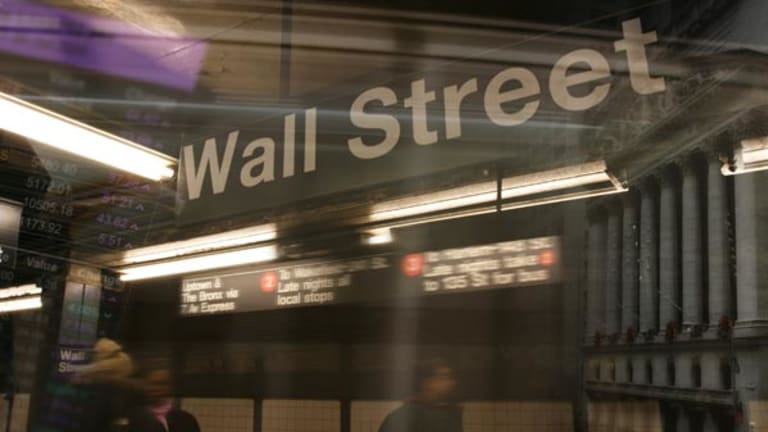 Stocks Catch Dollar's Strength
The Dow adds about 54 points, while the Nasdaq climbs 11.
Updated from 4:07 p.m. EST
Stocks ended higher in tandem with oil Wednesday, spurred on by a rally in the dollar and an Energy Department report showing healthy growth in the U.S. oil and gas inventories.
The
Dow Jones Industrial Average
gained 53.65 points, or 0.5%, to 10,494.23, while the
S&P 500
rose 5.74 points, or 0.5%, to 1182.81. The
Nasdaq
gained 11.45 points, or 0.5%, to 2126.11. The 10-year Treasury note finished up 25/32 to yield 4.12%.
Volume on the
New York Stock Exchange
was 1.52 billion, with advancers beating decliners 5 to 3. Volume on the Nasdaq was 2.39 billion, with advancers beating decliners 9 to 7.
The dollar surged against the euro and reached a new three-week high against the yen. Its advance began after a Japanese government report showed unexpectedly anemic economic growth and slowing imports. The dollar finished at $1.3329 per euro compared with $1.3420.
Gold, which has tended to move inversely to the dollar, plunged, falling almost $15 to $434.80 an once. Silver, platinum and copper also were sharply lower.
"The key here is that everyone is singing the same tune as far as the dollar is concerned," said Peter Cardillo, chief market analyst at S.W. Bach & Co. "We've had most of the European central bankers begin to really take a harder position in
light of the dollar's decline. It sends a message that coordinated intervention could be on its way. The market is rallying on that."
Oil reversed ground and rose despite the slightly stronger-than-expected report on U.S. fuel inventories. The January contract ended up 48 cents to $41.94 a barrel.
In the week ended Friday, the Energy Department said, distillate inventories rose by 1.4 million barrels, gas inventories rose 2.4 million barrels, and crude stocks added 600,000 barrels. Each number was better than expected, but the data failed to hold down oil, which has fallen about 17% since Dec. 1.
"The market has been buffered by individual stock stories," said Barry Hyman, an equity market strategist with Ehrenkrantz King Nussbaum. "Yesterday's drop was a near-term correction. The impressive thing today is, with the commodity price debacle in gold and silver, you're seeing the money redeployed in other sectors. You're seeing it reinvested in the market."
Sirius Satellite Radio
(SIRI) - Get Report
tanked after Smith Barney downgraded it to sell, believing the stock has moved too far, too fast. The firm simultaneously raised its target price to $7 from $5.80. Sirius plummeted $2.11, or 23.5%, to $6.90.
Texas Instruments
(TXN) - Get Report
fell after forecasting fourth-quarter earnings of 25 cents to 27 cents a share on sales of $3.02 billion to $3.14 billion. In October, the semiconductor maker had predicted earnings of 24 cents to 28 cents a share on sales of $2.96 billion to $3.2 billion. A company executive said an inventory correction among electronics manufacturers is continuing despite four straight months of improvement. TI ended down 97 cents, or 3.9%, to $24.05.
Seagate
(STX) - Get Report
, meanwhile, rallied more than 3% after estimating December quarter operating profit of at least 22 cents a share on sales of $1.76 billion. Analysts had been forecasting earnings of 13 cents a share on sales of $1.64 billion. The company cited stronger-than-expected demand from personal computer makers and brisk sales of new products. Seagate rose 54 cents to $17.
Amgen
(AMGN) - Get Report
traded higher after authorizing a $5 billion stock buyback, adding to a previous program that still has about $1 billion left. At Tuesday's closing price of $61.95, the authorization comes out to about 80.6 million shares. The company has about 1.3 billion shares outstanding. Amgen finished up $1.12, or 1.8%, to $63.07.
IBM
(IBM) - Get Report
said late Tuesday that it completed an agreement to sell a controlling stake in its personal computer business to China's
Lenovo Group
for $1.75 billion. The price works out to up to $650 million in cash, up to $600 million in Lenovo common stock, and $500 million in assumed debt. IBM gained 55 cents, or 0.6%, to $96.65.
According to J.P. Morgan,
Intel
(INTC) - Get Report
could suffer from the deal, because it was previously IBM's exclusive microprocessor supplier. The brokerage said
Advanced Micro Devices
(AMD) - Get Report
already supplies chips to Lenovo. Intel lost 47 cents, or 2%, to $23.01, and rival AMD fell 59 cents, or 2.5%, to $22.90.
Merck
(MRK) - Get Report
warned that 2005 earnings should fall to a range of $2.42 to $2.52 per share, below the Thomson First Call forecast of $2.56. Merck's estimate excludes any legal reserve for Vioxx, something the company has so far declined to quantify. Merck also reiterated its fourth-quarter estimate. The stock gained 80 cents, or 2.9%, to $28.69.
Nortel
(NT)
said it will release limited, unaudited third-quarter results next week, after having spent months reviewing financial statements. The company plans to file restated financial results on Jan. 10 and follow thereafter with unaudited statements and financial results for the third quarter of 2004, and any required amendments for prior periods. Nortel finished up 3 cents, or 0.8%, to $3.76.
Goldman Sachs downgraded
Wal-Mart
(WMT) - Get Report
to in line from outperform, citing worries that the company's plan to locate superstores closer together will shrink same-store sales growth. With the retailer expected to open 950 supercenters in the next three to four years, the brokerage said that some cannibalization was probable. Wal-Mart shrugged off the downgrade and rose 1 cent, or 0.02%, to $52.51.
General Electric
(GE) - Get Report
gained after an upgrade by Lehman Brothers to overweight from equal weight. The brokerage raised its price target to $42 from $36 while arguing that GE's earnings per share growth might be at or above 10%-15% for 2005 and beyond. GE gained 40 cents, or 1.1%, to $35.71.
Shopping.com
(SHOP) - Get Report
fell even after being intiated favorably by two brokerage firms. Merriman Curhan Ford started the Internet retailer at buy, while CS First Boston initiated the stock as outperform. Shares were off 4 cents, or 0.2%, to $23.86.
Overseas stocks finished mostly lower, with London's FTSE 100 down 0.6% to 4698 and Germany's Xetra DAX off 0.3% to 4200. In Asia, Japan's Nikkei rose 0.6% overnight to 10,941, while Hong Kong's Hang Seng gave up 1.5% to 14,023.