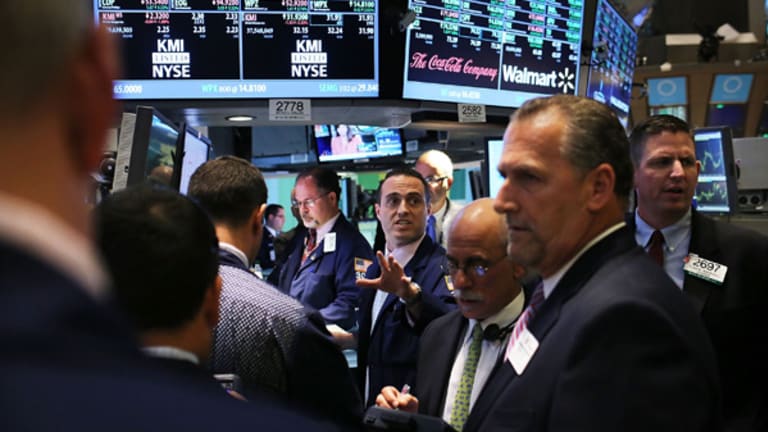 Publish date:
Stocks Can't Hold Rally, End Lower
The Dow and Nasdaq fall back as rally gives way to bearish mood and technical resistance.
The Dow and Nasdaq fall back as rally gives way to bearish mood and technical resistance.
Updated from 4:07 p.m. EDT
Stocks gave up early gains and ended lower Friday, as technical resistance once again proved a formidable ceiling. The losses came despite a blowout March retail sales report and a reasonably good quarter at
General Electric
(GE) - Get Report
.
After rising 103 points a half-hour into the session, the
Dow Jones Industrial Average
ended down 17.92 points, or 0.2%, to 8203.41. Meanwhile, the
Nasdaq
dropped 6.76 points, or 0.5, to 1358.85 and the
S&P 500
fell 3.28 points, or 0.4%, at 868.30.
Technical resistance, which was a big factor in the lack of follow-through on Monday's rally, again pressured stocks. The Dow, Nasdaq and S&P hit their 200-day moving averages shortly after the open of trading, but once again found more room to the downside after failing to break through and sustain those gains.
Analysts said Friday's action suggested the war rally was an anomaly and that the bear market was still in full swing. "That's the key, we had a spike on Monday but we didn't close above that 200-day moving average," said
RealMoney
columnist Gary B. Smith, who pens a daily column about technical levels. "Again, we gapped up this morning and we again touched it but again got repelled. It tells me we're still in a bear market."
If the current sideways trade continues, Smith said, it means the much-ballyhooed war rally was a one-week phenomenon. "I think really the only war rally was from March 13 to March 21. Oher than that, we've really gone sideways from close on March 20. We've done nothing," he said. If there was a war rally it was pretty brief. I think we need to close over 890 on the S&P to say we have any semblance of bull market."
The war news, which has increasingly receded from traders' consciousness in recent days, was again good Friday, with coalition troops reportedly in control of Iraq's third-largest city, Mosul. Speculation was rife that Saddam Hussein's home city of Tikrit would be the site of his regime's last major stand. Coalition troops were also reported in fairly fierce battles near the Syrian border.
A report showed U.S. retail sales jumped 2.1% in March, after a 1.6% decline the prior month. The increase was above the 0.6% economists had expected for the month. Meanwhile, the Producer Price Index, a measure of wholesale prices, rose 1.5%, more than the 1% increase in the previous month and above the 0.3% rise economists had predicted.
Nymex crude was down $1.39 at $27.46. Gold prices fell, while the dollar gained against the euro and yen. Bond prices fell, with the yield on the 10-year note up 4 basis points at 3.98%.
GE, the world's second-largest company by market value, said earnings rose to $3 billion, or 30 cents a share, from $2.5 billion, or 25 cents a share in the year-ago period. (The year-ago number reflected an accounting charge.) The company also said it is comfortable with estimates for the rest of the year and shares dipped 0.1% to $27.36
Among other corporate news, aircraft maker
Boeing
(BA) - Get Report
said it will take a $1.2 billion charge in its first quarter results to reflect a brutal decline in commercial aviation. Boeing fell 2.3% to $26.47.
Juniper Networks
(JNPR) - Get Report
, the second-biggest maker of network equipment, said late Thursday it had a profit in the first quarter, compared with a loss a year earlier. Shares gained 8.1% to $9.09.
Microsoft
(MSFT) - Get Report
, the world's largest software maker, filed a suit against
Lucent Technologies
(LU)
over patent rights. The telecom equipment maker is suing
Dell
(DELL) - Get Report
and
Gateway
(GTW)
over the same patents, according to a report by
The Wall Street Journal
.
Also affecting Microsoft was its downgrade to buy from strong buy at First Albany, which said that the company could have trouble renewing maintenance contracts. Microsoft fell 1.6% to $24.20 on the latest news. Lucent shares were unchanged at $1.52.
One day after the oil service sector rallied on an analyst upgrade,
Baker Hughes
(BHI)
warned that first-quarter earnings would miss expectations due to lower-than-expected revenue from Venezuela's still-stalled oil industry, delays due to the war and sluggish growth in the Gulf of Mexico. Shares fell 1.9% to $29.80.
Elsewhere in earnings news, building materials retailer
Fastenal
(FAST) - Get Report
missed analyst estimates by a penny and Midwestern banking chain
Marshall & Ilsley
(MI)
beat by a penny. Fastenal shares gained 0.8% to $33, while M&I gained 3.7% to $27.12.
On the merger front, the
Los Angeles Times
reported that
Apple Computer
(AAPL) - Get Report
was in talks to snap up
Vivendi's
(V) - Get Report
Universal Music Group for as much as $6 billion. Neither company commented on the story, but it moved shares on Friday, with Apple down 8.1% to $13.20, and Vivendi up 0.3% to $13.86.
Elsewhere in combining companies,
Quintiles
(QTRN)
, which does contract research for large pharmaceutical companies, agreed to a buyout from Pharma Services that values the company at $14.50 a share. That's a 19% premium over yesterday's share price of $12.19.
With earnings season approaching, analysts were making comments about corporate earnings while tweaking their estimates and ratings on some big names. Blue-chip
Wal-Mart
(WMT) - Get Report
, just one day after saying March sales weren't so hot, was downgraded to hold from buy at Prudential, which said shares are overvalued at 27 times 2003 earnings estimates. Shares in the nation's largest retailer fell 2.9% to $52.98.
Semiconductor shares were moving on analyst comments. RBC Capital dropped
Applied Materials
(AMAT) - Get Report
and
Lam Research
(LRCX) - Get Report
to sector perform from outperform, while
Varian Semiconductor
(VSEA)
was upped to neutral from underweight at J.P. Morgan. Applied Materials fell 1.6% to $13.03, Lam Research dipped 2.6% to $11.10, while Varian gained 2.2% to $20.24. All in all, chipmakers were weak, with the Philly semiconductors down 1.5%.
UBS Warburg initiated coverage of the brokerage industry with a neutral rating, telling investors that they would be cautious in the near-term on the sector.
Merrill Lynch
(MER)
and
Morgan Stanley
(MWD)
were started at buy, while
Bear Stearns
(BSC)
,
Lehman Brothers
(LEH)
and
Goldman Sachs
(GS) - Get Report
were started at neutral. Of those, Goldman was the only gainer, rising 0.1% to $72.42.
Meanwhile, online broker
Ameritrade
(AMTD) - Get Report
was cut to hold from buy at Jefferies, while
State Street Bank
(STT) - Get Report
was upgraded to market perform from buy at Piper Jaffray. Ameritrade was down 0.6% at $4.90, while State Street rose 0.2% to $32.72.
Overseas markets were mixed, with London's FTSE 100 closing up 0.1% to 3808 and Germany's Xetra DAX ending 1.4% higher to 2734. In Asia, Japan's Nikkei lost 2% to end at 7816, while Hong Kong's Hang Seng gained 0.2% to 8645.