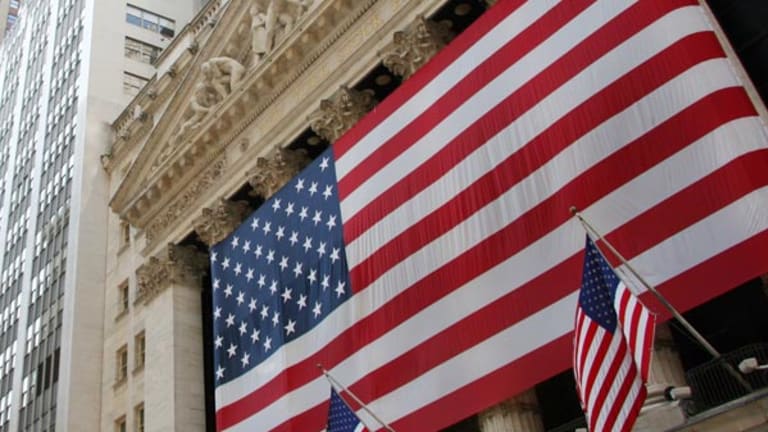 Stocks Can't Hold Gains, End Slightly Lower
The market's bounce is short-lived because of another run-up in oil prices.
Updated from 4:04 p.m. EDT
Stocks wilted in the final hour of trading Monday, as cautious investors backed away from positions in the face of rising oil prices ahead of Tuesday's
Fed
decision.
The
Dow Jones Industrial Average
slipped to its lowest close of the year, down a fraction to 9814.66; the
S&P 500
added 1.25 points, or 0.12%, to 1065.22; and the
Nasdaq Composite
also made a new low for 2004, shedding 2.25 points, or 0.13%, to 1774.64. The 10-year Treasury note, which rallied sharply on Friday's weak employment number, was recently trading down 9/32 to yield 4.25%, while the dollar rose against the yen and the euro.
Volume stayed light, under 1.1 billion on the
New York Stock Exchange
, where decliners held close to a 5-to-4 majority over advancers. On the Nasdaq, fewer than 1.3 billion changed hands, and decliners outnumbered advancers by 3 to2.
In New York, Nymex crude for September delivery reached yet a new record high. Nymex crude for September delivery gained 89 cents, or 2%, to $44.84 a barrel, having traded as high as $44.98. Prices rose even though an official at Russia's state railway said it expected no disruptions in Yukos' oil and refined oil products exports after Aug. 10, when the firm's deadline to pay shipping fees expires.
Joe Liro, equity strategist with Stone & McCarthy Research Associates, said he sees little momentum in the market and no reason someone should get involved before the Fed meeting on Tuesday.
"I would think that most people are going to stay on the sidelines and wait to see where this thing bottoms, and what the Fed has to say tomorrow," Liro said. "After the bloodbath on Thursday and Friday, the fact is that we can't make any upside potential here at all.
"If you take a look at some of the liquidity numbers, it's obvious that there's no confidence in the market here," he added. "There's no reason to get involved. Why be a hero?"
With the jobs report behind it, the market now awaits a Federal Reserve meeting in Washington. Despite news Friday that the U.S. economy added a paltry 32,000 jobs in July, Alan Greenspan's Fed is still expected to raise interest rates by a quarter of a percentage point on Tuesday when its policy decision is announced at 2 p.m. EDT. Traders will be closely watching the committee's policy statement for any change to its long-stated plans for a "gradual" tightening cycle.
John Hughes, equity strategist with Shields & Co., said he expected a quarter-point increase from the Fed's policymakers with little reaction from the market.
"If they change the language in their statement at all to lowering expectations about economic growth in the second half, that could give us the next leg down here that we need in order to make a bottom," said Hughes. "Looking forward, I think we'll eventually get a nice rally by the end of the fourth quarter as we get past some of the worries that are hanging over us now."
And there's been no shortage of worries.
Fighting continued over the weekend in Iraq, with U.S. forces battling insurgents loyal to the rebel Shiite cleric Muqtada al-Sadr for control of the city of Najaf. The country's new prime minister, Ayad Allawi, made an appearance in the city on Sunday, saying there would be "no negotiations or truce" that would spare the insurgents. In response, al-Sadr made his first public appearance since renewed violence began last week, saying the insurgency would continue until Iraq has been liberated from foreign troops.
Meanwhile, a car bomb exploded northeast of Baghdad, killing at least seven police officers in an apparent attempt to assassinate a deputy governor, who was wounded in the blast, according to the
Associated Press
.
On the economic front, the government said wholesale inventories rose more than expected, by 1.1%, in June, down slightly from the revised 1.2% reported for May. Economists expected the figure to come in at 0.6%.
In corporate news,
Wal-Mart
(WMT) - Get Walmart Inc. Report
reported that August same-store sales in the U.S. are tracking in the company's previously announced range of 2% to 4% gains. Its stock closed up 4 cents, or 0.1%, to $51.37.
Dillard's
(DDS) - Get Dillard's, Inc. Class A Report
set plans Sunday to sell its credit card portfolio to
General Electric's
(GE) - Get General Electric Company Report
consumer finance unit for $1.25 billion. Dillard's, which has about 5.5 million credit card customers, expects the deal to add to its 2005 earnings. Its stock closed up $1.22, or 5.7%, to $22.70.
Citigroup
(C) - Get Citigroup Inc. Report
shares added 28 cents, or 0.6%, to $43.47 after the company announced it will buy
Knight Trading Group's
(NITE)
derivative markets business for $225 million in cash.
Toys "R" Us
(TOY)
rose after the shares were upgraded to buy from hold at Smith Barney. The brokerage, which raised its price target to $22 from $15, said it expects to the company to disclose a restructuring that could include a raised dividend or expanded stock buyback. The stock closed up 23 cents, or 1.4%, to $16.25.
In earnings news,
Cablevision
(CVC)
swung into the red for its second quarter and disappointed Wall Street, reporting a loss of $187.1 million, or 65 cents a share, compared with year-earlier net income of $158.3 million, or 54 cents a share. Revenue jumped 25% to $1.21 billion from $973.1 million. Its stock closed down 46 cents, or 2.7%, to $16.68.
Its rival,
Charter Communications
(CHTR) - Get Charter Communications, Inc. Class A Report
, lost $416 million, or $1.39 a share, in the second quarter of 2004, compared to a loss of $38 million, or 13 cents a share, last year. Revenue rose 6% to $1.24 billion. The company recorded an $85 million charge in the latest quarter to settle class-action suits over its accounting. Its stock lost a cent, or 0.3%, to $3.07.
Overseas markets lost ground, with London's FTSE closing down 0.5% to 4314, while Germany's Xetra DAX lost 1% to 3690. In Asia, Japan's Nikkei slipped 0.6% to 10,909, and the Hang Seng in Hong Kong was down 0.1% to 12,467.
At 8:30 a.m. EDT on Tuesday, the government will release a preliminary reading on second-quarter productivity growth in the U.S. economy, expected to have cooled to 2% from the 3.8% reported for the first quarter.
Also before the opening bell, second-quarter earnings releases are expected from
EchoStar
(DISH) - Get DISH Network Corporation Class A Report
, expected to report profits of 23 cents a share, down from last year's 26 cents a share; and
May Department Stores
(MAY)
, expected to post 35 cents a share, up from last year's 30 cents a share.
After the close, earnings reports are expected from
Walt Disney
(DIS) - Get Walt Disney Company Report
and
Cisco Systems
(CSCO) - Get Cisco Systems, Inc. Report
.