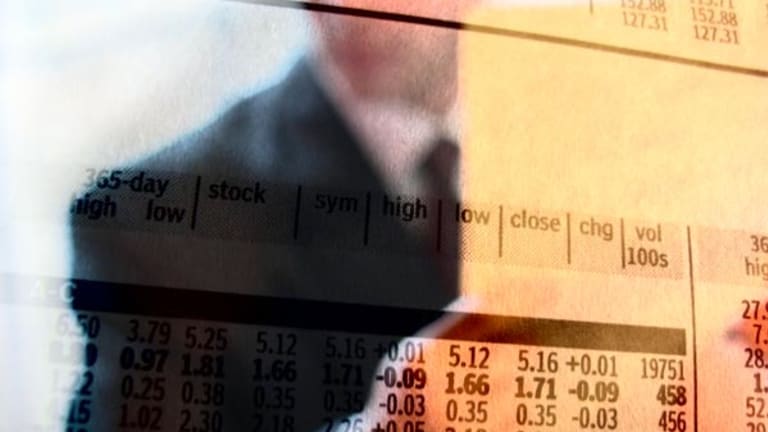 Stocks Can't Get Going
Ford's profit warning and general earnings anxiety make buyers scarce.
Updated from 4:07 p.m. EDT
Stocks struggled again Monday amid volatile oil prices, as the first week of the quarter's earnings season got under way.
The
Dow Jones Industrial Average
shed 12.78 points, or 0.12%, to 10,448.56 in a bouncy session around the break-even line; the
S&P 500
closed 0.01 point higher at 1181.21; and the
Nasdaq
fell 7.23 points, or 0.36%, to 1992.12. The major indices last week snapped a four-week skid.
"The equity markets have had trouble putting in a long-lasting tradeable bottom the past few weeks," said Michael Sheldon of Spencer Clarke LLC. "It appears investors are looking for a catalyst, which could be corporate earnings this week, through important economic reports this week, or if oil prices break below the psychological $50 level."
Trading volume on the
New York Stock Exchange
was 1.52 billion shares, with decliners beating advancers by a 9-to-7 margin. Volume on the Nasdaq was 1.34 billion shares, with decliners outpacing advancers 2 to 1.
In other markets, the 10-year Treasury note was up 10/32 in price to yield 4.43% ahead of the U.S. trade-balance report for February as well as the release of the
Fed's
FOMC minutes from its March 22 meeting. Both are due out Tuesday. The dollar fell against both the yen and euro.
Oil reversed a near session-long decline, with the May futures contract adding 39 cents to close at $53.71 a barrel. Oil gave up about 9% over five sessions last week on evidence of improving supply fundamentals in the U.S. and chart-based selling.
"Oil has stubbornly gotten support at the low $50 level," said Barry Hyman, equity market strategist with Ehrenkrantz King Nussbaum. "As a demand story, that remains the most important consideration in finding the price of oil. Inventories have gone up dramatically. It's becoming a second story to the other action of the week. It's not a surprise that you didn't see the equity markets stronger."
Stronger sectors Monday include biotech, health care, utilities and airlines. Weaker ones include energy, semiconductors and materials.
"After Friday's decline, investors are just buying time," said Peter Cardillo, chief market analyst with SW Bach & Co. "I think, in general, the market is optimistic looking ahead to this week's earnings. The jury is still out on the economic data, which starts tomorrow."
Two major Wall Street sagas dragged on over the weekend and into Monday. In one, Warren Buffett, the chairman of
Berkshire Hathaway
(BRKA)
, is scheduled to be interviewed today in New York by prosecutors investigating the accounting scandal at
American International Group
(AIG) - Get Report
.
New York Attorney General Eliot Spitzer said Sunday that Buffett is not a focus of the probe but could be useful in determining the extent of malfeasance at AIG, with which Berkshire's General Re unit did a finite-risk insurance transaction five years ago.
Also, a lawyer for AIG's former CEO Maurice "Hank" Greenberg told Spitzer's office that his client plans to exercise his Fifth Amendment right to avoid answering any questions relating to Spitzer's probe, according to a report in
The Wall Street Journal
Monday. AIG finished up 19 cents, or 0.4%, to $52.10.
In the other big story,
Verizon
(VZ) - Get Report
agreed to pay $1.1 billion to buy out
MCI's
(MCIP)
largest shareholder, Mexican investor Carlos Slim Helu, as part of its effort to acquire the whole company for $7.6 billion. The agreement is an end-around past
Qwest
(Q)
, whose latest $9 billion offer was rejected by MCI's board last week.
MCI added 17 cents, or 0.6%, to $26.01; Verizon was lower by 17 cents, or 0.5%, to $34.90; Qwest was down 11 cents, or 2.8%, to finish at $3.82.
Ford
(F) - Get Report
warned late Friday that full-year earnings will trail Wall Street estimates because of high health care and material costs and a tough auto market. The No. 2 automaker expects to earn $1.25 to $1.50 a share, not the $1.75 to $1.95 it previously forecast. Standard & Poor's revised its outlook on Ford's triple-B-rated debt to negative after the announcement. Brokerage Thomas Weisel downgraded Ford to peer perform on the news. Shares were down 59 cents, or 5.3%, to close at $10.44.
Time Warner's
(TWX)
American Online unit and
XM Satellite
(XMSR)
confirmed an agreement Monday morning to create a new online radio service. The co-branded Web site will feature 20 XM stations and 130 AOL stations delivered for free, plus a premium version featuring 70 XM stations and 130 AOL stations. XM dipped 1 cent, or 0.03%, to $30.66, having spent a majority of the session in positive territory. Time Warner fell 12 cents, or 0.7%, to $17.85.
Circuit City
(CC) - Get Report
gained Monday despite reporting fourth-quarter earnings from continuing operations of $82.5 million, or 43 cents a share, compared with $94.7 million, or 46 cents a share, a year ago. The latest quarter included various charges and was hurt by lower gross margin in domestic operations, reflecting markdowns and clearance sales. Shares gained 48 cents, or 3.1%, to $15.89.
Elan
(ELN)
said Monday that the
Securities and Exchange Commission
is conducting an informal inquiry into securities trading around the Feb. 28 announcement that the drugmaker was suspending sales of the multiple sclerosis drug Tysabri. Sales of Tysabri were stopped by Elan and partner
Biogen Idec
(BIIB) - Get Report
after research revealed a patient had died from a rare brain disease. Shares of Elan lost 2 cents, or 0.5%, to $3.72.
Procter & Gamble
(PG) - Get Report
said Monday that it will raise its quarterly dividend by 12% to 28 cents a share. The dividend payout will be made on May 16 to shareholders of record on April 22. Shares rose 84 cents, or 1.5%, to $55.34.
NCR
(NCR) - Get Report
sharply raised its earnings guidance Monday and now expects 16 cents a share in the first quarter, up from its previous guidance of 2 cents to 5 cents a share. The Thomson First Call consensus estimate was for earnings of 5 cents a share. NCR, the payment systems giant whose CEO Mark Hurd left to run
Hewlett-Packard
(HPQ) - Get Report
in late March, expects to post $1.34 billion in first-quarter revenue. Analysts had been forecasting $1.35 billion. Shares of NCR were up 59 cents, or 1.7%, to close at $35.25.
Ruby Tuesday
(RI)
said it would restate fiscal earnings for the last three years after its auditors said there were lease accounting errors. The restaurant chain said fiscal 2004 earnings would be lowered by $200,000, fiscal 2003 earnings would increase by $300,000 and fiscal 2002 earnings would rise by $100,000. Ruby Tuesday said the changes would not affect previously reported revenue or cash balances. Shares added 31 cents, or 1.2%, to $24.87.
In brokerage action, Banc of America on Monday upgraded
Biomet
(BMET)
to buy from neutral, citing the stock's 18% pullback since early February and increased confidence in pricing trends. Biomet rose 35 cents, or 0.9%, to $37.54.
Overseas markets were lower, with London's FTSE 100 finishing down 0.2% to 4973 and Germany's Xetra DAX lower by 0.1% to 4396. In Asia, Japan's Nikkei fell 1.1% overnight to 11,746, while Hong Kong's Hang Seng lost 0.1% to 13,660.