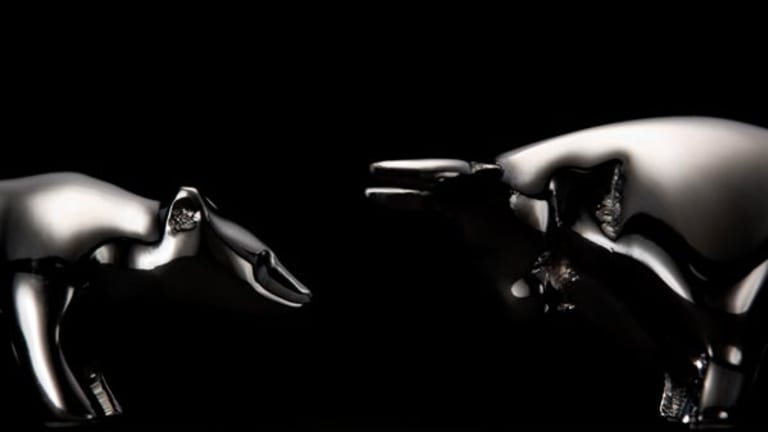 Stocks Calm Before Storm
Investors lay off as Category 3 Rita moves toward Galveston.
Updated from 4:06 p.m. EDT
Stocks closed little changed Friday as investors stepped aside and awaited the hurricane news from Louisiana and Texas.
The
Dow Jones Industrial Average
lost 2.46 points, or 0.02%, to 10,419.59. The
S&P 500
rose 0.67 point, or 0.06%, to 1216.84. The
Nasdaq Composite
gained 6.06 points, or 0.29%, to 2116.84. For the week, the Dow fell 2.1%, the S&P 500 lost 1.7% and the Nasdaq fell 1.9%.
"It's been a long time since I've seen a wall as high as this for the bulls to climb," said Al Goldman, chief market strategist with A.G. Edwards. "However, stocks stumble but they don't fall. I'm really impressed with the resiliency of this market. Prospects are looking quite a bit better. The market did a very good job today of hanging in there."
About 1.51 billion shares traded on the
New York Stock Exchange
, with decliners matching advancers. Trading volume on the Nasdaq was 1.62 billion shares, with advancers outpacing decliners by a 3-to-2 margin.
Honeywell
(HON)
was the Dow's best performer, finishing up 2.4% for the session.
United Technologies
(UTX)
,
Caterpillar
(CAT)
and
Hewlett Packard
(HPQ)
were all up 1.6%.
In other markets, the 10-year Treasury bond fell 18/32 to yield 4.25%, while the dollar was lower against the yen and euro.
Oil and gasoline prices fell as traders bet Hurricane Rita wouldn't inflict a direct hit on Houston, where most of the Texas refining assets are located. The storm, with 125-mph sustained winds, has weakened and is now at Category 3 status. Rita was last reported about 190 miles southeast of Galveston, Texas, and is expected to make landfall Saturday morning near the Louisiana border.
Rita will be a "dangerous hurricane" when it comes ashore, the storm center said.
Front month crude fell $2.31 to close at $64.19 a barrel in Nymex floor trading, a decline of 3.5%. Gasoline futures were lower by 5 cents to $2.09 a gallon.
"The market reaction to Rita is, to some extent, a hangover from Katrina," said Ken Tower, chief market strategist with CyberTrader. "This storm is different. It'll hit a different area, and everyone is prepared. It's going to have a different outcome.
"We could see a sigh of relief since we may not get the horrible conditions and circumstances like we had with Katrina," Tower said. "There will be damage, no doubt, and refineries may take a while to start back up. However, the emotional trauma will be missing."
Meanwhile, water whipped up by the storm poured over patched levees in New Orleans' Ninth Ward, leaving parts of the area flooded under waist-deep water.
Entergy's
(ETR)
New Orleans subsidiary filed for Chapter 11 bankruptcy protection.
Stronger sectors Friday include utilities, financials, health care, retail and insurance. Energy, materials, technology and transportation were among weaker-performing areas.
Among stocks,
Oracle
(ORCL)
reported a profit of $519 million, or 10 cents a share, in its first quarter, compared with $509 million, or 10 cents a share, a year ago. Excluding items, earnings would have been $738 million, or 14 cents a share, for the quarter, up from $535 million, or 10 cents a share, a year ago. Revenue rose 25% to $2.77 billion from a year ago. The Thomson First Call consensus was for EPS of 14 cents on revenue of $2.94 billion. The stock finished lower by $1.07, or 7.9%, to $12.45.
Dow component
Alcoa
(AA)
warned that third-quarter earnings would fall to between 27 cents and 31 cents, below the Thomson First Call consensus of 44 cents a share. The company cited higher raw materials costs and the possible impact of Hurricane Rita. Both Prudential and Goldman Sachs lowered ratings on the company on the warning. Alcoa fell $1.48, or 5.7%, to $24.42.
3Com
( COMS) posted a fiscal first-quarter loss of $42 million, or 11 cents a share, widening from $36 million, or 9 cents a share, a year ago. Revenue rose to $178 million from $162 million a year earlier. Analysts expected a loss of 8 cents a share on revenue of $173 million. 3Com added 36 cents, or 9.9%, to $3.98.
Palm
( PALM) posted fiscal first-quarter earnings late Thursday of $18.2 million, or 35 cents a share, down from $19.6 million, or 38 cents a share, a year earlier. Pro forma earnings were $21.1 million, or 41 cents a share. Revenue jumped to $342.2 million from $273.1 million last year. Analysts, on average, expected earnings of 38 cents a share, according to Thomson First Call.
Palm offered disappointing second-quarter guidance that sent the stock tumbling in after-hours trading. Shares lost $6.28, or 18%, to $28.69.
In ratings moves,
Delphi
( DPH) closed up 10.9% after the stock was upgraded by Merrill Lynch to buy from neutral. The firm believes Delphi will be bailed out by partner
General Motors
(GM)
as well as the United Auto Workers union. Delphi climbed 34 cents to $3.46.
Elsewhere,
Starbucks
(SBUX)
said it's adding another 5 million shares to its repurchase program. The stock rose 23 cents, or 0.5%, to $48.54.
Overseas markets were mixed, with London's FTSE 100 up 0.5% at 5413 and Germany's Xetra DAX gaining 0.7% to 4882. In Asia, Hong Kong's Hang Seng lost 0.2% to 15,144, while Japan's Nikkei was closed for holiday.
To view Gregg Greenberg's video take on today's market, click here
.