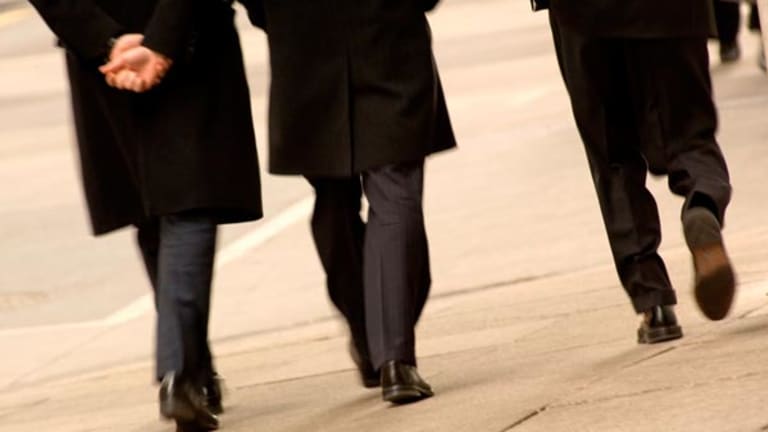 Stocks Buck to Higher Finish
The Nasdaq posts solid gains after Broadcom guides revenue higher.
Updated from 4:06 p.m. EDT
Blue-chips staged a little rally late Tuesday to end with gains, while tech stocks closed solidly higher, as disappointing consumer confidence numbers were offset by news of a big gain in housing starts.
The
Dow Jones Industrial Average
, which closed Monday above 9400 for the first time since June 2002, gained 16.45 points, or 0.2%, to 9428.90. The
Nasdaq
, fueled by positive tech news, gained 21.50 points, or 1.2%, to 1760.99, while the
S&P 500
added 2.59 points, or 0.3%, to 1002.33.
Weakness earlier in the day had stemmed from the University of Michigan's consumer sentiment index, which came in at 90.2, missing the 91.5 expected by Wall Street. Separately, the Commerce Department said housing starts rose in July to an annual 1.872 million, the strongest level in 17 years. Economists had expected 1.790 million, down from a revised 1.845 million in June. Building permits, an indication of future construction, fell to 1.780 million, weaker than expectations of a decline to 1.803 million, from June's revised 1.823 million.
Premarket notes from market watchers warned that the Dow's rise to a 14-month high Monday could spark selling. "This question must be asked -- if the economic pickup is so unambiguous, why then would a cyclical like
Knight-Ridder
report a 2.3% decline in July advertising revenue?" said David Rosenberg, chief North American economist at Merrill Lynch. "And why is it that
IBM
is moving to trim 600 workers ... and at the same time place 3,000 workers on furlough for one week without pay?"
Rosenberg also noted that the market volatility index, or VIX, was down to 19.28, the lowest level since March 2002, while the Nasdaq volatility index, or VXN, was down to 26.62, the lowest level seen since July 1998. With the volatility indices moving inversely to the way stocks trade -- often signaling a market top when they plunge -- Rosenberg noted that stock action following March 2002 and July 1998 wasn't exactly positive.
But others warned the VIX, which dipped another 0.05 point to 19.23, may not be as accurate an indicator given the anemic trading volumes over the last few weeks.
"It's hard to actually take the VIX seriously as an index in August, because there are not enough players out there to make confirmation on the move," said Art Hogan, chief market analyst at Jefferies & Co. "Every day this week and last we were below the three months daily trading average. It's very difficult to take a good true reading by the action in volatility. Any of the quantitative analysis by folks who look at charts should be thrown out in August."
Indeed, Monday's move also came on volume that was 20% lower than the average daily volume, but Tuesday's move was stronger, with the
New York Stock Exchange
trading 1.3 billion shares and the Nasdaq trading 1.7 billion shares. On Monday, the NYSE traded around 1.1 billion shares, while the Nasdaq traded less than 1.5 billion.
In promising retail news,
Home Depot
(HD)
posted double-digit gains in sales and profit with the help of a 2.2% jump in same-store sales. The company beat earnings estimates by 2 cents a share and also backed full-year earnings and sales guidance. After giving the market an early lift, shares reversed direction and dropped $1.74, or 5.1%, to $32.16.
Elsewhere in retail, office-supply retailer
Staples
(SPLS)
posted a rise in second-quarter earnings, surpassing Wall Street estimates, and raised its profit forecast for 2003. Shares rose $2.15, or 10.6%, to $22.53.
Target
(TGT)
said weekly sales data slightly trailed expectations for the month of August, but shares gained 17 cents, or 0.4%, to $38.89.
Saks
(SKS)
shares fell 12 cents, or 1%, to $12.13 after the company announced second-quarter earnings that missed Wall Street estimates by a penny. And
BJ's Wholesale
(BJ)
shares rose $1.11, or 5.5%, to $21.26 after the company reported second-quarter earnings that matched estimates.
Tech stocks were gaining support from
Broadcom
undefined
, which surprised the Street Monday night by saying third-quarter revenue was moving toward $416 million, about $7 million higher than it previously forecast. The shares received several upgrades Tuesday morning and gained $2.50, or 10.9%, to $25.35.
Agilent Technologies
(A)
narrowed its loss on a rise in sales, beating estimates. The testing-equipment maker's CEO also mentioned signs of a sustainable upturn in the sector, although timing and strength are still uncertain. Shares rose $1.83, or 8.2%, to $24.29.
Palm
(PALM)
announced that it will change its name to palmOne in the fall, after buying rival Handspring in June. Shares rose 37 cents, or 2.4%, to $15.63 after a research note from Bear Stearns said the company was well-positioned to profit from back-to-school sales.
After the closing bell,
Hewlett-Packard
(HPQ)
reports its fiscal third-quarter results. The computer maker is expected to say per-share earnings almost doubled in the period. Shares in the PC maker fell 2 cents, or 0.1%, to $22.11.
On the biotech front,
Genentech
(DNA)
reported positive results in preliminary trials of its macular-degeneration treatment Lucentis. Analysts at W.R. Hambrecht said this class of drugs will emerge as a significant source of revenue for the company as well as for rivals such as
Gilead Sciences
(GILD)
and
Genaera
(GENR)
. All three rose on the news, with Genentech up $1.22, or 1.6%, to $79.95; Gilead up $1.78, or 2.8%, to $65.32; and Genaera up 56 cents, or 16.1%, to $4.04.
In other medical news,
Geron
(GERN)
announced it was granted a patent for gene-based therapy using telomerase inhibitor drugs, sending shares up 46 cents, or 6.4%, to $7.68.
Human Genome
(HGSI)
shares gained 42 cents, or 3.2%, to $13.67, after the company was granted fast-track approval from the FDA for its anthrax-fighter ABthrax.
GeneLogic
undefined
announced that it would provide data and work with the FDA to help the government agency test new genomics drugs submitted for approval. Shares rose 36 cents, or 7.5%, to $5.18.
Stocks closed higher Monday, with the Dow up almost 91 points, or 1%, to 9412, while the S&P 500 rose 9 points, or 0.9%, to 999. The Nasdaq added 37 points, or 2.2%, to 1739.
Treasuries were mixed, but the yield on the 10-year note got a slight boost, rising to 4.48%. Crude oil prices for future delivery fell in London. The dollar was stronger against the euro but little changed vs. the yen.
Overseas markets were mixed. London's FTSE 100 closed down 0.5% at 4251, while Germany's Xetra DAX faltered late in the session and closed down 0.1% at 3504. In Asia, Japan's Nikkei closed up 1.4% at 10,174, and Hong Kong's Hang Seng shed 0.2% to 10,509.