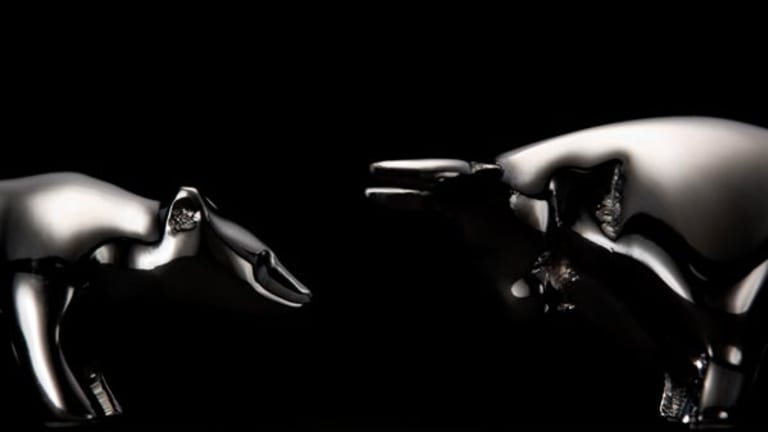 Stocks Break Losing Streak
Oil eases, coaxing in bargain hunters as Rita looms.
Updated from 4:04 p.m. EDT
Stocks had their first up day of the week Thursday as Hurricane Rita was downgraded to Category 4, oil prices eased and a mass evacuation continued along the Texas coast.
The
Dow Jones Industrial Average
rose 44.02 points, or 0.42%, to 10,422.05, while the
S&P 500
added 4.42 points, or 0.37%, to 1214.62. The
Nasdaq Composite
rose 4.14 points, or 0.2%, at 2110.78. Before Thursday, stocks had fallen for three straight sessions, taking both the Dow and Nasdaq down 2.5%.
"After the few days of selling, we got a relief rally," said Paul Nolte, director of investments with Hinsdale Associates. "Oil reversed a bit, so we had a reason. Everything is still very dependent on what happens with the hurricane.
Even if the storm weakens further, Nolte said, stocks face a lot of headwinds.
"Because the market has come down so much, there's a possibility everything is priced in now. Whether Rita is devastating or not, there are still issues from Katrina and Rita that will need to be addressed," he said.
McDonald's
(MCD)
was the Dow's best gainer, up 5.3%, while
General Motors
(GM)
was the Dow's biggest laggard, down 0.9%.
About 1.84 billion shares traded on the
New York Stock Exchange
, with decliners narrowly beating advancers by a 6-to-5 margin. Trading volume on the Nasdaq was 1.72 billion shares, with advancers and decliners evenly matched.
Elsewhere, the 10-year Treasury bond was flat to yield 4.17%, while the dollar was little changed against the yen and euro.
"The yield curve is still flattening out," Nolte said. "Greenspan essentially said full speed ahead through Fed comments, so now we're back to expecting rate hikes. We could get pretty close to an inverted yield curve by year-end."
Crude futures eased after Rita weakened to a Category 4 hurricane, although the storm is still packing 150-mph winds as it churns 435 miles southeast of Galveston, Texas. The front-month contract, which finished Friday at $63 a barrel, fell 30 cents to close at $66.50 a barrel in Nymex floor trading. Gasoline futures were up 9 cents to $2.14 a gallon.
Oil companies again closed higher.
Able Energy
(ABLE)
added 4.8%, and
Sunoco
(SUN)
rose 0.5%.
"Major oil companies are shutting down refineries in the area, removing up to 3.2 million barrels of capacity daily from the market," said Paul Mendelsohn, chief investment strategist with Windham Financial. "Even if there is no damage to these facilities, it will take up to seven days to restart these operations and bring them back to full capacity, eliminating up to 20 million barrels of refined product from the market."
Forecasters continue to put Rita's likeliest landfall somewhere between Galveston and Corpus Christi, Texas, on Saturday. Although its winds weakened slightly, it will be "an extremely dangerous hurricane" when it arrives, the National Hurricane Center said. A hurricane watch is in effect for almost all of the Texas coast and over the Louisiana border to the city of Intracoastal. Still, the exact course of the storm remains impossible to predict.
Rita is moving west-northwest at 9 mph and should stick to that course for the next 24 hours, according to the hurricane center. Heavy rains are expected to start lashing coastal areas Thursday night, with total rainfall totaling 12 inches or more along the Texas and Louisiana coasts by Saturday.
About a quarter of the U.S. oil refining capacity is located in and around Houston; much of it is in the process of being shut down. As was the case when Katrina struck, the Louisiana Offshore Oil Port has stopped unloading shipments from tankers.
About 5% of U.S. refinery capacity is still off line because of Katrina.
New Orleans, where Hurricane Katrina left hundreds of thousands of people homeless on Aug. 29, could see 2 to 4 inches of rain from Rita.
The White House has declared a state of emergency for both Texas and Louisiana. Mandatory evacuation orders are in effect for both Galveston and Corpus Christi.
On the economic front, the Labor Department said jobless claims rose by 8,000 for the week ended Sept. 17 to a seasonally adjusted 432,000, the highest level since July 2003. Economists expected an increase of 454,000.
Elsewhere, the Conference Board said its index of leading indicators fell 0.2% for the month of August. Economists expected a 0.3% decline after a 0.1% rise in July.
Stronger sectors Thursday included homebuilders, retailers and telecom services. Weaker-performing areas include financials, technology, semiconductors and utilities.
Among companies,
Sony
undefined
unveiled a major restructuring plan that calls for the elimination of 10,000 jobs over the next four years. The electronics and media giant also said it expects to report a loss for the current fiscal year. Sony lost $2.02, or 5.6%, to $33.95.
Meanwhile,
Delta Air Lines
(DAL)
said it will slash 9,000 jobs while reducing employee pay as the company tries to restructure. The changes are expected to save an additional $3 billion in annual costs by the end of 2007. Delta was up 5 cents, or 6.5%, to close at 82 cents.
Sprint Nextel
(S)
raised its estimate of the cost savings that will result from the merger that created the company last month. The wireless provider now sees total synergies worth $14.5 billion, up from its old estimate of $12 billion. The company also said it expects a net wireless-subscriber addition of 1.2 million this quarter. Sprint rose 76 cents, or 3.2%, to $24.31.
Homebuilder
KB Home
(KBH)
posted third-quarter earnings of $227.5 million, or $2.55 a share, up from $117.9 million, or $1.42 a share, a year ago. Revenue jumped 44% to $2.53 billion from a year earlier. The Thomson First Call consensus was for EPS of $2.39 a share on revenue of $2.48 billion. KB Home also boosted its 2005 earnings estimate to $9.30 a share from $9. The stock added $2.98, or 4.2%, to $73.70.
General Mills
(GIS)
posted first-quarter net income of $252 million, to 64 cents a share, up from $183 million, or 45 cents a share, a year ago. Sales rose 3% to $2.66 billion. Analysts expected earnings of 56 cents a share on sales of $2.63 billion, according to Thomson First Call. The company also reiterated its guidance for fiscal 2006. General Mills gained $1.51, or 3.4%, to $46.19.
Scholastic
(SCHL)
said it lost $21.2 million, or 52 cents a share, in its first quarter, compared with a loss of $50.5 million, or $1.28 a share, a year ago. Analysts had foreseen a wider loss of 68 cents a share in the latest quarter. The stock rose $1.08, or 3%, at $36.96.
Late Wednesday,
Bed Bath & Beyond
(BBBY)
reported second-quarter earnings of $141.4 million, or 47 cents a share, up 18% from $120 million, or 39 cents a share, a year ago. Sales increased 12% to $1.43 billion from a year ago as same-store sales rose 4.5%. Results beat the Thomson First Call consensus by a penny. The retailer was up $2.28, or 6.1%, to finish at $39.70.
Also after the bell Wednesday, business software maker
Cognos
( COGN) posted second-quarter net income of $28.7 million, or 31 cents a share, up slightly from $27.6 million, or 30 cents a share, a year ago. Revenue rose to $212 million from $185.2 million a year earlier. The Thomson First Call consensus was for earnings of 30 cents a share on revenue of $212.7 million.
However, Cognos offered both third-quarter and full-year guidance below analysts' expectations, prompting Jefferies to downgrade the stock to hold from buy. Shares fell $1.05, or 2.7%, to $37.97.
Overseas markets were mostly lower, with London's FTSE 100 up 0.3% at 5386 and Germany's Xetra DAX losing 0.5% to 4849. In Asia, Japan's Nikkei fell 0.3% overnight to 13,159, while Hong Kong's Hang Seng lost 0.3% to 15,180.
To view Gregg Greenberg's video take on today's market, click here
.