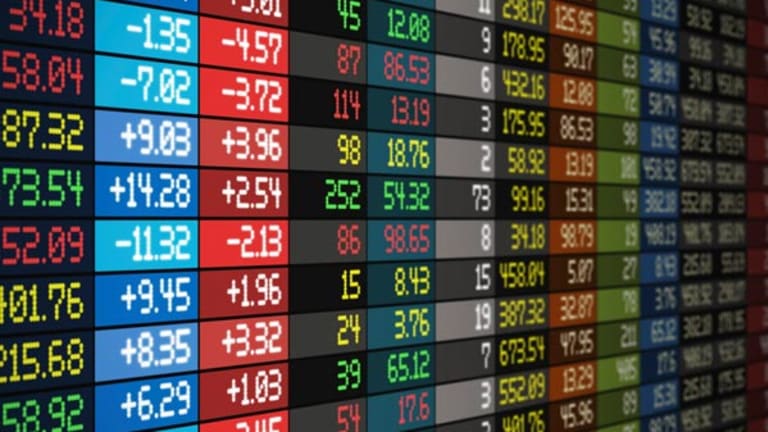 Stocks Bow to Bad News; Dow Slides 5%
Stocks in New York sell off as traders were dealt more earnings reports and dismal labor data. The Dow and S&P 500 sink 5% each. Frank Curzio recaps the session in The Real Story (above).
Update from 3:53 p.m. EST
Stocks on Wall Street took a severe pummeling and closed with heavy losses Thursday, as economic data releases pointed to a prolonged downturn and companies reported job cuts, weak earnings and flagging sales.
The
Dow Jones Industrial Average
sank 443.48 points, or 4.9%, to 8695.79, and the
S&P 500
gave back 47.89 points, or 5%, to 904.88. The
Nasdaq
shed 72.94 points, or 4.3%, to 1608.70.
In rising off its Oct. 27 lows, the market went from an oversold level to overbought in a very short period, said Robert Pavlik, chief investment officer at Oaktree Asset Management. "It's working off some of that overbought condition," he said. The market has overreacted to a thawing credit market, he said. "I still think there's weakness ahead that just hasn't been factored in."
Pavlik also said that the market has been trading on low volume, meaning that buyers have not committed to making a stand. "I think what you're seeing now is the folks that did that recent buying from the lows of the 10th or the 27th on the hopes of catching something, some kind of major reversal are now getting out of it."
"We're still in an environment where you can't trust any rallies," said Chip Hanlon, president of Delta Global Advisors. He said that although the stock market should turn higher before the economy does, the broader economy is due to stagnate for as much as nine more months.
However, Hanlon also said that if the Obama administration proves disinclined to raise taxes in the face of a weak economy, that could provide an upside that the market is currently not expecting.
As credit markets remained stagnant and the risk of inflation appeared to decline, the
European Central Bank and the Bank of England
both reduced their key interest rates Thursday. The ECB dropped its target rate 50 basis points to 3.25%, and the Bank of England slashed its rate 1.5% to 3%.
Hanlon said that the market was anticipating rate cuts from Europe, and that there are more to come. "The global economy is still deleveraging. You're going to see more actions like these from central banks around the world," he said.
Additional corporate headlines were offering signs of trouble.
Bloomberg
reported that
Citigroup
(C) - Get Citigroup Inc. Report
and
Goldman Sachs
(GS) - Get Goldman Sachs Group Inc. (The) Report
have begun
staff as part of a plan to eliminate more than 12,000 jobs combined as the financial crisis continues.
Citigroup shares dropped 8.8% to $11.52, and Goldman tumbled 7.7% to $80.72.
Separately, mutual fund operator
Fidelity Investments
said it is cutting its head count by about 1,300 and will make additional staff reductions in early 2009.
Another report by
Bloomberg
indicated that
Cerberus Capital
may give up its stake in
GMAC
, which it owns jointly with
GM
(GM) - Get General Motors Company Report
. The move is intended to allow GMAC to become a bank and secure funding from the government without subjecting Cerberus to additional regulation. GM lost 14% to $4.80.
Elsewhere in the financial space,
announced late Wednesday it would issue $10 billion in common stock, sending shares down 9.2% to $28.77.
In the technology arena,
(INTC) - Get Intel Corporation Report
CEO Paul Otellini reportedly warned at a technology conference that the U.S. is in a recession that will last for two or three quarters. The stock slipped 7.9% to $13.87.
(YHOO)
CEO Jerry Yang, meanwhile, said late Wednesday that he's prepared to negotiate a new deal with
Microsoft
(MSFT) - Get Microsoft Corporation Report
, according to a report by the
Associated Press
. Yahoo! had earlier this year rejected a takeover offer by Microsoft at $33 a share.
Yahoo! shares edged up 0.3% to $13.96, while Microsoft shed 5.4% to $20.88.
As for economic data, the Department of Labor reported that jobless claims for the week ended Nov. 1 tallied at 481,000, higher then economists' estimate of 476,000. The previous week's figures were revised up to 485,000 from an initial tally of 479,000.
Meanwhile, the Bureau of Labor Statistics also announced that its preliminary read of nonfarm productivity came in at 1.1%, just ahead of analysts' forecasts but down substantially from 3.6% in the second quarter.
Investors were sorting through a new heap of quarterly earnings results:
Retailers were also rolling out same-store sales figures for October. Big-box retail firm
Costco
(COST) - Get Costco Wholesale Corporation Report
reported that its same-store sales were down 1%, although total revenue edged up 2%. The same-store figure fell short of analyst estimates. Fellow bulk merchant
Wal-Mart
(WMT) - Get Walmart Inc. Report
announced a better-than-expected 2.4% increase in same-store sales.
Costco slipped 0.4% to $53.51, and Wal-Mart skidded 1.2% to $53.49.
"In a deleveraging world, that includes the consumer, who is trying to figure out how not to take on more debt for the first time in a long time," said Hanlon of Delta Global. He said that high-end and leisure retailers should continue to feel a pinch, while discount stores like Wal-Mart will continue to benefit.
Elsewhere among retailers,
Amazon.com
(AMZN) - Get Amazon.com Inc. Report
suffered a Citigroup downgrade to hold from buy. Shares declined 9.2% to $47.22.
In other
analyst actions
, Goldman reduced its price target for News Corp. to $9 from $13 after the media company's earnings results missed estimates.
In the commodities space, crude oil was down $4.51 to settle at $60.77 a barrel. Gold dropped $10.20 to close at $732.20 an ounce.
Longer-dated U.S. Treasury securities were mixed. The 10-year note was higher by 2/32, yielding 3.7%, and the 30-year was declining 11/32 to yield 4.2%. The dollar was gaining on the euro and pound but falling vs. the yen.
Globally speaking, European exchanges, including the FTSE in London and the DAX in Frankfurt, were trading lower.
likewise closed to the downside.