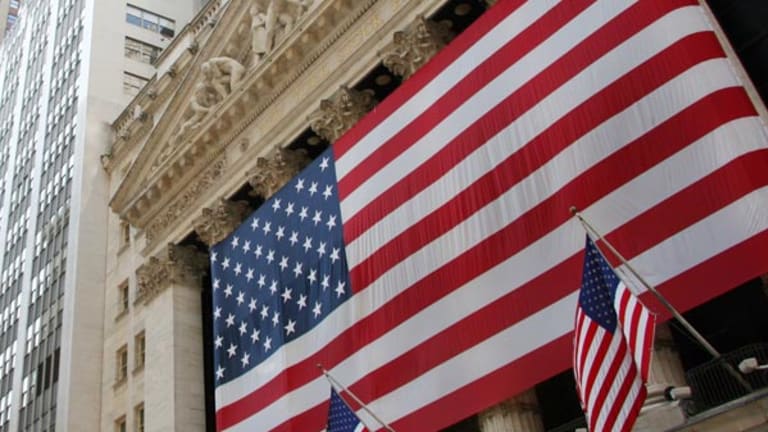 Stocks Bounce Late on Oil Dip
Concerns about AIG and record crude oil prices dissipate in the last hour.
Updated from 4:04 p.m. EDT
Stocks reversed course and closed higher Monday as oil prices fell sharply from record highs and optimism bloomed that
American International Group's
(AIG) - Get Report
legal woes won't result in criminal charges.
The
Dow Jones Industrial Average
gained 16.84 points, or 0.16%, to 10,421.14, having earlier fallen below its 2005 closing low of 10,368.21. The
S&P 500
added 3.20 points, or 0.27%, to 1176.12, and the
Nasdaq
-- after touching a new five-month low earlier -- rose 6.26 points, or 0.32%, to 1991.07. The 10-year Treasury note was down 1/32 in price to yield 4.46%, while the dollar was higher against the yen and euro.
Trading volume on the
New York Stock Exchange
was 2.06 billion shares, with decliners almost matching advancers. Volume on the Nasdaq was 1.59 billion shares, with decliners barely outpacing advancers by an 8-to-7 margin.
The Dow's afternoon turnaround was led by AIG, which added about 4% after New York Attorney General Eliot Spitzer said a civil settlement is probably achievable in the probe of its accounting for finite-risk insurance. AIG fell a corresponding amount on Friday when a newspaper report said Spitzer once threatened the insurance giant with an indictment. AIG was up $2.35, or 4.6%, to close at $53.30.
A turnaround in oil prices also helped stocks on Monday, after futures set a new intraday high on the Nymex above $58 a barrel earlier in the day. The May crude finished down 26 cents to $57.01, reflecting the volatile trading that has whipped the contract around for three straight weeks.
Still, the intraday action in stocks was reminiscent of last week, when several hundred-point swings on different days added up to paltry moves over the full five sessions.
"We're range-bound here," said Brian Williamson, an equity trader with Boston Co. Asset Management. "There's not a lot of news to trade off of and not much to talk about at all."
"It's going to be a thin to nonexistent week for economic data," said Paul Nolte, director of investments at Hinsdale Associates. "It's going to be stock specific this week, definitely. The bond market is acting better and is telling me that inflation isn't as bad as everyone is making it out to be. I think we're going to be trading-range bound."
Overall, asset markets continue to walk a winding path around perceptions about inflation and growth, with bond yields and the dollar finding encouragement whenever the former surfaces in an official context. The latest culprit was a hawkish remark over the weekend from Federal Reserve Bank of St. Louis President William Poole.
"The upward thrust to the economy appears quite substantial, and the risk of higher inflation over the next six months or so seems clearly greater than the risk that inflation will fall below a desirable range," Poole said, according to wire reports. "The aim of monetary policy should be to counter inflation pressures with a less accommodative policy stance."
Signs of inflation in two reports from the Institute for Supply Management hammered stocks Friday in the wake of a fairly benign report on the U.S. labor market.
"The market is preparing for the long list of earnings reports," said Peter Cardillo, chief market analyst with SW Bach & Co. "In the absence of economic news, oil takes center stage; oil hit above $58 a barrel earlier this morning. The market continues to remain on the defensive as these oil prices move higher."
In corporate news,
ChevronTexaco
(CVX) - Get Report
will buy
Unocal
(UCL)
in a cash-and-stock transaction valued at $62 a share. Including $1.6 billion in assumed debt, the deal is worth $18 billion. Shares of Unocal were down $4.75, or 7.4%, to $59.60. Shares of Chevron lost $2.33, or 3.9%, to $56.98.
"The Chevron/Unocal deal was interesting today," added Nolte. "In an area that's been really hot lately, you'd expect a better rate than what was paid. To me, that was an indication that oil stocks are already fully valued."
London-based supermajor
BP
(BP) - Get Report
reported a small rise in first-quarter output Monday morning, saying it produced about 4.09 million barrels of oil and oil equivalent per day, up from 4 billion a year ago. The company expects to produce 4.1 million to 4.2 million a day for all of 2005. Shares added 6 cents, or 0.1%, to $62.82.
Wal-Mart
(WMT) - Get Report
said over the weekend that same-store sales rose 4.2% in March compared with a year earlier, up one-tenth of a percent from the 4.1% same-store sales increase put up in February. Brokerage UBS reiterated its buy rating for Wal-Mart, stating that the same-store sales figures won't affect its positive valuation. Wal-Mart gained 42 cents, or 0.9%, to $49.41.
Morgan Stanley
(MWD)
traded higher Monday after a British newspaper, the
Independent
, said
HSBC
is weighing a $70 billion takeover of the U.S. investment bank and brokerage. Morgan Stanley has been the scene of a bitter war of words between CEO Phil Purcell and a group of former investment bankers who believe he has squandered the firm's heritage.
Morgan Stanley got a further boost at midday after
Dow Jones News Service
reported that the company's board over the weekend authorized efforts to sell the firm's Discover credit card business. The report said the board expects the card business to fetch between $8 billion and $9 billion. Morgan Stanley rose $1.43, or 2.5%, to finish at $58.30.
According to
The Wall Street Journal
,
Fannie Mae's
(FNM)
regulator is investigating whether the mortgage company failed to account properly for trusts it sets up to issue mortgage-backed securities. Shares fell $1.78, or 3.3%, to $51.46.
On Monday,
Jos. A. Bank Clothiers
(JOSB)
reported fourth-quarter earnings of $12.6 million, or 88 cents a share, up from $9.6 million, or 68 cents a share, a year ago. Analysts had expected earnings of 84 cents a share, according to Thomson First Call. The company cited strong sales of its tailored men's closing in both December and January. Shares were up $2.17, or 7.3%, to close at $31.88.
Walgreen
(WAG)
said same-store sales rose 11.6% in March, due mostly to the earlier-than-usual Easter holiday. Total sales for the drugstore chain rose 16.1% to $3.74 billion for the month. Shares added 60 cents, or 1.4%, to $44.31.
Research In Motion
(RIMM)
shares were higher late Monday even after a research note from the Rosetta Group raised concerns that
Microsoft
(MSFT) - Get Report
was planning two product launches in May that would directly compete with RIM. The wireless technology company also will report results Tuesday, with analysts expecting earnings of 65 cents a share, according to Thomson First Call. Shares of RIM, down for most of the session, gained 4 cents, or 0.05%, to $75.15.
Krispy Kreme Doughnuts
(KKD)
said it received $225 million in debt financing, saving the company from defaulting on past loans. Credit Suisse First Boston and Silver Point Finance LLC arranged the financing. Shares moved higher by 9 cents, or 1.2%, to finish at $7.57.
After reporting fourth-quarter earnings and giving lower guidance for the first quarter Friday,
Cognos
(COGN)
posted increased license sales and growth in million-dollar contracts on Monday. Cognos lost 80 cents, or 1.9%, to $42.29.
In brokerage action, Piper Jaffray downgraded
Commerce Bancorp
(CBH) - Get Report
to market perform from outperform, citing concerns that more interest rate hikes by the
Fed
would make the banking company increasingly sensitive to higher deposit-funding costs. The brokerage also dropped its stock-price target by $1 to $34. Commerce Bancorp rose 10 cents, or 0.3%, to $31.81.
Overseas markets were mostly lower, with London's FTSE 100 finishing down 0.3% to 4896 and Germany's Xetra DAX losing 0.7% to 4341. In Asia, Japan's Nikkei fell 0.5% overnight to 11,667, while Hong Kong's Hang Seng added 0.2% to 13,513.