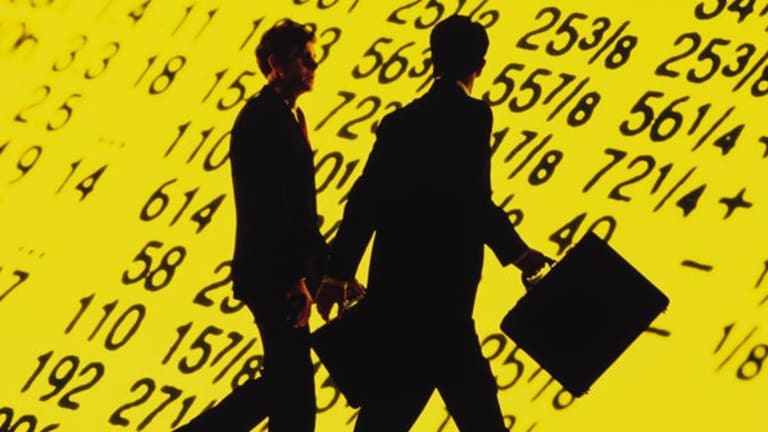 Stocks Bounce Back, Record Biggest Gains in Two Weeks
Stocks snap back from Tuesday's selloff, seemingly undeterred by a higher dollar, lower oil and mixed earnings.
NEW YORK (TheStreet) -- Stocks snapped back from Tuesday's selloff on Wednesday, seemingly undeterred by a higher dollar, lower oil and mixed earnings. 
Benchmark indexes recorded their biggest gains in two weeks. The S&P 500 was up 0.91%, the Dow Jones Industrial Average rose 0.68%, and the Nasdaq gained 1.5%.
Markets had heavily sold off a day earlier as signs of economic recovery from the housing sector and durable goods numbers exacerbated fears the Federal Reserve would hike rates sooner than expected. Click here for more.
"Again, it comes back to volatility... so seeing some consolidation certainly is not surprising to us," said Eric Wiegand, senior portfolio manager at U.S. Bank, in a call, speaking of recent dips and dives. "It's going to be a churning and a somewhat unsatisfying experience."
High-momentum tech stocks were the best performers, getting caught up in a broad-based rally. Apple (AAPL) - Get Report, Microsoft (MSFT) - Get Report, Oracle (ORCL) - Get Report and IBM (IBM) - Get Report each added more than 1%, while the Technology SPDR ETF (XLK) - Get Report climbed 1.9%.
Broadcom (BRCM) spiked more than 21% by mid-afternoon after The Wall Street Journal reported the company was in advanced talks to be bought by Avago Technologies (AVGO) - Get Report. 
A rally in European markets fortified gains on Wall Street. Germany's DAX, France's CAC 40 and the FTSE 100 in London closed more than 1% higher after Greece's Prime Minister Alexis Tsipras said the country and its European creditors were close to a deal that would prove "positive for the Greek economy." The parties are reportedly at the stage of drafting a technical-level agreement, according to Reuters.
Energy was the only S&P 500 sector not engaging in a broad rally after West Texas Intermediate crude settled at its lowest level since April 28. The commodity was under pressure as the U.S. dollar continued its run higher on signs the Federal Reserve will hike rates as key international markets such as the eurozone introduce their own monetary stimulus. West Texas Intermediate crude closed down 52 cents to $57.51 a barrel.
It was a battle among luxury goods stocks as Tiffany & Co (TIF) - Get Report spiked and MichaelKors (KORS) plummeted. Tiffany shares spiked nearly 11% on Wednesday after the jeweler earned 81 cents a share in its first quarter, down from 97 cents a year earlier though better than an expected 70 cents. Click here for more.
Michael Kors was having a negative impact on fellow luxury goods companies, aside from Tiffany. The luxury accessories brand plummeted more than 24% after issuing light first-quarter sales guidance of $930 million to $950 million, below an expected $1.09 billion. Fossil (FOSL) - Get Report, Kate Spade (KATE) , Vera Bradley (VRA) - Get Report, Guess (GES) - Get Report and Coach (COH) all were trading lower. Click here for more.