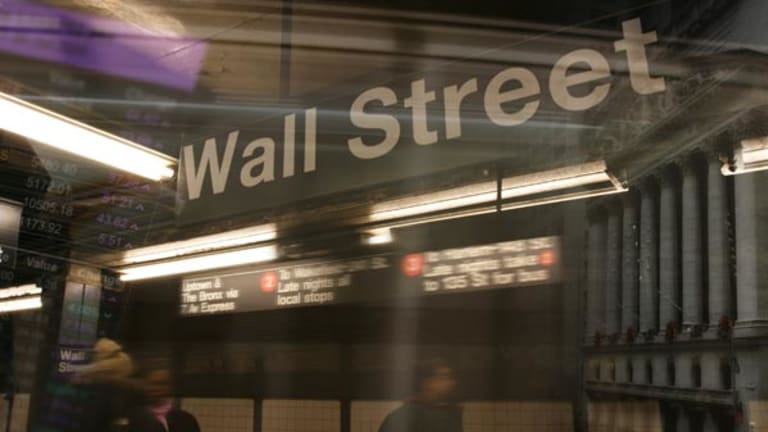 Stocks Bounce Back Big
The Dow has its best day since April 2003.
Updated from 4:03 p.m. EDT
Tech stocks led a broad market rally Thursday, as another round of solid corporate earnings convinced buyers to put aside their recent skittishness.
The
Dow Jones Industrial Average
soared 206.24 points, or 2.06%, to 10,218.60, while the
S&P 500
gained 22.45 points, or 1.97%, to 1159.95. The
Nasdaq Composite
shot up 48.65 points, or 2.54%, to 1962.41, boosted by a 2.8% gain in the Philadelphia semiconductor sector index.
For the session, the Dow notched its largest single-session point gain since April 2, 2003, the S&P 500 since March 17, 2003, and the Nasdaq since March 25, 2004.
Trading volume on the
New York Stock Exchange
was heavy at 2.28 billion shares, with advancers beating decliners by a 3-to-1 margin. Volume on the Nasdaq was 1.95 billion shares, with advancers outpacing decliners 3 to 1 as well.
The Dow Jones Transportation Index raced up 3.43% for the session.
The rally follows a horrible week for stocks. Before Thursday, the Dow was down 495 points, or 4.7%, over the last six trading sessions. The S&P 500 was off 50 points, or 4.2%, over that period, while the Nasdaq had lost 91 points, or 4.5%. All three closed Wednesday at 2005 lows.
"It's too soon to tell if this is a bottom," said Jay Suskind, head of institutional equity trading at Ryan Beck & Co. "We really have to see some follow-through tomorrow. If it wasn't for a fear of inflation pressure and higher oil over the last couple days, we'd be doing a lot better."
Among Dow components,
Intel
(INTC) - Get Report
gained 3.1%, while
Microsoft
(MSFT) - Get Report
added 3.9%.
IBM
(IBM) - Get Report
, which had fallen for 13 straight sessions, finally rose, adding 2.8%, while
Altria
(MO) - Get Report
rose 4.1%.
In other markets, the 10-year Treasury bond fell 28/32 in price to yield 4.30%, while the dollar firmed against the yen and euro. Crude oil firmed after early weakness, with the new front-month June contract finishing up 17 cents to $54.20 a barrel.
"We needed another shake-up to create a bottom, which is what was going on yesterday," said Phillip Roth, chief technical market analyst with Miller Tabak & Co. "We might have to come off again in order to establish a short-term bottom. But there's strength in this quarter, with earnings that are pretty good."
Stronger sectors at midday include technology, health care, airlines, materials and semiconductors. Weaker sectors were biotech, financials and banks.
Boosting stocks Thursday were strong earnings from
Motorola
(MOT)
and
eBay
(EBAY) - Get Report
(although eBay itself fell) and optimism about coming reports from the likes of
Google
(GOOG) - Get Report
.
At Motorola, first-quarter earnings were $692 million, or 28 cents a share, beating estimates by 9 cents. Revenue slipped slightly from a year ago to $8.16 billion, but still topped estimates by more than $400 million. The company also guided both lines higher for the second quarter. Smith Barney upgraded the stock to buy from hold on the earnings news. The shares added $1, or 6.7%, to $15.93.
eBay, whose fourth-quarter earnings miss has pressured its shares all year, reported first-quarter earnings of $256.3 million, or 19 cents a share, 2 cents better than estimates. The results reflected a rebound in operating margins, which came in at 32.5% in the second quarter compared with 30.4% in the first.
For the full year, eBay expects to report GAAP earnings of 71 cents to 73 cents a share, up from its previous estimate of 68 cents to 70 cents a share. Revenue should be $4.27 billion to $4.36 billion, above its old forecast of $4.25 billion to $4.35 billion. Still, eBay lost 3 cents, or 0.1%, to $33.08.
Drugmaker
Merck
(MRK) - Get Report
said it earned $1.37 billion, or 62 cents a share, in the first quarter, compared with $1.62 billion, or 73 cents a share, a year ago. Analysts expected EPS of 59 cents, according to Thomson First Call. For the second quarter, Merck sees earnings of 60 cents to 64 cents a share. Analysts had expected 61 cents a share. Merck was up 21 cents, or 0.6%, to close at $34.28.
Stocks received an early boost on a Labor Department report showing that initial jobless claims for the week ended April 16 fell 36,000 to 296,000, the largest one-week decline since December 2001. The less-volatile four-week moving average dropped by 8,500 to 330,250.
"The Labor Department says seasonal problems related to the early Easter accounted for some of the drop," said Ian Shepardson, chief economist with High Frequency Economics. "The early Easter this year has distorted much of the recent economic data, including, we believe, retail sales and the CPI, so it is hard to know exactly what is going on."
In other economic news, the Conference Board said Thursday that its leading economic indicators fell 0.4% in March. Economists were expecting the index to fall 0.3% after an increase of 0.1% in February.
Also,
Federal Reserve
Chairman Alan Greenspan spoke before the Senate Budget Committee on Thursday, discussing fiscal reforms and offering his views on the federal deficit.
"The U.S. economy delivered a solid performance in 2004, and thus far this year activity appears to be expanding at a reasonably good pace," said Greenspan. "However, the positive short-term economic outlook is playing out against a backdrop of concern about the prospects for the federal budget, especially over the longer run."
McDonald's
(MCD) - Get Report
was lower despite reporting first-quarter net income of $727.9 million, or 56 cents a share, up from $511.5 million, or 40 cents a share, a year ago. Excluding items, McDonald's earned 46 cents a share. Analysts expected earnings of 43 cents per share, according to Thomson First Call. Shares lost 9 cents, or 0.3%, to $29.85.
Shares of
Schering-Plough
(SGP)
rose after the company said it earned $127 million, or 7 cents a share, in the first quarter, compared with a loss of $73 million, or 5 cents a share, last year. The latest quarter included a charge related to employee terminations, before which Schering-Plough earned 9 cents a share, 8 cents better than expected. The stock gained 75 cents, or 3.7%, to $20.70.
Delta
(DAL) - Get Report
lost $1.08 billion, or $7.64 cents a share, in its first quarter, compared with a loss of $387 million, or $3.12 a share, a year ago. Excluding nonrecurring items, Delta said it lost $684 million, or $4.89 a share. Analysts surveyed by Thomson First Call expected a loss of $4.76 a share. The company blamed higher fuel costs for the quarter's loss. Still, Delta rose 21 cents, or 5.7%, to $3.86.
AT&T
(T) - Get Report
said it earned $529 million, or 66 cents a share, in its most recent quarter. Analysts were predicting 59 cents a share, according to Thomson First Call. Revenue fell 12% to $7 billion, marginally beating expectations of $6.9 billion. AT&T, which
SBC Communications
(SBC)
is in the process of buying, cited a lower depreciation expense as a result of a massive asset writedown taken last year. The stock added 32 cents, or 1.7%, to $18.75.
Marriott International
(MAR) - Get Report
said first-quarter earnings rose 27% from a year ago, reflecting both volume and price improvements. At $145 million, or 61 cents a share, earnings were 6 cents above Wall Street estimates. Marriott was higher, up $1.17, or 1.9%, to close at $63.37.
OfficeMax
(OMX)
said Thursday it had first-quarter earnings of $2.6 million, or 2 cents a share, down from the $59.1 million, or 61 cents a share, a year ago. Excluding items, the retailer earned $19.7 million, or 20 cents a share, a penny better than expected. Shares added $1.07, or 3.3%, to $32.91.
In merger news,
Time Warner
(TWX)
and
Comcast
(CMCSA) - Get Report
confirmed a definitive agreement Thursday to acquire the assets of
Adelphia Communications
out of bankruptcy for $12.7 billion. The transaction will allow Comcast to sell back to Time Warner a 21% interest in the company's cable operations.
And the
New York Stock Exchange
announced a deal last night to acquire electronic trading network
Archipelago
(AX) - Get Report
, ending the Big Board's 212-year history as a privately owned institution. The deal values Archipelago at about $1 billion and the NYSE at about $2.5 billion and should close in 12 months. Archipelago shares surged $11.42, or 60.9%, to $30.18 on the news.
In brokerage action, consulting services company
BearingPoint
(BE) - Get Report
suffered two downgrades after the company said late Wednesday it plans a private offering of $250 million in convertible notes. BearingPoint, which has been mired in accounting issues, was cut by J.P. Morgan to neutral from overweight and by Merrill Lynch to sell from neutral. Shares fell $2.49, or 32%, to $5.28.
Overseas markets finished mixed, with London's FTSE 100 flat at 4819, while Germany's Xetra DAX was up 0.4% to 4193. In Asia, Japan's Nikkei fell 1% overnight to 10,984, while Hong Kong's Hang Seng gained 0.7% to 13,597.