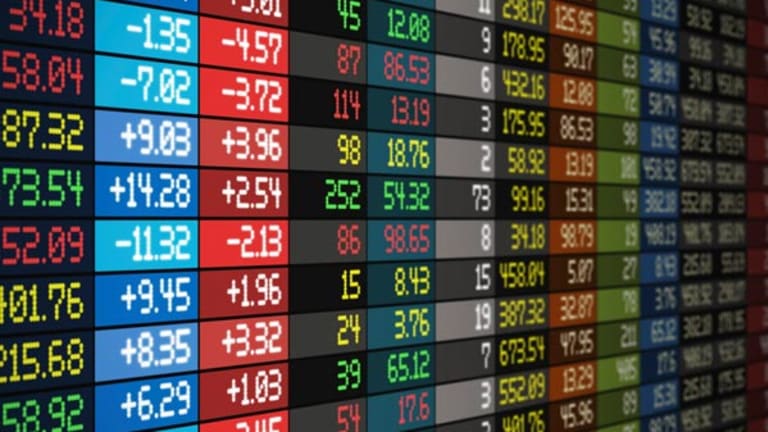 Stocks Bounce Back
Blue-chip issues lead the way as the major indices erase losses triggered by weak confidence data.
Updated from 4:05 p.m. EDT
Blue-chip stocks led a comeback amid lower oil prices Tuesday, erasing modest losses that were triggered by an unexpectedly steep fall in August consumer confidence.
The
Nasdaq
closed up 1.61 points, or 0.09%, to 1838.10, after being down almost 1% earlier in the session. The
Dow Jones Industrial Average
added 51.40 points, or 0.51%, to 10,126, while the
S&P 500
gained 5.08 points, or 0.46%, to 1099. All three indices fell Monday, led by a 25-point decline in the tech index.
"This move upward is a bit of an upside breakout," said Ken Tower, chief market strategist at CyberTrader. "It is a reflection of people's expectations, their expectations have changed. Earlier this summer there was a high degree of uncertainty, and a lot of that has cleared up now."
Volume was light at the
New York Stock Exchange
where 954 million shares changed hands and advancers beat decliners 6 to 3. On the Nasdaq, 1.15 billion shares traded with advancers just ahead of decliners 5 to 4.
Bonds rallied on the lackluster economic news, which also included a weaker-than-expected Chicago purchasing managers' index. The 10-year Treasury note rose 14/32 to yield 4.12%. The dollar fell against the yen and euro.
The Conference Board's consumer confidence index fell 7.5 points to 98.2 in August, down from a revised reading of 105.7 in July. The August number was well below its previously estimated 106.1 and Wall Street expectations for a reading of 103.4. Economists blamed the weakening jobs picture and surging energy prices.
Separately, a report on economic growth around Chicago notched a worse-than-expected slide. The Chicago purchasing managers' index fell to 57.3 in August from 64.7 in July. The notoriously volatile number was expected to come in at 60.8, although since the number was above 50, it still indicates economic expansion.
"The one bright spot was that, if you took a hard look at the Chicago Purchasing Managers Index, you'll notice that there was one component that actually went up," said Peter Cardillo, chief market analyst with S.W. Bach & Co. "That component was the one everyone was hoping for and waiting for, the employment section."
The employment index rose to 51.1 in August from 45.6 in July.
"All in all, I think we're in a continuation of yesterday's rut," Cardillo said. "Obviously the economic numbers didn't help and of course we have very low volume, and this low volume tends to exaggerate the movements in the averages."
Oil continued the descent that has taken prices down 15% over the last two weeks. In New York, Nymex crude for October delivery settled Tuesday at $42.12, down 16 cents, or 0.4%. Among factors influencing trading Tuesday was a report that Mexican's state-owned oil company, Pemex, found underwater deposits in the Gulf of Mexico that could double its overall reserves.
While volume has been low, the market is not without catalysts this week. Besides political news, investors must grapple with a crucial jobs report due Friday, and a business review from
Intel
(INTC) - Get Intel Corporation Report
scheduled for Thursday night. Ahead of the update, Morgan Stanley cut its price target on Intel's shares to $28 from $32 Tuesday morning and predicted the chipmaker will lower the midpoint of its third-quarter revenue guidance from the current $8.88 billion. The brokerage said estimates for personal-computer demand look slightly optimistic.
Intel was closed down 31 cents, or 1.4%, to $21.29.
"There is some concern about Intel's mid-quarter call, so that's out there, and the semiconductor index was the worst performing index yesterday," said Art Hogan, chief market strategist at Jeffries. "That said, as oil backs up, we definitely should see a bid coming into the market."
"The bad thing is that a lot of folks have decided to take this week off, so whatever happens this week, it's going to be on very low volume," Hogan added. "It's very hard to rationalize and justify any moves we make on the type of volume were seeing. You really can't confirm the kind of moves you see in the marketplace when there's not enough participation."
Among stocks,
Six Flags
(PKS)
was rising after Washington Redskins owner Dan Snyder revealed in a
Securities and Exchange Commission
filing that he owns a 9% stake in the amusement park operator. Snyder promised an active role at the company, which has seen its shares slide this year amid declines in attendance and a July earnings warning.
Six Flags' stock was finished up $1.10, or 24.7%, to $5.56.
Merck
(MRK) - Get Merck & Co., Inc. Report
was active after a study that it funded found high doses of its Zocor cholesterol treatment weren't significantly superior to a placebo or smaller doses in preventing heart attacks in high-risk patients. The study, published in the medical journal
JAMA
, followed research last week that raised safety questions about Merck's arthritis treatment Vioxx.
Monday's study was potentially good news for
Pfizer
(PFE) - Get Pfizer Inc. Report
, which markets the $9.2 billion-a-year in sales cholesterol treatment Lipitor. Shares of Merck ended up 4 cents, 0.1% to $44.97, while Pfizer gained 38 cents, or 1.2%, to $32.67.
Before the bell Tuesday,
Albertson's
(ABS)
said second-quarter earnings were $125 million, or 34 cents a share, down from $162 million, or 44 cents a share, in the same period last year. Analysts had expected earnings of 33 cents a share. The company continued to feel the effects of the California grocery workers' strike. Shares of Albertson's were down 52 cents, or 2.07%, to $24.58.
In other news, Swiss bank
UBS
(UBS) - Get UBS Group AG Report
announced this Tuesday that it would purchase
Charles Schwab's
(SCH)
Capital Markets division for $265 million. The transaction comes just eight months after Schwab purchased the SoundView research shop for $321 million.
Overseas markets were lower, with London's FTSE 100 down 0.3% to 4477 and Germany's Xetra DAX losing 0.7% to 3811. In Asia, Japan's Nikkei lost 0.9% overnight to 11,082, while Hong Kong's Hang Seng fell 0.2% to 12,850.