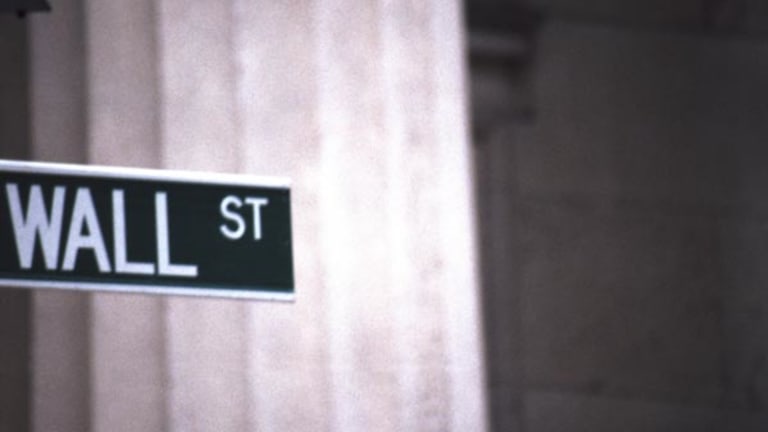 Stocks Bounce Back
The Dow gets into the green after dipping below 10,000 earlier.
Updated from 4:08 p.m. EDT
Tech stocks led the broader markets higher in a dramatic reversal leading up to an earnings release from
Microsoft
(MSFT) - Get Microsoft Corporation Report
Thursday, with the
Nasdaq Composite
bouncing from a new 2004 low set Wednesday.
The Nasdaq closed up 14.69 points, or 0.78%, to 1889.06, after dropping to a new intraday low for the year at 1854 shortly after the open. The tech-laden index reached a new low for the year at 1874 amid Wednesday's carnage.
The
Dow Jones Industrial Average
ended up 4.20 points, or 0.04%, to 10,050.33 after falling below its 10,000 mark earlier and being negative most of the session by as much as 1%.
Meanwhile, the
S&P 500
swung to a gain of 2.96 points, or 0.27%, to 1096.84 after sinking just 2 points off its 2004 low in the morning.
In other markets, the 10-year Treasury note traded up 3/32 in price to yield 4.45%, while the dollar was lower against the yen and higher against the euro. In New York, oil prices rose for the second day in a row, with the benchmark U.S. crude closing up 78 cents, or 1.9%, at $41.36, a little less than a dollar shy of the $42.33 peak.
"The market had a pretty good performance today after what we went through yesterday," said Vincent Ambrose, a trader with Fox Investments. "We had a liquidation yesterday, almost a bit of a panic going into this morning, and I think we just got down to a technical level where we were oversold and just able to reverse it.
Ambrose said the big worry is that earnings and the economy are slowing down after the market saw some soft numbers from June. "We don't know whether things have picked up or not," he said. "It's inconclusive, and that's why I don't think anyone really knows where we go from here. I don't care what Greenspan says, it's all about the numbers that come out in the next few weeks."
Hugh Johnson, chief investment officer at First Albany, said he thinks the bull market has further to go, but at the moment, the markets are being held hostage by a laundry list of worries that is overwhelming investors.
"The old adage on Wall Street says that stocks climb a wall of worries, and that's usually true," Johnson said. "But I've been at this a long time, and I can't remember a time when the list of worries was this long and getting longer."
Johnson went on to rattle off the various concerns that have garnered headlines in the financial press recently, from rising interest rates, war in Iraq, economic turmoil in China, a slowdown in earnings growth and soaring oil prices to the increasingly uncertain outcome of the election. "My prediction is that, over time, these worries will either be resolved or we will learn to live with them and stocks will eventually start to make progress again," he added.
Settling the day's suspense, Microsoft said its fourth-quarter earnings and revenue came higher on strong sales of personal computers, but profits per share was a penny short of estimates. The stock was trading down 84 cents, or 2.9%, to $28.16 in after-hours trading. It gained 0.5% in the preceding session.
The earnings picture remained cloudy throughout Thursday, after Internet auctioneer
eBay
reported a second-quarter profit of $190.4 million, or 28 cents a share, up from $91.9 million, or 14 cents a share, last year. Revenue rose 52% to $773.4 million. Both lines beat the Thomson First Call consensus but the company forecast third-quarter earnings that are a penny shy of forecasts, which sent the stock lower initially. In the end, the stock closed up 79 cents, or 1%, to $77.39.
In focus on the downside, shares of
Sears
(S) - Get SentinelOne, Inc. Class A Report
tumbled $1, or 2.9%, to $33.93 after the department store chain reported a greater-than-expected drop in second-quarter earnings and also lowered its full-year earnings guidance.
Also,
Caterpillar
(CAT) - Get Caterpillar Inc. Report
dropped $3.35, or 4.3%, to $73.60 after the company reported a 38% increase in second-quarter earnings and raised its outlook for the year, but fell short of Wall Street's expectations.
"My sense here is that just a few too many guidances fell under the wishy-washy category," said Trip Jones, managing director with SunGard Institutional Brokerage. "People are saying that the economy is slowing down, but really what's happening here is a normal cyclical process that happens in the third year of an earnings process, when the
Fed
typically changes monetary policy and growth rates moderate a bit."
Bolstering concerns of a slowdown, the Conference Board said its index of leading economic indicators dropped unexpectedly by 0.2% in June after rising a revised 0.4% in May.
Elsewhere on the economic front, initial jobless claims dropped more than expected in the week ended July 16, down 11,000 claims to 339,000 from the revised 350,000 reported for the previous week.
The drubbing in stocks Wednesday had bulls running scared, coming on the heels of generally bullish economic commentary from Fed Chairman Alan Greenspan and Microsoft's decision to return about $75 billion to shareholders via a stock buyback and special dividend. The Nasdaq slid 2.2% to 1874, its lowest close of the year, weighed down by a 3.7% tanking in the Philadelphia Semiconductor Index. The Dow, meanwhile, fell 1% to 10,046, its lowest close since mid-May, while the S&P 500 fell below its 1100 mark for the first time since May, down 1.3% to 1093.88.
In other earnings news out Thursday,
AT&T
said earnings plunged to $108 million, or 14 cents a share, in its second quarter, compared to $536 million, or 68 cents, last year. Revenue slid 13% from a year ago to $7.6 billion and the company announced a plan to scale back its consumer division. By segment, AT&T Business revenue fell 12.7% to $5.6 billion, while consumer revenue dropped 14.6% to $2 billion. Its stock closed down 8 cents, or 0.6%, to $14.24.
Entertainment conglomerate
Viacom
(VIAB) - Get Viacom Inc. Class B Report
earned $754 million, or 43 cents a share, on revenue of $6.84 billion in the second quarter ended June 30. Earnings included a 2-cent charge related to severance for Mel Karmazin. Analysts had been looking for earnings of 43 cents a share on revenue of $6.81 billion. The stock ended up 66 cents, or 1.9%, to $34.93.
Also,
SBC Communications
(SBC)
reported a 16% drop in profits in the second quarter, hurt by charges related to a labor settlement. The nation's second-largest local phone company earned $1.17 billion, or 35 cents a share, down from $1.39 billion, or 42 cents a share, in the same quarter last year. Excluding special charges, the company beat expectations, and its stock added 38 cents, or 1.6%, to $23.58.
Overseas stocks closed uniformly lower, with London's FTSE down 1.6% to 4306 and Germany's Xetra DAX losing 2% to 3801. In Asia, Japan's Nikkei fell 1.3% overnight to 11,285, while Hong Kong's Hang Seng gave up 0.6% to 12,320.
Friday promises to wind down a week of earnings mania, with more than 25 companies scheduled to report before the opening bell, including
Xerox
(XRX) - Get Xerox Holdings Corporation Report
,
Halliburton
(HAL) - Get Halliburton Company Report
,
Clear Channel
(CCU) - Get Cia Cervecerias Unidas SA Report
and
Weyerhaeuser
(WY) - Get Weyerhaeuser Company Report
.
No economic releases are expected.