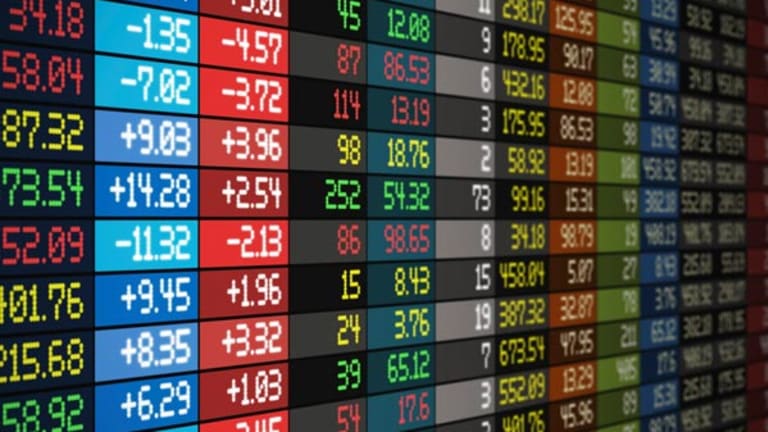 Stocks Bounce Back
Strong earnings and lower oil prices lift the market off its lows for the year.
Updated from 4:06 p.m. EDT
Stocks rebounded from their lowest levels of the year Tuesday, holding gains throughout a light-volume session, as a series of healthy earnings reports and an easing in oil prices lured back buyers.
The
Dow Jones Industrial Average
closed up 61.60 points, or 0.62%, to 9968.51; the
S&P 500
gained 7.43 points, or 0.69%, to 1091.53; and the
Nasdaq Composite
added 21.18 points, or 1.13%, to 1897.82. The 10-year note, which added about a point on Monday as traders scrambled for safety, was recently down 10/32 to yield 4.73%. The dollar was lower against the yen and the euro.
Volume on the
New York Stock Exchange
topped 1.3 billion shares, and advancers outnumbered decliners by about 7 to 3. On the Nasdaq, more than 1.4 billion shares changed hands, and advancers roughly doubled decliners.
Tuesday's rally mirrored Monday's drop, with oil services' stocks falling 1.7%, according to the Amex Oil Services Index, while the rest of the stock market staged a broad rebound. The technology sector led the upside, with the Philadelphia Semiconductor Index up 1.9% and the Amex Network Index up 1.8%. Elsewhere, airline stocks rebounded from heavy losses, with the Amex Airline Index recently adding 3.7%, and the S&P Retail Index gained 2.6%, as investors were heartened by positive earnings reports flowing from the sector.
Larry Wachtel, senior market analyst at Wachovia Securities, said the session's action looks more "respectable" than many other rallies of the recent past, but he wasn't ready to declare any significant progress on the upside. "The global markets came back after yesterday's debacle," he said. "You had every right to expect a snapback. It was fairly predictable, but we have to follow through the next day, which has been extremely difficult in the last month or so. Just getting back-to-back gains together has been difficult."
"There's just a lot of negative sentiment out there," said Joe Liro, equity strategist at Stone & McCarthy Research Associates. "We're in a point in the cycle where things are just very uncertain and you can't really put a probability distribution on global events, and that's got everybody back on their heels.
"If you take a look at what I think is a fairly solid set of domestic conditions, the market should be doing better, but you can't do so with all this Iraq trouble and potential threats to the Middle East oil supply hanging over the market," he added.
Crude oil futures were lower after rising for five consecutive sessions to an all-time high. Crude oil for June delivery lost 80 cents to $40.75 a barrel on the New York Mercantile Exchange.
Overseas markets, which had contributed to Monday's drag on U.S. markets, staged a strong comeback Tuesday. In Europe, London's FTSE closed up 0.3% to 4414 while Germany's Xetra DAX added 0.9% to 3789. In Asia, Japan's Nikkei added 2% overnight to 10,711, while Hong Kong's Hang Seng gained 1% to 11,072.
Housing starts fell more than expected in April to an annualized 1.969 million units, according to the Census Bureau, compared with a revised 2.007 million in March. Economists were expecting April's figure at 1.980 million. Meanwhile, building permits jumped to an annualized 1.999 million in April, beating the consensus estimate of 1.960 million and up from a revised 1.976 million in March.
"These numbers are really sort of ho-hum," said Scott Winningham, an economist with Stone & McCarthy. "I think if you step back and take a look at the broader trend (in the housing market), the prior uptrend has probably ended, but we haven't entered any clear downtrend either. We've just been bouncing around sideways for the last six months or so."
"We're just waiting to see what effect higher interest rates will have in real estate," he added. "The bullish guys say this is just a pause, but the bearish people are saying that this is a beginning of a downtrend, and when rates rise, we're going to suffer some hurt."
Strong employments reports for March and April, coupled with signs of inflationary pressure in the economy, have led to heightened expectations that the
Federal Reserve
will raise its fed funds rate, currently set at a 45-year low of 1%, sometime in the coming months. Fed Chairman Alan Greenspan reinforced this view when he warned after a May 4 Fed meeting that "policy accommodation can be removed at a pace that is likely to be measured."
Concerns about the effects of higher interest rates on investment valuations, in the housing market and beyond, has led to broad stagnation in the stock market and skittishness on the part of investors, despite a resoundingly upbeat earnings season and a slew of positive economic indicators.
Among stocks,
Hewlett-Packard
reported earnings in line with Wall Street's expectations after the bell and offered a new revenue outlook that suggests it could see an extra $1 billion in revenue in the second half of 2004, if business goes well. Its shares were recently up 71 cents, or 3.6%, to $20.54 in after-hours trading after gaining 1.7% during the session.
Home Depot
(HD) - Get Home Depot Inc. (The) Report
said first-quarter earnings rose 21% from a year ago on a 16% increase in sales and a 7.7% increase in same-store sales. The numbers were all better than expected and Home Depot upped its expected rate of 2004 earnings growth to a range of 10% to 14%. The old range called for growth of 7% to 11%. Its shares closed up $1.15, or 3.4%, to $34.62.
Staples
(SPLS)
reported a spike in first-quarter earnings that exceeded Wall Street's expectations. The office supply chain said it earned $125.7 million, or 25 cents a share, up from $24.8 million, or 5 cents a share, in the same quarter last year. Last year's results included accounting adjustments of 13 cents a share. Its shares closed up $1.97, or 8.1%, to $26.39.
Also,
J.C. Penney
(JCP) - Get J. C. Penney Company, Inc. Report
earned $41 million, or 13 cents a share, in the first quarter, down from $61 million, or 20 cents a share, a year ago. The latest quarter included a charge from the sale of its Eckerd drugstore unit. Excluding that, J.C. Penney earned 38 cents a share, about 4 cents better than estimates. Sales rose 8.7% to $4.03 billion. Its shares closed up $2.11, or 6.7%, to $33.71.
Earnings releases are due out Wednesday from
Goodyear Tire & Rubber
(GT) - Get The Goodyear Tire & Rubber Company Report
: expected to report a fourth-quarter operating loss of 22 cents a share, compared to last year's loss of 20 cents a share;
Brocade Communications
(BRCD)
, expected to report second-quarter earnings of 3 cents a share after breaking even last year; and
Intuit
(INTU) - Get Intuit Inc. Report
, expected to report third-quarter earnings of $1.16 a share, up form last year's $1.05 a share.
No major economic releases are scheduled.