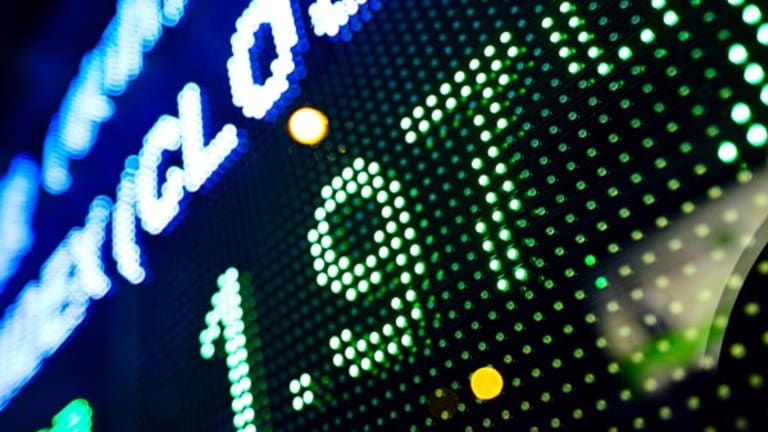 Stocks Boom on Home Sales
Stocks surge Friday after a report shows the largest monthly increase in existing-home sales since 1999.
(Updated with stock prices.)
NEW YORK (
) -- The best monthly increase in existing-home sales since 1999 helped fuel broad-based stock market advances Friday, with the
Dow
reaching a new closing high for the year.
The Dow Jones Industrial Average, which climbed 155.91 points, or 1.7%, to 9505.96 Friday,
may go by another name
in the future as reports late Friday said Dow Jones could put its index business up for sale.
The
S&P 500
tacked on 18.76 points, or 1.9%, to 1026.13, and the
Nasdaq Composite
edged up 31.68 points, or 1.6%, to 2020.90.
While gains were broad-based across sectors, energy was hard to ignore. The Philadelphia oil services index gained 4% as oil topped its 2009 highs in Friday trading, ultimately gaining 98 cents to $73.89.
Chevron
(CVX) - Get Chevron Corporation Report
and
Chesapeake Energy
(CHK) - Get Chesapeake Energy Corporation Report
gained 1.6% and 3.3%, respectively.
Despite a rocky start, it was a solid week for stocks as the Dow gained about 2%, the S&P 500 advanced 2.2%, and the Nasdaq Composite added 1.8% in the five-day session. Stocks closed in positive territory four of those five days despite what many observers call overbought conditions, surprising those who anticipated a larger pullback might follow Monday's losses.
Gains accelerated Friday after the National Association of Realtors said
existing-home sales
increased 7.2% to an annual rate of 5.24 million units in July, marking the largest monthly increase since 1999 and the first time in five years that existing-home sales have increased for four months straight. Analysts had expected a more modest increase to a rate of 5 million units.
"The housing market has decisively turned for the better," said Lawrence Yun, NAR chief economist. "A combination of first-time buyers taking advantage of the housing stimulus tax credit and greatly improved affordability conditions are contributing to higher sales."
"Home sales certainly beat expectations, and obviously the market likes that very much -- the housing market is certainly on the mend," says Peter Cardillo, chief market economist at Avalon Partners. "The big debate is how strong of a rebound are we looking at."
This is a good start, says Paul Nolte, director of investments at Hinsdale Associates, but the pace likely isn't sustainable due to seasonality. Moreover, "what we've seen so far from the consumer is they're not really willing to spend unless the government throws them money in order to get them to spend -- we saw it with cash for clunkers and we're seeing it with the real estate market -- but what happens when the government pulls back from subsidizing some of those purchases," he asks.
Click below to hear Nolte discuss the housing data, the health of the consumer and whether or not the market is aligned with the economic recovery.
Homebuilder stocks rallied, with
Toll Brothers
(TOL) - Get Toll Brothers, Inc. Report
,
Hovnanian Enterprises
(HOV) - Get Hovnanian Enterprises, Inc. Class A Report
and
DR Horton
securing more than 3% gains.
Meanwhile,
Federal Reserve
Chairman
, in a keynote speech at a Fed retreat Friday morning, reiterated that economic activity in the U.S. and overseas "appears to be leveling out, and the prospects for a return to growth in the near term appear good."
The Fed chairman also praised policy-makers for responding "with speed and force" to the global financial crises. "Looking forward, we must urgently address structural weaknesses in the financial system, in particular in the regulatory framework, to ensure that the enormous costs of the past two years will not be borne again," he said.
More promising data from Germany and France helped to lift some overseas markets. Markit Economics said an index of German services rose to 54.1 this month, up from 48.1 in July. At the same time, a reading on manufacturing in France increased to 50.2 in August from 48.1.
In Europe, London's FTSE 100 and Frankfurt's Dax added 2% and 2.5%, respectively. Japan's Nikkei and Hong Kong's Hang Seng fell 1.6% and 0.4%, respectively, during their session.
China plans to tighten capital requirements for banks,
Bloomberg
reported. Banks may have to rein in lending or sell shares to lift capital adequacy ratios to a 12% minimum, according to the report.
Longer-dated Treasuries fell in price. The 10-year lost 31/32, to yield 3.55%, while the 30-year lost 1-25/32, yielding 4.35%
-- Written by Elizabeth Trotta in New York.