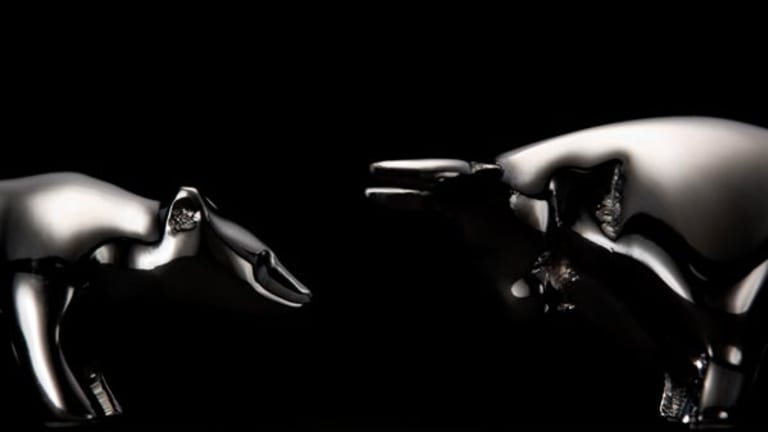 Stocks, Bonds Hit Hard
The averages are mired in red as bond yields spike.
Updated from 4:11 p.m. EDT
Rate fears and inflation anxiety wiped out the week's gains Friday as surging bond yields became too much for the bulls to bear.
The
Dow Jones Industrial Average
, which gained more than 40 points in the aftermath of a positive employment report, lost 96.46 points, or 0.86%, to 11,120.04. The
fell 13.54 points, or 1.03%, to 1295.50, while the
Nasdaq
shed 22.15 points, or 0.94%, to 2339.02.
Of the 30 companies in the Dow, 27 closed lower.
Alcoa
(AA) - Get Free Report
,
McDonald's
(MCD) - Get Free Report
and
Verizon
(VZ) - Get Free Report
were the only names to escape the selloff.
For the week, the Dow edged up 0.11%, the S&P scratched out a 0.05% gain, and the Nasdaq edged lower by 0.03%.
Pressure built in stocks and bonds despite an absence of inflation pressures in the employment data, which showed payroll growth of 211,000 jobs in March and a benign 0.2% rise in average hourly pay. The 10-year Treasury bond was recently down 14/32 in price to yield 4.96%, its highest level since mid-2002. The 30-year bond yield breached 5% for the first time since 2004.
One negative for bonds was a decline in the unemployment rate to 4.7% from 4.8%, a trend that could bother
members who have cited rising capacity utilization as a potential inflationary catalyst. The central bank has raised the fed funds target rate at 15 straight meetings, lifting it in quarter-point increments to 4.75% from 1% in June 2004.
"I don't think the inflation fears are overdone; in fact, I think they're still underpriced with regard to the bond market," says Michael Darda, chief economist at MKM Partners. He says the rise in yields is actually a "healthy development" because it's closer to reality than what was priced in before.
Darda expects inflation and the fed funds rate to move higher than most people expect. "I would buy stocks on the weakness," he adds. "Stocks are strong relative to bonds ... and that's the comparison that matters."
To view Kara Wetzel's video take on today's market, click here
.
News from overseas also contributed to the yield spike, as expectations grew that the Bank of Japan will raise interest rates as soon as midyear.
A key reason the U.S. bond market has performed so well in recent years is that it has offered the highest return of debt markets worldwide. Moreover, the market has been fueled by the "carry trade" whereby investors borrowed money in Japan, which held its interest rates at 0%, and invested it in the U.S. for a higher return.
Matthew Smith, a portfolio manager at Smith Affiliated Capital, says concern about overseas tightening is overdone. "If you look at rates around the world, our
yields are still near the highest," Smith said. The fed funds rate stands at 4.75%, the BoJ's key rate is at 0%, and the European Central Bank's rate is at 2.50%.
Sky-high commodities prices also took the wind out of stocks, even though gold backed away from $600 an ounce. Fed policymakers cited rising energy and commodities costs among the reasons they raised rates at the March 28 Federal Open Market Committee meeting.
Comex Gold futures ended the day down $7 to $592.70 an ounce. Before it pared losses at the end of the session, gold had been heading for its biggest one-day loss in a month
Silver eked out a 3-cent gain to end the day at $12.07 an ounce, just below the 22-year high hit earlier in the week.
Crude futures fell 55 cents to $67.39 a barrel on Nymex. The May contract had advanced in morning trading on concerns about dwindling gasoline inventories heading into the summer driving season. The front-month contract, which was trading below $62 as recently as two weeks ago, has been creeping toward its record intraday high at $70.85 reached last August.
By sector, some software makers were stronger. However, metals and miners, oil and gas services, construction, Internet retail, steel and semiconductors were all lower.
The Amex Gold Bugs index lost 2.58% to end the day at 345.42. The Philadelphia Oil Service Sector index lost 1.79% to 212.46, and the Philadelphia/KBW Bank Sector index fell 0.7% to 106.80.
The Amex Airline index lost 1.3% on the day to 54.22, and the Philadelphia Semiconductor Sector index slumped 1.84% to 514.94.
The dollar carved out its largest one-day rally against the euro in a month on increased interest rate speculation. Higher rates in the U.S. make dollar-denominated assets more attractive by upping their return, and this spurs demand for the greenback. The dollar also gained on the yen.
Market breadth was negative. Losers beat winners more than 4 to 1 on the
as 1.53 billion shares changed hands, and decliners topped advancers more than 2 to 1 on the Nasdaq on volume of 2.02 billion shares.
A lot of stocks were under pressure, including
Research In Motion
(RIMM)
. The company swung to a fourth-quarter profit of $18.4 million, or 10 cents a share, but adjusted earnings were 65 cents a share, missing estimates by 2 cents.
RIM's quarterly revenue was also short of estimates, coming in at $561.2 million, compared with the $567.2 million consensus. For the current quarter, RIM guided to earnings of 60 cents to 65 cents a share on revenue of $580 million to $610 million. Analysts wanted earnings of 76 cents a share on $625.6 million in revenue. RIM ended the day down 5.45% at $79.78.
Restaurant operator
CKE
(CKR)
said fourth-quarter earnings jumped tenfold to $154.3 million, or $2.14 a share, reflecting a big tax gain. Adjusted earnings of 22 cents a share were 4 cents ahead of estimates. Sales fell 4% to $348.5 million, and the stock lost 3.49% to close at $17.41.
Jim Padilla,
Ford's
(F) - Get Free Report
president and chief operating officer, said Thursday he's leaving the automaker after nearly 40 years of employment. CEO Bill Ford will assume Padilla's duties.
Shares of
Constellation Brands
(STZ) - Get Free Report
lost 5.77% after the wine and spirits company's fourth-quarter sales missed expectations.
Extreme Networks
(EXTR) - Get Free Report
shares sank 6.68% after the computer networking company warned fiscal third-quarter results will miss analysts' targets.
On the other side of the ledger,
Starbucks'
(SBUX) - Get Free Report
shares rose 1.09% to $37.86, off their best levels of the session, after the coffee retailer said March same-store sales rose 10% from a year ago. The results beat estimates, and the company reiterated guidance for 3% to 7% same-store sales growth for its fiscal year.
For the second time in two weeks,
AutoNation
(AN) - Get Free Report
tweaked its first-quarter guidance, this time raising it to 36 cents to 38 cents a share. The company cited strength in its premium auto division. AutoNation cut its guidance on March 24. AutoNation ended the day up about 1.77% to close at $22.48.
Deutsch Bank upgraded
U.S. Steel
(X) - Get Free Report
to hold from sell, while Keefe Bruyette upgraded
Chicago Mercantile
(CME) - Get Free Report
to market perform from underperform.
Bed Bath & Beyond
(BBBY) - Get Free Report
, which gained 6.5% on Thursday after the retailer said fourth-quarter earnings rose 9% from a year ago, was cut by J.P. Morgan to underweight from overweight. Bed Bath & Beyond ended the day down 1.10% at $40.37.
Overseas markets were mixed, with London's FTSE 100 ending the day down 0.3% to 6026 and Germany's Xetra DAX down 1.3% at 5953. Both indexes had been higher before the U.S. stocks fell. In Asia, Japan's Nikkei rose 0.4% overnight to close at 17,563, while Hong Kong's Hang Seng added 0.4% to 16,472.