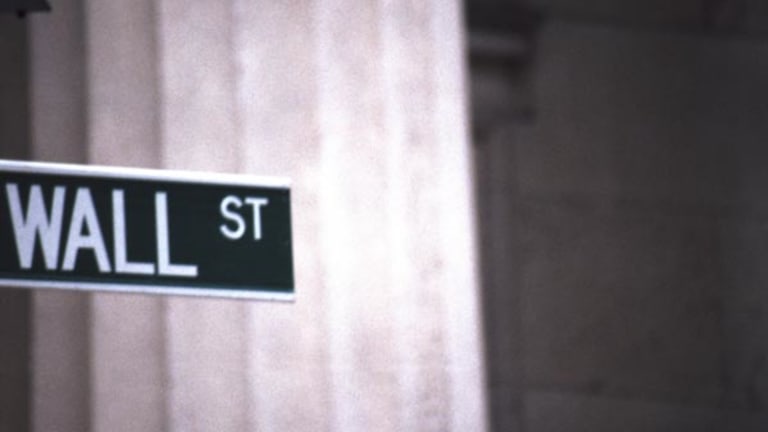 Stocks Battered by Global Downdraft
The market in New York is sharply lower Friday after equity indices plummet overseas. Oil and gold fall hard, while U.S. Treasury prices surge.
Updated from 9:46 a.m. EDT
Following precipitous declines in the major world indices, stocks on Wall Street were taking heavy losses Friday, as forced liquidations continued and fear of a global economic slowdown intensified.
The
Dow Jones Industrial Average
was down 412 points at 8280, and the
S&P 500
gave back 46 points to 862. The
Nasdaq
tumbled 69 points to 1535.
Michael Strauss, chief economist and strategist at Commonfund, said that liquidations by funds needing quick capital took place overnight and contributed to a selloff in world markets. An unwinding of carry trades in the foreign exchange market played in to those declines, he said.
"Obviously the U.S. got caught in some of that in the preopening," he continued. Premarket futures for the major averages hit their limit lows before the open, logging their maximum possible losses and triggering a cessation in the selling.
"Maybe this is the final capitulation," said Strauss, who added that the market isn't necessarily reacting to gloomy economic data. "Everyone's expecting the numbers to be weaker. Tell me who's not expecting weaker GDP in the U.S."
Considering the turmoil, Nouriel Roubini, an economics professor at New York University, believes hundreds of hedge funds could collapse and that financial markets might need to be temporarily shut down in order to stem the massive asset selling, Bloomberg also reported.
The credit crunch was once again in focus.
Bloomberg
reported that the Treasury Department was ready to invest in regional banks as part of a $250 billion effort to capitalize banks. The Treasury already spent $125 billion on nine of the biggest U.S. banks.
Meanwhile, U.S. equities weren't the only asset class in deep trouble during the final session of the week. Crude oil was dropping $3.23 to $64.61 a barrel, despite an announcement by OPEC that it would reduce production by 1.5 million barrels a day in an effort to support falling prices. Gold was losing $1.30 to $713.40 an ounce.
After rocketing ahead in early action, longer-dated U.S Treasury securities were off their highs. The 10-year note was up 16/32, yielding 3.62%. The 30-year was gaining 20/32 to yield 4.01%.
Overseas, European indices, such as London's FTSE and Frankfurt's DAX, were falling sharply. In Asia, the Nikkei in Japan and the Hang Seng in Hong Kong closed with significant losses.
The foreign exchange market was seeing monumental moves in some cases, with the dollar registering significant changes against its major counterparts. The euro was losing 1.4% to $1.27, and the pound was sinking 2.6% to $1.57. The Australian dollar was off 8.5% against the greenback.
However, the dollar was surrendering 3.1% to the yen.
Lending markets slowed a trend of loosening that had emerged in previous sessions. Three-month dollar Libor, a measure of the rate banks charge one another for large loans, was down slightly at 3.52%. The cost of overnight borrowing rose 7 points to 1.28%.
In company news,
PNC Financial Services
(PNC) - Get Report
and
National City
(NCC)
announced a merger agreement. PNC will buy National City for $5.2 billion, $2.23 a share in a cash-and-stock deal.
Separately, U.K. insurance firm
Prudential
(PUK) - Get Report
was considering the purchase of segments of struggling U.S. insurer
AIG
(AIG) - Get Report
. AIG has been attempting to sell parts of its asset portfolio to avoid going bankrupt.
As for corporate earnings, following Thursday's close software titan
Microsoft
(MSFT) - Get Report
reported results that beat estimates but issued a cautious revenue forecast for the coming quarter.
Looking at the day's economic data, the National Association of Realtors said that September existing-home sales increased 5.5% to an annualized rate of 5.18 million. Economists were expecting 4.95 million.
(
)