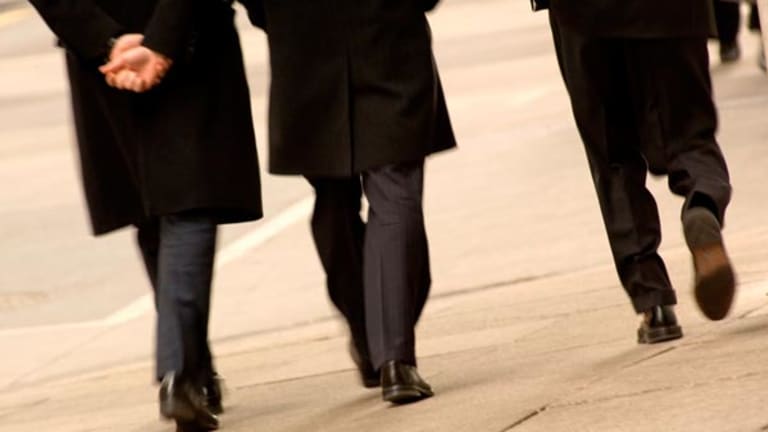 Stocks Backslide Across Globe
The three major U.S. averages -- with the Nasdaq being hit the hardest -- join a sharp worldwide pullback as confidence in the economic recovery wanes. Alix Steel reviews the day in The Real Story video (above).
NEW YORK (TheStreet) -- Stocks in New York pulled back sharply Monday, extending Friday's losses as overbought conditions and waning confidence in the economy spurred a global selloff.
The
Dow Jones Industrial Average
gave up 186.06 points, or 2%, to 9135.34, while the
declined 24.36 points, or 2.4%, to 979.73. The
Nasdaq Composite
fared worst, losing 54.68 points, or 2.8%, to 1930.84.
Alcoa
(AA) - Get Free Report
shed 6.5%, and industrials
Caterpillar
(CAT) - Get Free Report
and
DuPont
(DD) - Get Free Report
lost 4.5% and 4%, respectively, on the Dow.
An unexpected decline in
that weighed on stocks
garnered even more concern at the start of the new week as
more signs
emerged that the economic recovery may be more drawn out than some had hoped.
Consumer sentiment data gave credence to disappointing
from earlier last week, and the market depends on the consumer, says Doug Roberts, chief investment strategist at ChannelCapitalResearch.com.
"You've seen positive news in
, you've seen positive news in earnings, but ultimately, for this rebound to have legs, the consumer needs to come back a bit," says Roberts. "It's almost like people are looking for an excuse to take profits and are looking for more clarity as to what's happening with the consumer," he says.
Click below to hear Roberts discuss the pullback, the economy and where we go from here.
But it might be even simpler, says Jeff Saut, chief investment strategist at Raymond James, who adds, "no surprise here." Some indications show things were as overbought "as they've been in years," he says.
"The fact of the matter is the rally was long of tooth, stocks were stretched, and you have a bunch of unknowns for the next month or two, so stocks were looking for a reason to pull back," Saut says. But he warns, "It's time to be cautious, not bearish."
Further shaking Wall Street's confidence in the consumer,
Lowe's
(LOW) - Get Free Report
fell 10.3% to $20.47 after
it disappointed
on the top and bottom lines with its second-quarter results and forecast third-quarter earnings below Street expectations.
Home Depot
(HD) - Get Free Report
shares also gave up 3.8% to $26.11 after that news, a day ahead of its earnings.
Commodities also pulled back, with crude oil futures down 76 cents at $66.75 a barrel, and gold off by $12.90, at $935.80 an ounce. The dollar lost ground against the yen but strengthened vs. the pound and euro.
One positive sign, the New York Fed's Empire State manufacturing survey's general conditions index, rose to a positive 12.1, its highest level since November 2007. The new reading is a 13-point improvement from July and far better than expectations for an increase to 3.
"Right now what you have is a battle of supply vs. demand," says ChannelCapitalResearch.com's Roberts. "You're seeing it with production data and empire manufacturing data, that they're starting to redo the pipelines and starting to produce again -- the real question is where the demand is going to come from with all this supply, and that's what people are wondering right now."
Those Empire State data were largely overshadowed as stocks sold off across the globe. Japan's Nikkei fell 3.1% after news that the country's gross domestic product expanded at a 3.7% annual rate in the three months ended June 30, vs. a median estimate for a3.9% growth.
China's Shanghai Composite Index also dropped 5.8%, and the Hang Seng in Hong Kong shed 3.6%.
Ping An Insurance
, which missed estimates late last week, said it would continue to invest at about the same level in the second half of the year but warned "there are still many uncertainties in the short term, despite positive prospects of the stock market in the medium-to-longer term."
Yunnan Copper
, China's third-biggest producer of the metal, also posted a loss in the first half of the year, sending shares down to the maximum 10% daily loss and weighing heavily on other
.
Stocks in Europe were also down, with the FTSE in London and Dax in Frankfurt finishing lower by 2% and 1.7%, respectively, and getting no help from disappointing July sales figures from
Hennes & Mauritz
.
In other news,
Capital One Financial
(COF) - Get Free Report
fell 2.9%
after it reported
in a filing that the annualized net charge-off rate rose from 9.73% to 9.83% in July, and 30-day delinquencies increased to 4.83% from 4.77%.
-- Written by Elizabeth Trotta in New York.