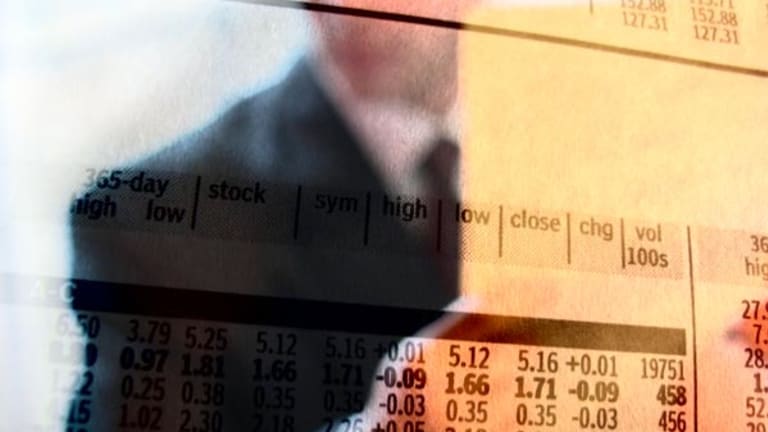 Stocks Turn Positive as Crude Closes at $61
Stocks turn slightly positive by mid-afternoon Tuesday as crude oil closes at $61 a barrel.
Stocks turn slightly positive by mid-afternoon Tuesday as crude oil closes at $61 a barrel.
NEW YORK (TheStreet) -- Stocks turned slightly positive by mid-afternoon Tuesday as crude oil closed at $61 a barrel. Markets had traded lower earlier as a surge in the U.S. dollar stopped short a rally triggered by optimism over Greece. 
The S&P 500 added 0.09%, the Nasdaq was up 0.06%, and the Dow Jones Industrial Average added 0.16%. 
West Texas Intermediate crude rose 1% to $61.01 a barrel over Tuesday's session in a rally analysts characterized as a technical bounce. The commodity was also showing some buoyancy ahead of weekly inventories data out on Wednesday. 
The U.S. dollar gained 1.5% against the euro, 0.37% against the Japanese yen, 0.6% against the British pound and 0.23% against the Canadian dollar. 
Eurozone finance ministers reacted positively to new proposed reforms submitted by the Greek government in a meeting on Monday. Among the reforms reported, though not confirmed, Greece will eliminate early retirement benefits, cut defense spending and increase corporate tax rates. Eurozone leaders will meet again at the end of the week. Talks have escalated as Greece faces a crucial repayment to the International Monetary Fund by the end of the month.
"What has been an ongoing distraction amidst an endless series of presumed deadlines and fruitless negotiating sessions seems to be at the point of resolution, one way or the other," Ameriprise Financial chief market strategist David Joy wrote in a note.
The utilities sector was the worst performer on signs of continued sluggishness in manufacturing. Edison International (EIX) - Get Report, SouthwestGas (SWX) - Get Report, Duke Energy (DUK) - Get Report and Dominion Resources (D) - Get Report fell, while the Utilities SPDR ETF (XLU) - Get Report slid 1.4%.
U.S. manufacturing growth slowed again in June for the third straight month, falling to its slowest pace since October 2013, according to the Markit PMI Manufacturing Index. The survey fell to 53.4 in June, down from a May reading of 54. Economists had expected the measure to increase to 54.2.
New home sales in May increased 2.2% to an annual rate of 546,000, its fastest pace since February 2008. The reading was a touch higher than estimates of a 545,000 annual rate. The median home price was down 1% from a year ago to $282,800.
Durable goods orders in May fell 1.8%, weighed on by a 35.3% month-on-month slide in the volatile commercial aircraft component. April's reading was revised down to a 1.5% decline from a previous 1% drop. Excluding transportation, the measure climbed 0.5%, above estimates of a 0.3% slip.
"The downward revisions to April's estimates suggest that there was a much weaker start to investment activity this quarter and despite the small rebound in May's investment activity the contribution to GDP this quarter from investment activity will remain quite modest at best," said Millan Mulraine, deputy head of U.S. strategy at TD Securities.
BlackBerry shares slid 3.8% after missing analysts' quarterly estimates. The company posted a fiscal first-quarter loss of 5 cents a share, 2 cents narrower than expected, while revenue of $658 million dropped nearly 32% from a year earlier and missed estimates by more than $25 million.
Verizon (VZ) - Get Report announced on Tuesday that it had completed its acquisition of AOL for $50 a share. AOL shares are no longer being traded on the New York Stock Exchange.
Darden Restaurants (DRI) - Get Report added 1.9% on news the company will transfer 430 company-owned restaurants to a real estate investment trust.
Sonic (SONC) fell nearly 12% after reporting an in-line third quarter and weaker comparable-store sales. The restaurant chain reported same-store sales rose 6.1% in the third quarter, affected by harsh weather in some of its regional operations.
Stocks rose on Monday as the prospect of a Greek debt deal finally looked like a possibility. That helped the S&P 500 and Dow Jones Industrial Average to close with robust gains and the Nasdaq to notch a new record close. Click here for more.