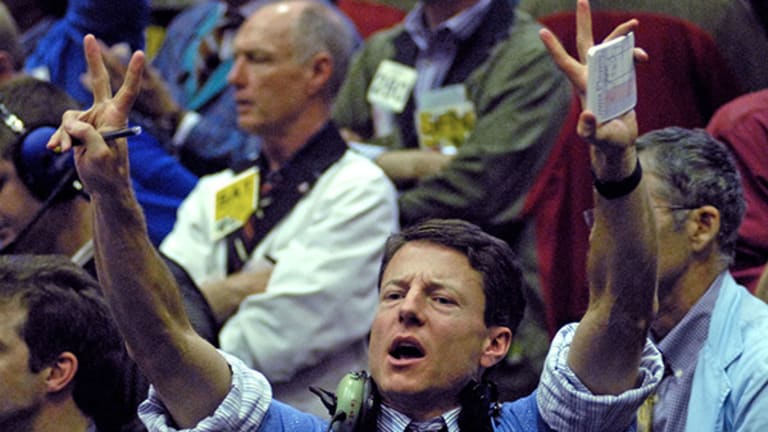 Stocks Turn Lower in Choppy Trading
U.S. stocks edge lower in choppy trading Tuesday afternoon.
U.S. stocks edge lower in choppy trading Tuesday afternoon.
NEW YORK (TheStreet) -- U.S. stocks turned lower in the final hour on Tuesday afternoon in choppy but narrow-range trading.
The S&P 500 was down 0.16%, the Dow Jones Industrial Average fell 0.08%, and the Nasdaq slid 0.78%. The Volatility Index, otherwise known as the "fear index," was down 0.47%, but remained up more than 13% over the past two sessions. 
The S&P 500 will likely go nowhere by year's end, according to Goldman Sachs analysts. The firm cut its year-end S&P 500 target to 2,000 from 2,100, arguing that "flat is the new up." Next year, analysts expect the index to climb 5% to 2,100, though per-share earnings will average just $120, down from a previous forecast of $126. The firm expects the U.S. economy to continue to grow at a modest pace over the next two years.  
General unease heading into Friday's highly anticipated jobs number kept investors on the sidelines. Wall Street was looking ahead to the monthly release of U.S. jobs numbers out Friday. Economists expect 200,000 jobs to have been added to nonfarm payrolls in September, up from 173,000 in August. The unemployment rate is forecast to remain steady at 5.1%.
Stocks closed sharply lower on Monday on a myriad of concerns: the Federal Reserve's decision to delay an interest rate hike continued to cause unease; China's industrial profits supported fears of a slowdown; and concerns over increased regulatory scrutiny in the biotech sector pressured health care stocks.
U.S. consumer confidence rose in September to 103 from a revised 101.1 in August, according to the Conference Board. The reading was its highest level since January and was near an eight-year high. Economists had expected the measure to fall to 96 after extreme market volatility over the month.
U.S. house prices rose 0.6% in July, driven by increases along the West Coast including in Portland and San Diego. The S&P/Case Shiller 20-city composite showed a 5% increase over the past 12 months.
San Francisco Fed President John Williams has joined the chorus of Fed members arguing for a rate increase later this year. Williams said near-full employment and rising home prices as reasons to tighten monetary policy for the first time in a decade.
"I don't think we are at a tipping point yet -- but I am looking at the path we're on and looking out for potential potholes," Williams said in a speech at the UCLA Anderson School of Management. "I am starting to see signs of imbalances emerge in the form of high asset prices, especially in real estate, and that trips the alert system."
Yahoo! (YHOO) will charge ahead with a plan to spinoff its stake in Alibaba (BABA) - Get Report despite not having received approval from the Internal Revenue Service. The risky move could cost Yahoo! billions if the IRS challenges the spinoff in a future audit. Earlier this month, the IRS denied a request for a favorable ruling of the plan. Yahoo! expects to complete the $22 billion spinoff by the end of the year.
IHS (IHS) shares were up more than 5% after the business research firm reported a better-than-expected third quarter. Profit of $1.56 a share beat estimates by 9 cents, while revenue jumped nearly 6% to $587.95 million.
Reynolds American (RAI) announced a deal to sell its Natural American Spirit international businesses to Japan Tobacco. The all-cash deal is worth nearly $5 billion and is expected to close in early 2016 depending on regulatory approval.
Pepco Holdings (POM) and Exelon (EXC) - Get Report have asked District of Columbia regulators to reconsider a rejection of their pending merger. The electric companies filed a motion on Monday, arguing that the $6.8 billion merger would stabilize rates and improve service.