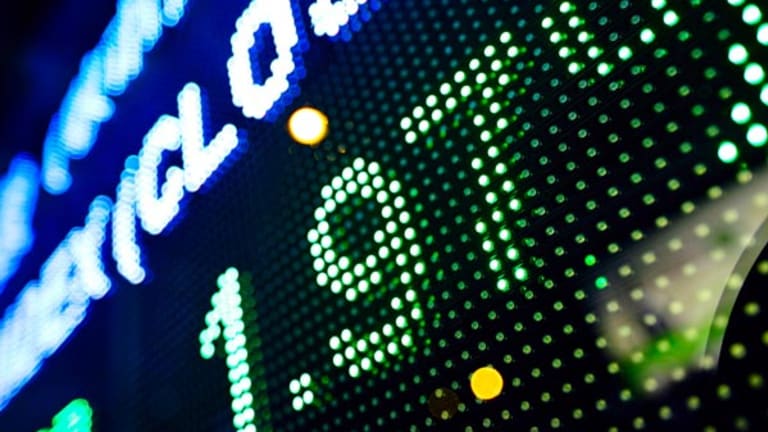 Energy Leads Stocks Down as Dollar Spikes, Oil Slides to 5-Week Low
Stocks are modestly lower, pulled down by energy companies amid signs of an impending rate hike from the Federal Reserve.
NEW YORK (TheStreet) -- Stocks were modestly lower, pulled down by energy companies as signs of an impending rate hike from the Federal Reserve pushed safe-haven assets such as the U.S. dollar higher and crude oil prices lower.
The S&P 500 was down 0.39%, the Dow Jones Industrial Average fell 0.39%, and the Nasdaq slipped 0.34%.
Energy was the worst-performing sector as West Texas Intermediate crude traded at a five-week low. The commodity was under pressure as the U.S. dollar continued its run higher on signs the Fed would hike rates as key international markets such as the eurozone introduce their own monetary stimulus. West Texas Intermediate crude fell 1.1% to $56.90 a barrel.
Major oilers Total (TOT) - Get Free Report, Chevron (CVX) - Get Free Report, BP (BP) - Get Free Report, and Royal Dutch Shell (RDS.A) were all lower, while the EnergySelect Sector SPDR ETF (XLE) - Get Free Report fell 0.63%. 
Benchmark indexes recorded their biggest gains in two weeks on Wednesday, snapping back from a selloff on Tuesday. The Nasdaq notched a new record high as technology stocks rallied. Click here for more.
John Williams, president of the San Francisco Fed, joined a chorus of Fed members and economists who expect a rate hike this year if the economy continues to improve as expected. Speaking to the Monetary Authority of Singapore, voting member Williams said he expects growth of 2% and unemployment under 5% this year. 
Minneapolis Fed President Narayana Kocherlakota, a non-voting member, will give a speech on monetary policy in Helena, Mont., at 2:45 p.m. EDT on Thursday.
Pending home sales increased in April for the fourth straight month, reaching a nine-year high of 112.4, up 3.4% from March and 14% from a year earlier, according to the National Association of Realtors. Economists had expected growth of 1% in April.
Jobless claims climbed to a five-week high, adding 7,000 to 282,000. Economists had expected the number of people filing new claims for unemployment benefits to fall to 270,000 from a revised 275,000 the week earlier. The measure was closely watched ahead of the May jobs report to be released on Friday, June 5.
"The trend in claims, below the pre-recession trough for weeks now, remains in line with our forecast for continued tightening in labor market slack ahead and with our expectation for another solid payrolls report next Friday," said BNP Paribas' Derek Lindsey.
Hopes for a Greece debt deal were extinguished as European officials denied an agreement was being drafted. Greece's Prime Minister Alexis Tsipras had told reporters on Wednesday that a deal was close at hand, but Valdis Dombrovskis, a European Commission vice president, refuted that, noting the two sides had a long way to go.
With negotiations still taking place, it is looking less likely Greece will be able to make a June 5 repayment to the International Monetary Fund. Germany's DAX and France's CAC 40 were trading modestly lower, while the Athens Stock Exchange General Index fell 0.81% on Thursday.
"Markets will look for inspiration from abroad, with mixed Greek headlines continuing to leave investors somewhat uneasy as a key June 5 payment date approaches," said Gennadiy Goldberg, U.S. strategist for TD Securities. "We believe next week's payrolls, ISM, PCE, and trade data will help offer further clarity on whether [domestic] economic momentum has turned a corner."
Avago Technologies (AVGO) - Get Free Report confirmed it was buying chipmaker Broadcomundefined in a cash-and-stock deal worth $37 billion. Avago expects the acquisition to generate $750 million in annual cost synergies within 18 months of closing. Avago shares were up 1.7% after a 7.8% jump on reports of a deal on Wednesday. Broadcom shares fell 2%.
Costco (COST) - Get Free Report fell more than 1% after missing sales estimates in its third quarter. The company earned $1.17 a share, narrowly beating by a penny, while revenue of $26.1 billion fell short by $530 million.
Abercrombie & Fitch (ANF) - Get Free Report added nearly 6% despite posting a wider-than-expected loss. The teen retailer reported a loss of 53 cents a share, 19 cents wider than expected. Revenue fell 13.7% to $709.42 million, missing estimates.
Express (EXPR) - Get Free Report jumped more than 8% after earning 22 cents a share in its recent quarter, 7 cents above estimates. Comparable-store sales increased 7%. 
Google (GOOGL) - Get Free Report shares were on watch as the tech giant begins its I/O conference for app developers on Thursday. Google is expected to showcase a new version of Android, and reports said it could overhaul its mobile payment products.
Amazon (AMZN) - Get Free Report is ramping up its same-day delivery efforts by offering the service for free to Prime members. The service will be available to members living in more than a dozen metropolitan areas.