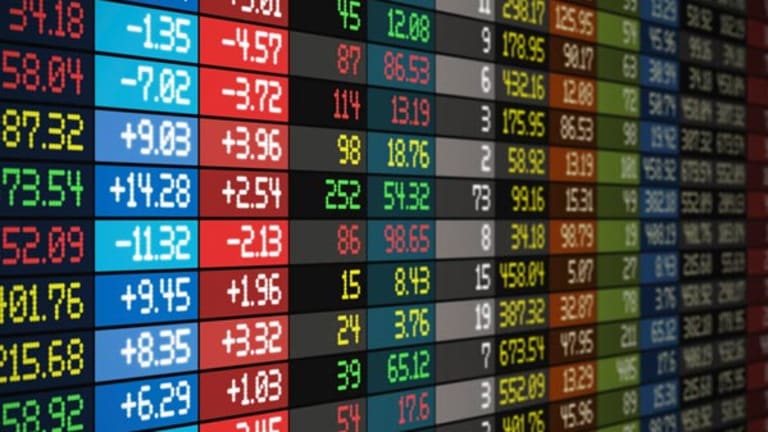 Stock Markets Snag New Records in Late-Day Technology Rally
Stocks are higher on the first trading day of March.
NEW YORK (TheStreet) -- Stocks hit new highs on Monday afternoon, extending records set in February, the best month in three years. The Nasdaq pushed to a new 15-year high of 5,002 by mid-afternoon, up 0.78%, getting a boost from separate deals involving NXP Semiconductors (NXPI) - Get Report and Hewlett-Packard (HPQ) - Get Report, which kicked off a rally among chipmakers.
The Nasdaq caught up with the S&P 500 and Dow Jones Industrial Average, which have been hitting record highs for months on the back of an improving U.S. economy. The S&P 500 climbed 0.55% to a record 2,116 and the Dow added 0.77% to a high of 18,272. 
"I do think it's sustainable," said Kate Warne, investment strategist at Edward Jones, on the markets' recent records. "What's driving stocks higher right now is investors feeling more comfortable and more confident that U.S. economic growth is improving, that while earnings are facing more headwinds, companies will be able to manage through it, and that the [Federal Reserve] looks very comfortable keeping interest rates lower for longer ... Those three things should help investors continue to feel comfortable even in the face of some headwinds from the rest of the world."
NXP Semiconductors agreed to buy Freescale Semiconductor (FSL) in a cash-and-stock deal worth $11.8 billion. The chipmakers expect the deal to close in the second half of the year. NXP shares were up 16.7% and Freescale jumped 11.5%.
Hewlett-Packard announced it had agreed to purchase Aruba Networks (ARUN) for $2.7 billion in an all-cash deal, valuing the latter at $24.67 a share, less than current trading levels. Aruba Networks shares had rallied last week on reports of Hewlett-Packard's interest. Hewlett-Packard shares were flat, while Aruba slipped 1.5%.
Intel (INTC) - Get Report was up 2.1%, Avago Technologies (AVGO) - Get Report jumped 0.67%, Broadcom (BRCM) added 2.1%, and Texas Instruments (TXN) - Get Report climbed 1.8%. The Technology SPDR ETF (XLK) - Get Report was up 0.79%.
Weighing on markets, the utilities and energy sector sold off even as crude oil regained a level above $50 a barrel. The energy sector was lower with major oilers including Exxon Mobil (XOM) - Get Report, Chevron (CVX) - Get Report, Royal Dutch Shell (RDS.A) , and Total (TOT) - Get Report all in the red. The Energy Select Sector SPDR ETF (XLE) - Get Report fell 0.66%. Utilities were also under pressure with Duke Energy (DUK) - Get Report, Dominion Resources (D) - Get Report, Southern Co. (SO) - Get Report, and Exelon (EXC) - Get Report all lower. The Utilities SPDR ETF (XLU) - Get Report slid 1.8%. 
West Texas Intermediate fell back from earlier highs, down 0.12% to $49.70. Earlier, oil had been rallying after the People's Bank of China cut its benchmark lending and deposit rates by 0.25%, the second rate adjustment in less than four months. Further monetary easing buoyed hopes of an resurgence in the world's second-largest economy after recent data showed fourth-quarter GDP at its slowest growth rate in more than 20 years.
The ISM Manufacturing Index slipped to 52.9 in February from 53.5 a month earlier. The reading was a touch below analysts' estimates of 53. Construction spending fell 1.1% in January to $971.4 billion, far below an expected increase of 0.3% following 0.4% growth in December.
"The strength of the U.S. economy, both on an absolute and relative basis, has been reaffirmed of late and while all is not perfect, the ISM suggests GDP growth in the first quarter should safely be in positive territory," said Dan Greenhaus, chief strategist at BTIG. "Attention remains on wage and price data as we approach the Fed's day of lift-off and while little narrative changing can be found in today's report, it does keep the Fed 'in play'."
Consumer spending dropped in January, missing forecasts. Personal spending fell 0.2% over the month, double expectations of a 0.1% decline. Personal income rose 0.3%, slightly below estimates for a gain of 0.4%.
"From the Fed's perspective, with further weakness in price pressures, the latest inflation report offers no reason to assume inflation has stabilized, let alone is reversing course back toward the committee's longer-term target of 2%," said Sterne Agee chief economist Lindsey Piegza. "Continued pressure on prices will further delay Fed action."
Visa (V) - Get Report boosted the Dow after Costco (COST) - Get Report chose the company as its credit card network for all stores in the U.S. and Puerto Rico beginning April 1, 2016. American Express (AXP) - Get Report had previously held the position. Visa shares spiked 2.2%. American Express brushed off the slight, gaining 0.39%.
Lumber Liquidators (LL) - Get Report resumed trading on Monday after a 60 Minutes report found dangerously high chemical levels in some of its Chinese-made goods, linking the company to pricey health and safety violations. Shares fell 25.2%. The stock was halted from trading earlier in the session.
JinkoSolar (JKS) - Get Report slipped 4.2% after the solar company missed revenue forecasts in its fourth quarter. Total sales of $478.88 million were slightly under expectations by $10 million.
Stratasys (SSYS) - Get Report was up 1.5% after beating fourth-quarter estimates on its top- and bottom-lines. Quarterly revenue surged nearly 40% to $217.12 million.
GoPro (GPRO) - Get Report tumbled more than 4% after Chinese smartphone company Xiaomi debuted an action camera. The wearable technology is similar to GoPro's Hero camera but will be sold at half the price.
--Written by Keris Alison Lahiff in New York.