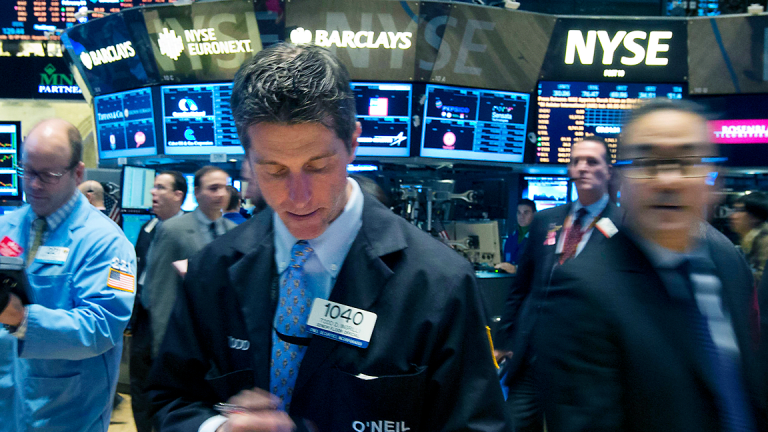 Global Rally Stalls as Trump Doubts North Korea Summit, Questions China Trade
Global stocks turned red Wednesday, setting up a session of weakness on Wall Street, following comments from President Donald Trump that cast doubt on a planned summit with North Korea.
The Tuesday Market Minute
Global stocks reverse course as Trump casts doubt on North Korea Summit, questions China trade progress
U.S. Dollar gains, testing fresh 2018 highs, as investors flee emerging market currencies
European stocks, euro slump as private sector growth slows, Italy's political chaos accelerates 
Steel shares lead declines after EU trade commissioner warns that the region may not escape U.S. sanctions next month 
U.S. stock futures point to triple-digit declines for the Dow as global risk sentiment wanes 
Market Snapshot
Global market sentiment switched course abruptly Wednesday, with stocks weakening and the U.S. dollar renewing its recent rally, following a series of comments from President Donald Trump that cast doubt on a planned nuclear summit with North Korea and ongoing trade talks with China.
Trump told reporters in Washington that there was a "substantial chance" his June 12 meeting in Singapore with North Korea's Kim Jong un may not take place, given the change in tone the regime has displayed since criticising a joint U.S.-South Korea military exercise last week, but insisted there was still a "good chance" a meeting will ultimately take place.
"North Korea has a chance to be a great country and I think they should seize the opportunity," Trump insisted to reporters during meeting with South Korean President Moon Jae-in. 
Investors were also rattled by the President's assessment on the developing trade negotiations with China, which he described as "a start" even though he was "not pleased" with the current progress even after Treasury Secretary Steven Mnuchin spent much of Monday and Tuesday declaring the trade war to be "on hold" and praising the achievements of the weekend talks with vice premier Lie He.
The mixed messaging pressured Asia shares for much of the session, with the region-wide MSCI ex-Japan index falling 0.34% into the close of the session and Japan's Nikkei 225 shedding 1.18% to close at 22,689.74 points.
Early indications from U.S. futures prices suggest a softer start to the trading day on Wall Street, as well, with contracts tied to the Dow Jones Industrial Average  undefined indicating a 167 point opening bell decline for the collection of 30 stocks, while the broader S&P 500  undefined benchmark is priced for a 16.4 point pull back.
European stocks were notably weaker at the open, as well, with the Stoxx 600 benchmark tumbling 0.97% to 393.07 points as investors continue to eye developments in Italy, where President Sergio Mattarella is expected to decide the fate of the proposed Five Star/Liga coalition government, which includes a little-known Prime Minister and an Economy Minister who has described the euro as a "historic mistake" and argued for Italy's exit from the single currency.
Italy's benchmark 10-year bond yields eased from multi-year highs in Tuesday's session but were still marked at 2.44% in early Wednesday trading, up more than 50 basis points over the past month, while the euro sits near its 2018 low against the U.S. dollar at 1.1719 and the FTSE MIB index of shares was marked 1.73% lower at 22,813.78 points
Germany's DAX performance index fell 200 points, or 1.51%, in the opening hour of trading in Frankfurt, while France's CAC-40 was marked 1.22% to the downside at 5,577.25 points. 
European steel companies were notable downside movers in early trading, with Arcelor Mittal SA (MT) - Get Arcelor Mittal NY Registry Shares NEW Report , the world's largest producer, falling 3.34% and rival ThyssenKrupp AG (TKAMY) falling 1.74% after EU Trade Commissioner Cecilia Malmstrom told reporters in Washington yesterday that she doesn't think the U.S. will be satisfied with proposals put forward to open European markets to American firms and win and exemption from U.S. trade tariffs, which are set to begin on June 1. 
Sentiment was also hit by a slowdown in the region's private sector, with the IHS Markit PMI reading for the currency area slipping to 54.1 in May from a previous reading of 55.1 and a Street forecast of 55.0.
Britain's FTSE 100, however, managed to hold its decline to around 0.65% as investors factored-in a weaker pound, which tested a six-month low against the dollar as it fell to 1.3346 after a softer-than-expected reading of 2.4% for headline consumer prices last month that cast new doubt on the Bank of England's ability to lift its key "Bank Rate" from the current 0.5% between now and the end of the year.
"Although the Bank of England has tended to look past oil price shocks previously, a lot now depends on the economy's 'bouncebackability' from a weak start to the year," said Tej Parikh, a senior economist with the Institute of Directors, a U.K. business lobby. A rebound in growth this quarter combined with a persistent impact from higher oil prices may just force the MPC's hand and lead to rate rises at its August meeting."
Global oil prices look to have paused their recent rally, for the moment at least, as investor grapple with both a rising U.S. dollar and signs of domestic crude stock declines and reports that OPEC could boost production to compensate for any shortfalls from member state Venezuela. 
Brent crude futures for July delivery, the global benchmark, were seen 70 cents lower than their Tuesday New York close at $78.87 per barrel while WTI contracts for June delivery fell 47 cents to $71.73 per barrel.
Much of oil's overnight trajectory, however, was linked to the rebound in the U.S. dollar index, a device which measures the strength of the greenback against a basket of six global currencies, which rose 0.1% to 93.70 as investor risk sentiment waned following Trump's Korea comments and the overnight weakness in Asia stocks.