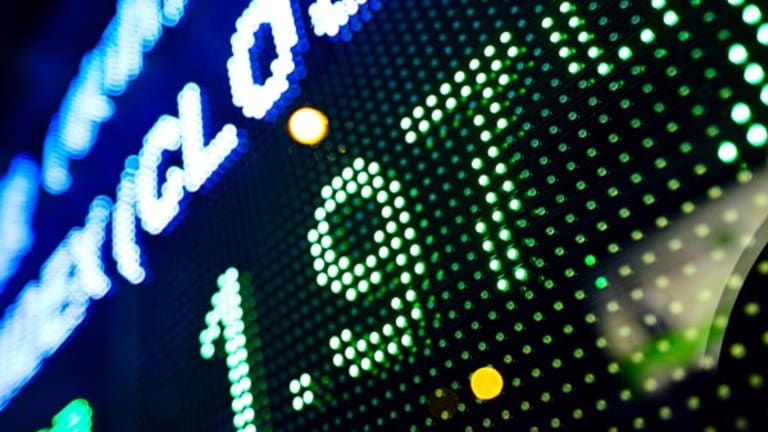 Stock Traders Battle to Draw
A volatile day of weak economic news and solid earnings ends largely in a push.
Stocks finished close to unchanged on a volatile day, as investors grappled with a batch of mostly disappointing economic data along with solid earnings and a bullish report on the semiconductor sector.
The
Dow Jones Industrial Average
ended up 11.11 points, or 0.1%, at 10,499.18; the
Nasdaq
fell 3 points, or 0.2%, to 2063.15; and the
added 4.13 points, or 0.4%, to 1135.26.
Volume on the New York Stock Exchange was 1.58 billion shares, while 1.9 billion shares exchanged hands on the Nasdaq. Advancers outpaced decliners by about 5 to 4 on the NYSE, but trailed on the Nasdaq by the same margin.
"Today's lack of volume is allowing the programs, both buys and sells, to push the markets around," said Robert Pavlik, portfolio manager at OakTree Asset Management. Pavlik also said he heard "that a large hedge fund
is shorting futures into a thin market."
In economic news, personal income fell to 0.2% in December from last month's 0.3% revised reading, and personal spending declined to 0.4% from 0.5%. Both indicators matched economists' expectations.
Additionally, the Institute for Supply Management's manufacturing index rose slightly to 63.6 in January from last month's 63.4 revised reading; this was close to expectations.
Finally, construction spending rose by 0.4% in January after posting a 0.5% increase in the month prior; the consensus expected spending to rise by 0.7%.
Economic Misses: No Worries
Recent economic releases have been a bit soft relative to expectations, adding to market volatility. This morning's batch triggered early losses that were quickly reversed and on Friday, weaker-than-expected fourth-quarter growth sent stocks deep into the red, only to have traders pare some of the losses before the close.
Most market experts agree that although some recent data points have fallen a bit short of expectations, the economy is still strong and on a positive trajectory. That is not to say there are no risks ahead; the labor market is still quite precarious, with nonfarm payrolls still posting paltry gains.
"Investors realize that although recent economic data have been mixed, it's not that bad," said Pavlik, while noting that investors are likely to focus on Friday's employment report for January.
Several economists agree. "Even though the ISM number was slightly below the consensus, the index is still at its highest level in over 20 years," said Kenneth Kim, economist at Stone & McCarthy Research Associates. "It is certainly a sign of strength in the economy."
In addition, the employment component of the ISM survey is providing some optimism for the struggling labor market. "The employment gauge slipped to 52.9 in January. However, there are still signs of underlying improvement; the employment gauge has now been above the 50 breakeven threshold for three consecutive months, the first such string since mid-2000," noted David Greenlaw, U.S. economist at Morgan Stanley.
Regarding the December personal spending report, Kim believes it continues to point to growth in personal consumption expenditures for the first quarter.
In some instances, softness in current data bodes well for future releases. While Friday's fourth quarter GDP report came in well below expectations, said Greenlaw, "the bulk of the downside surprise was concentrated in the inventory component. This result actually has positive implications for economic growth going forward," as companies seek to restock inventories.
Other Markets
Markets overseas finished mostly lower, with London's FTSE 100 down 0.2% to 4381 and Germany's Xetra DAX higher by 0.3% to 4072. In Asia, Hong Kong's Hang Seng fell 2.2% at 12,999, and Japan's Nikkei lost 0.1% at 10,777.
The 10-year Treasury note fell 3/32, yielding 4.15%. The dollar was slightly stronger vs. the euro and marginally weaker against the Japanese yen, recently fetching 105.6 yen. One euro was lately worth $1.2432.
Movers
Semiconductor stocks were lower despite an industry association report that said worldwide sales of semiconductors rose by 28%, year over year, in December. The Philadelphia Semiconductor Index fell 1.6% on the day.
In earnings news,
Accredo Health
( ACDO) said second-quarter earnings were 41 cents a share, a penny ahead of analysts' projections, on a 5.5% increase in total sales. The stock declined 87 cents, or 2.6%, to $32.83.
Boston Scientific
(BSX)
said quarterly earnings improved to 17 cents a share from 15 cents a year earlier, on a 15.4% increase in revenue; this was a penny ahead of expectations. The company's shares added 21 cents, or 0.5%, to $41.
International Paper's
(IP)
operating profit fell to 23 cents a share from 33 cents a year earlier. However, the company did beat the consensus estimate of 18 cents. The stock gained 24 cents, or 0.6%, to $42.51.
Humana
(HUM)
earned 41 cents a share in its fourth quarter, compared with analysts' estimate for 40 cents a share. Revenue increased 10.4%. The shares slipped 37 cents, or 1.6%, to $22.96.
And
Entergy
(ETR)
had fourth-quarter earnings of 38 cents a share, beating consensus by a penny, on a 12% increase in sales. The stock improved 22 cents, or 0.4%, to $58.70.
Research calls had Bank of America upgrading shares of
Veritas
(VRTS)
, while ThinkEquity upgraded shares of
Novellus
undefined
. Veritas gained 10 cents, or 0.3%, to $33.10, and Novellus shed 58 cents, or 1.7%, to $33.45.
Tomorrow,
Cisco Systems
(CSCO)
is set to announce earnings for its fiscal second quarter, after the close. Analysts expect profit at the networking giant to improve to 17 cents a share from 15 cents in the same quarter last year.
In economic news, automobile sales are expected to hold steady at 5.8 million in January, while economists look for truck sales to fall slightly to 7.4 million from 8.9 million in December.