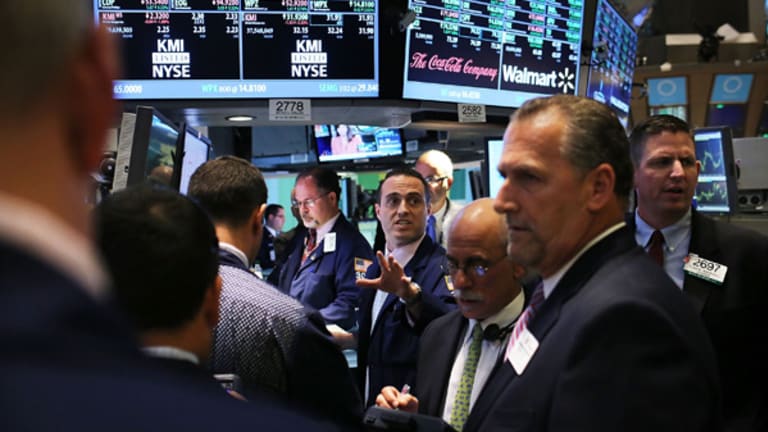 Stocks Rise Slightly as Core CPI Climbs Faster Than Expected
Stock futures are moving slightly higher after core consumer prices in April rise at a faster-than-expected pace.
NEW YORK (TheStreet) -- Stock futures were moving slightly higher after core consumer prices in April rose at a faster-than-expected pace and investors awaited a speech from Federal Reserve Chair Janet Yellen in the afternoon. 
S&P 500 futures were up 0.05%, Dow Jones Industrial Average futures gained 0.11%, and Nasdaq futures added 0.12%. 
Yellen will share her views on the economic outlook in Providence, R.I., at 1 p.m. EDT. The speech comes only days after the Fed released minutes from its April meeting where most Fed officials considered it unlikely the central bank would lift interest rates in June. Click here for more.
U.S. core consumer prices rose at a faster pace than expected in April. Headline CPI rose 0.1%, as expected, while core prices excluding energy and food spiked 0.3%. Economists had expected core CPI to increase 0.1%. 
Aeropostale (ARO) was lower after posting a first-quarter loss of 56 cents a share and revenue down 20% to $318.6 million. Both missed estimates. Comparable-store sales fell 11% compared to an expected 9.5% decline. 
Hewlett-Packard (HPQ) - Get Report posted mixed results, reporting earnings of 87 cents a share which beat by a penny, while revenue of $25.45 billion fell 7% and missed estimates. 
The Fresh Market (TFM) earned 50 cents a share in its first quarter, a penny better than expected, though revenue of $462 million missed expectations by $11.8 million. 
Gap (GPS) - Get Report was lower in premarket trading after missing quarterly estimates on its top- and bottom-lines. The retailer earned 54 cents a share in its first quarter, 2 cents short of forecasts, while sales fell 3% to $3.66 billion and missed expectations by $90 million. 
Deere (DE) - Get Report was up more than 3% in premarket trading after reporting earnings of $2.03 a share, 48 cents higher than forecast. The heavy machinery manufacturer also raised its profit forecast, anticipating a stronger year in sales despite a pullback in the farm sector. 
Cambell Soup (CPB) - Get Report beat on the bottom-line in its third quarter, though revenue dropped 3.6% from a year earlier. Organic sales fell 1%. 
BlackBerry (BBRY) shares were moving higher in premarket trading after the company launched a buyback program to repurchase 2.6% of the float and 2.2% of outstanding shares. At current levels, that equates to 12 million shares which would cost $126 million.
Time Warner Cable (TWC) shares jumped nearly 3% on talk of a bidding war over the company. Controlling shareholder of Altice, Patrick Drahi, met with Time Warner Cable's CEO Rob Marcus earlier this week to discuss a cash-and-stock takeover, according to TheWall Street Journal. Charter (CHTR) - Get Report is reportedly also talking to Time Warner Cable about an offer of greater than $170 a share.