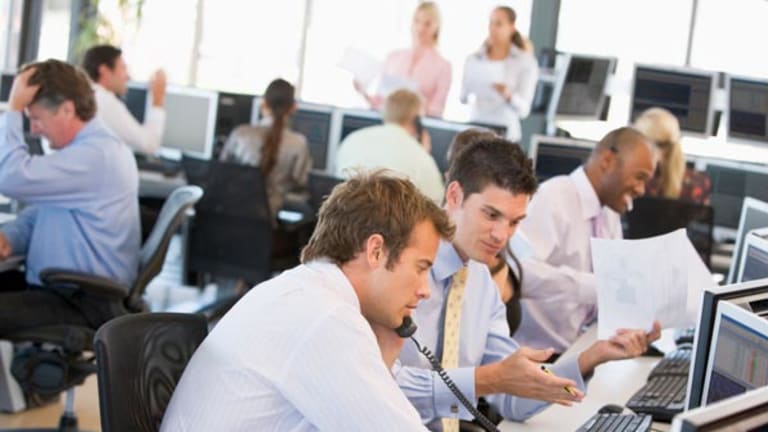 Stock Rally Takes a Rest
Concern about the dollar keeps buyers at bay and ends the S&P 500's nine-session winning streak.
Updated from 4:04 p.m. EST
Stocks closed virtually unchanged Monday with the
S&P 500
snapping a nine-session winning streak, as a troublingly weak dollar kept investors from celebrating another plunge in oil prices.
The
Dow Jones Industrial Average
added 3.80 points, or 0.04, to 10,391.30, its ninth gain in ten sessions; while the S&P 500 lost 1.28 points, or 0.11%, to 1164.89, after closing at a 32-month high Friday. The
Nasdaq
added 0.31 points, or 0.02% to 2039.25. The 10-year Treasury note was down 10/32 to yield 4.21%, while the dollar was sitting near an all-time low against the euro and a six-month low against the yen.
Volume was relatively weak on the
New York Stock Exchange
, where 1.3 billion shares changed hands with advancers trailing decliners 3 to 2. At the Nasdaq, 1.6 billion shares traded and advancers trailed decliners 5 to 4.
"The market is performing outstandingly," said Marc Pado, U.S. market strategist at Cantor Fitzgerald. "I was anticipating a bit more of a pullback going into today, given the weakness of the dollar that we saw last week.
"All in all, the market was probably facing resistance going into today, and if we get these kind of days where we don't give up a lot of ground, that's very positive," said Pado. "That's the type of pattern we're likely to build over the course of the week."
Stocks began the week at or near their highs for 2004, with only the Dow still negative for the year.
"We're continuing to see a good improvement in the technical background of the market," said John Hughes, managing director at Epiphany Equity Research. Friday's report showing strong job growth in October was "as important economically as it was from a sentiment standpoint," said Hughes.
Oil fell thanks to easing supply concerns and the relative attractiveness of stocks to speculators over the last several days. December crude closed lower at $49.09, after losing 52 cents.
"Crude could pull back to $40 or $42 and it would still be in a long-term uptrend," said Hughes, who added that although oil may head lower, the fundamental concerns over supply and demand would leave oil at the mercy of day-to-day news.
Among the movers Monday,
eBay
rose 4% after J.P. Morgan added the stock to its focus list and set a $130 price target. J.P. Morgan cited the potential for revenue growth in eBay's PayPal business, particularly in international markets. The stock gained $4.01 to $103.69.
Biogen Idec
(BIIB) - Get Biogen Inc. Report
rose nearly 7% after the Irish drug company
Elan
(ELN)
said its Antegran drug showed good progress in preventing relapse in a study of multiple sclerosis patients. Elan, which developed the drug with Biogen and is halfway through a two-year study, said the treatment cut MS relapse incidence by 66%. Shares of Biogen fell 46 cents to $60.40, while Elan's stock gained $1.12, or 4%, to $29.00.
Conseco
(CNO) - Get CNO Financial Group, Inc. Report
said second-quarter earnings were $57.9 million, or 36 cents a share, beating estimates by 2 cents a share on a 3% decline in revenue from a year ago to $1.07 billion. The stock rose $1.22, or 7.3%, to $17.95.
Elsewhere,
UnitedHealth
(UNH) - Get UnitedHealth Group Incorporated Report
affirmed its fourth-quarter earnings forecast. The company said it expects to earn at least $1.07 a share, while analysts expect earnings of $1.08. Shares dropped 2 cents to $79.46.
Shares of
Symbol Technologies
( SBL) dropped 7.2% Monday after an accounting problem caused the company to delay filing third-quarter earnings by two weeks. The company said the accounting errors may lead to revisions to third-quarter earnings and perhaps even prior periods in 2004. Shares lost $1.09 to $14.11.
McDonald's
(MCD) - Get McDonald's Corporation Report
also announced that same-store sales in October rose 6.1% on a global basis. The fast-food giant also said U.S. same-store sales rose 7.5%, after a climb of 15.1% in the prior year. McDonald's stock rose 14 cents to $30.20.
Pixar
( PIXR) was downgraded by Deutsche Securities to sell from hold. The animation studio was downgraded despite the success of its newest film,
The Incredibles
, which grossed $70.7 million in its opening weekend. Shares of Pixar fell $5.20, or 6.2%, to $79.25.
Overseas markets were mixed for the day, with London's FTSE 100 dropping 0.5% to 4716.60 and Germany's Xetra DAX adding 0.1% to 4068.97. In Asia, Japan's Nikkei fell 0.7% overnight to 10,984, while Hong Kong's Hang Seng rose 0.5% to 13,561.