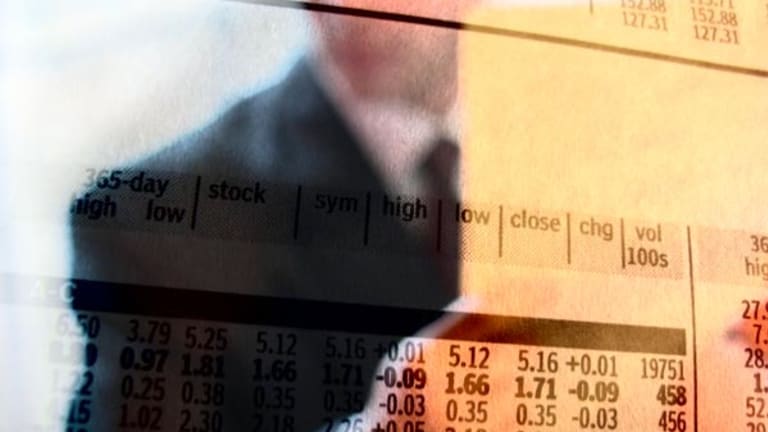 Stock Rally Falls Flat
The major indices advance early, but aren't able to hold their gains.
Updated from 4:08 p.m. EDT
Stocks in the U.S. rallied through the first part of the session Monday, but the afternoon was a different story altogether.
The
Dow Jones Industrial Average
, up more than 100 points earlier, gave up its gains and closed with a loss of 8.21 points, or 0.06%, to 13,352.05. The
S&P 500
surrendered 4.82 points, or 0.32%, to 1497.74, and the
Nasdaq
lost 11.88 points, or 0.46%, to 2577.08.
Jay Suskind, head of institutional equity trading with Ryan Beck & Co., said the turnaround indicates market participants are jittery. "Whether it was concern over subprime woes again or not, we should expect to see this type of maneuvering and volatility when the market moves up 100 points and people take profits," he said.
Robert Pavlik, chief investment officer with Oaktree Asset Management, agreed that the subprime sector, along with worries about energy prices, kept investors on edge.
"We're still refocusing on the issues of the last few days. Until the market can focus on another issue, such as earnings, we're going to continue to see a lot of question marks," he said. "This is not something that will go away tomorrow."
In the financial sector,
Bear Stearns
(BSC)
continued to be in focus amid the near-collapse of two of its hedge funds, and its shares fell 3.2%.
Goldman Sachs
(GS) - Get Report
slid 2.5%,
Lehman Brothers
(LEH)
lost 2.1%, and
Citigroup
(C) - Get Report
dropped 1.4%.
About 3.20 billion shares changed hands on the
New York Stock Exchange
, with decliners beating advancers by a 2-to-1 margin. Volume on the Nasdaq reached 2.05 billion shares, as losers outpaced winners 2 to 1.
For the bulls, who watched the three major indices plunge more than 1% apiece on Friday, the midday reversal was a disappointment.
"Deterioration in the number of advancing stocks and the still-persistent trend of volume expanding during a decline makes the market vulnerable to the 100-plus-point moves that we have been seeing in June," said Paul Nolte, director of investments with Hinsdale Associates.
"Investors will need to brace for additional volatility through the summer months, as the markets still have to sort out the economic landscape and the housing and subprime loan impact upon the economy," Nolte added.
Despite the recent volatility, as the halfway point of 2007 nears, the major averages are all higher by 5.9% or more for the year.
Energy prices, which dropped earlier as a strike in Nigeria ended over the weekend, rebounded near the end of the session. Crude, which fell as low as $67.55 earlier, finished higher by 4 cents at $69.18 a barrel.
Elsewhere, natural gas lost 19 cents to $6.94 per million British thermal units. Among precious metals, gold was off $2.30 to $654.70 an ounce, and silver was down 14 cents to close at $12.87.
In the Treasury market, the 10-year note was up 13/32 in price, yielding 5.08%, and the 30-year bond was adding 22/32 in price to yield 5.20%.
The first economic data of a busy week came out at 10 a.m. EDT, when the National Association of Realtors reported existing-home sales for May. Sales were essentially in line with expectations at a 5.99 million annual pace. The rate for April was revised upward to 6.01 million from 5.99 million previously.
"The headline sales number is not quite as bad as we expected, based on the pending sales index," said Ian Shepherdson, chief economist with High Frequency Economics. "But the downward trend is still intact and further declines should be expected over the next few months."
The report comes a day before the Commerce Department is expected to say that new-home sales fell 5.7% last month to an annual rate of 925,000 units.
Later this week, the
Federal Reserve
will meet for the fourth time this year. No change in the target fed funds rate is expected, but the language contained in the accompanying statement will be closely scrutinized.
Corporate news was on the light side, but among the names making headlines was
BP
(BP) - Get Report
, which is reportedly set to restart 10,000 barrels a day of oil production at its Prudhoe Bay field in Alaska. BP closed higher by 35 cents, or 0.5%, to $70.11.
Drugstore chain
Walgreen
(WAG)
reported a 20% jump in fiscal third-quarter earnings to $561.2 million, or 56 cents a share. The results topped analysts' expectation, according to Thomson Financial. Still, Walgreen ended down 72 cents, or 1.6%, to $44.25.
Dow component
General Motors
(GM) - Get Report
climbed 2.3% after Goldman Sachs upgraded the automaker to buy from neutral. The firm said it expects that GM shares should jump due to sizable yields from union talks. GM finished up 81 cents to $36.27.
Elsewhere on the research front, Bank of America upgraded
Chevron
(CVX) - Get Report
to buy from neutral, and UBS lifted
Pier 1 Imports
(PIR) - Get Report
, also to buy from neutral.
Chevron rose $1.40, or 1.7%, to $82.95. Pier 1 added 30 cents, or 3.6%, to $8.61.
Morgan Stanley downgraded car-rental companies
Hertz
(HTZ) - Get Report
,
Avis Budget
(CAR) - Get Report
and
Dollar Thrifty Automotive
(DTG)
to underweight from equal weight.
Hertz ended lower by 2.1% to $25.01, Avis dropped 6.5% to $27.56, and Dollar Thrifty fell 5.7% to $40.06.
Overseas, stocks couldn't get much going. Tokyo's Nikkei fell 0.6%, and Hong Kong's Hang Seng declined 0.8%. Meanwhile, London's FTSE added 0.3%, and Frankfurt's DAX slid 0.2%.