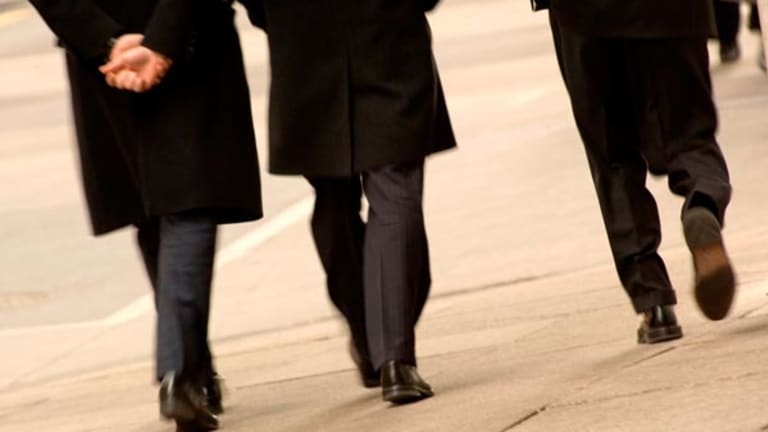 Publish date:
[video] Stock Opportunities Abound Despite Lackluster Results Season
Fund managers characterize third-quarter earnings as uninspiring, yet investment opportunities remain
Fund managers characterize third-quarter earnings as uninspiring, yet investment opportunities remain
NEW YORK (TheStreet) -- Fund managers characterize third-quarter earnings as solid but uninspiring, with stark divergence on the outlook for different sectors. Others say results season has shown the economic recovery is well in train - though strong revenue growth remains elusive.
Average earnings growth of around 5.7% this earnings season beat expectations for 2.9% but remains well below the long-term average of 8% according to Standard & Poor's. The energy sector was the only one to suffer a contraction in earnings, while technology surprised on the upside. Media, consumer discretionary, and home building posted solid results while healthcare is dogged by uncertainty around new legislation. Overall, analysts expect earnings growth for calendar year 2013 to contract by 4.16%.
Critically, cost-cutting continues to drive earnings, with companies hesitant to invest in hiring or new infrastructure. Still, some fund managers say this earnings season has been pivotal in showing margin and earnings improvement of the past few years is sustainable.
Eric Marshall of Hodges Capital Management says many investors had mistakenly thought earnings growth was due to temporary cost cutting, with a likely lift in expenses as the recovery continued. "But because the recession lasted so long it caused companies to make permanent structural changes and become more profitable," the Dallas-based fund manager said in a phone interview. "Even though revenue growth is not as dynamic as it should be, structural change means profit margins are growing." Marshall helps oversee $1.3 billion.
Others are more circumspect. Hennessy Funds' analyst Brian Peery says there is scant room for more cost-cutting, with few companies likely to generate double-digit earnings growth in coming years. But while companies may be hesitant to invest for growth, there is another option.
"If you can't grow organically you need to make acquisitions that are accretive to bottom line earnings, and that's a significant trend," Peery said in a phone interview. He points to Lithia Motors LAD and Avid Budget Group CAR as examples. The fund manager who helps oversee $4.3 billion, said a lift in capex was unlikely until the U.S. labor market began to consistently add 200,000 jobs per month.
In terms of sector outlooks, industrials show strong divergence. Fenimore Asset Management analyst Drew Wilson notes industrials have shown lackluster revenue growth of around 2%. Within the sector, he views "planes, trains and automobiles" as the winners of reporting season while many agriculture and mining equipment stocks have struggled against a lower global growth backdrop. "There are still gains [to be had] from cost cutting and overhauling capital structures, but in 2014 we need a pick up in revenue growth," Wilson said in a phone interview.
Similarly, there is a strong opinion divide over tech stocks. Matthew Griffin, managing director at Boston Company Asset Management, notes several incumbents are being challenged by the move from client servers to mobile and cloud computing. David James of James Investment Research agrees. "There is a lot of international competition and US players are not seeing the growth they would like," the Ohio-based manager said in a phone interview.
Instead, James prefers the telco sector, suggesting the application of smartphones is likely to continue broadening. Transport stocks are also well-placed to benefit from the lower price of oil while the flipside will see exploration and production companies suffer, James said. "Global GDP will be lower and we expect that to give a boost to basic materials and industrials," he added.
A still-slow recovery in the housing market has seen many fund managers prefer building-product providers to homebuilding stocks, as people choose to renovate instead of buy new property. Jon Sablowsky, New York-based head of trading Brownstone Investment Group, says the strong run for homebuilders (21% over the past year) is unlikely to continue, with additional pressure on companies from cost-cutting. 
In other sectors he likes auto-part makers, which are benefiting from stronger consumer demand. Sablowsky is cautious on aerospace and defense stocks, citing the impact of sequestration and a wind-down of military action in Afghanistan and Iraq. He is also bearish on mining and coal, with slowing global demand and growing awareness of environmental issues. "No companies were talking about significant deleveraging but there's no significant top-line growth either," he said in a phone interview. "I'm not overly concerned about any particular area but don't feel I have to own anything either."
-- By Jane Searle in New York