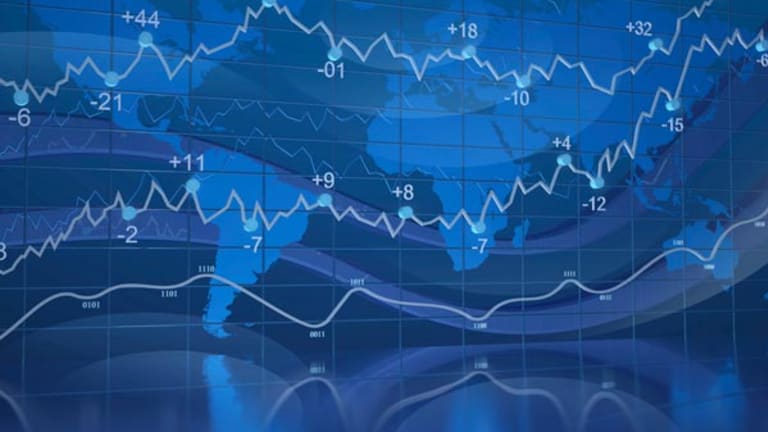 Stock Measures in Asia Sink
The Shanghai Composite Index plunges 196 points, or 5.6%, to 3296.67.
Stocks in Asia were greeted by heavy selling to start the week, with China the worst hit as Beijing officials announced they were suspending new listings on Shanghai's stock exchange for the time being and that a coming interest rate hike remains a possibility.
The Shanghai Composite Index plunged 196 points, or 5.6%, to 3296.67 on the news, led by selling in market heavyweight
Aluminum Corp. of China
(ACH) - Get Aluminum Corporation of China Limited American Depositary Shares Report
. In Hong Kong, the Hang Seng tumbled 856 points, or 3.5%, to 23,811.20, while the Japanese Nikkei lost 406 points, or 3.1%, to 12,917,51.
"Despite closing almost at the day high on Friday, expect a volatile week in Hong Kong and Asia ahead of earnings in the U.S., as well as a whole series of macro news from the U.S. and China. Volumes are likely to remain thin as investors stand sidelined," says Steven Wong, a trader for Daiwa Securities SMB in Hong Kong.
"Listings in Shanghai are unlikely to proceed this year now. That's positive for Hong Kong at least," he adds.
China Watch: Intel's Money's on Tech
var config = new Array(); config<BRACKET>"videoId"</BRACKET> = 1504263026; config<BRACKET>"playerTag"</BRACKET> = "TSCM Embedded Video Player"; config<BRACKET>"autoStart"</BRACKET> = false; config<BRACKET>"preloadBackColor"</BRACKET> = "#FFFFFF"; config<BRACKET>"useOverlayMenu"</BRACKET> = "false"; config<BRACKET>"width"</BRACKET> = 265; config<BRACKET>"height"</BRACKET> = 255; config<BRACKET>"playerId"</BRACKET> = 1243645856; createExperience(config, 8);
Along with bearish news from China, a report in the London
Times
that analysts are expecting additional writedowns from
Citigroup
(C) - Get Citigroup Inc. Report
and
Merrill Lynch
( MER) totaling $15 billion rattled investors. The article also claimed that
Deutsche Bank
(DB) - Get Deutsche Bank AG Report
was selling billions of dollars in debt to private-equity firms.
Furthering the selling pressure was an announcement by the International Monetary Fund that Asian economies would not be spared in the U.S-led economic slowdown.
After a strong performance last week, investors were unloading positions in Chinese financials.
Bank of China
(BACHF)
fell 3.8% to 4.86 yuan, and
Industrial & Commercial Bank of China
(IDCBF)
slid 5.2% to 5.81 yuan.
China Life Insurance
(LFC) - Get China Life Insurance Company Limited American Depositary Shares Report
declined 5.8% to 28.60 yuan, while
Ping An
(PIAIF)
, the country's second-largest insurer, fell 5.1% to 62 yuan.
Commodity stocks also suffered in the selloff, as oil and gold fell after OPEC was rumored to be "quietly" cutting its output of crude. Aluminum Corp. of China plummeted 9.4% to 20.70 yuan, and
PetroChina
(PTR) - Get PetroChina Company Limited Report
dove 3.3% to 16.91 yuan.
By the Singapore afternoon, crude oil was selling for $110.07, having regained a bit after falling as much as half a percent early in the day. Gold, however, hit a low of $914 an ounce, representing a drop of more than 1% from Friday's price in New York.
In Hong Kong, selling was mostly due to Chinese financial stocks, as well as heavyweights
China Mobile
(CHL) - Get China Mobile Ltd. Report
and PetroChina. Bank of China fell 2.9% to HK$3.66, while China Mobile lost 3.7% to HK$126. PetroChina plunged 5.4% to HK$9.80, one the few shares there to fall more than its Shanghai listing. That may indicate some late strength in the U.S.-listed ADRs due to overselling in Hong Kong.
Among U.S. listings that could struggle somewhat is
Baidu.com
(BIDU) - Get Baidu Inc. 百度 Report
, as investors factor in the impact of interest rate hikes on consumer spending.
China Mobile performed better than its smaller telco rivals, however, helped by a report issued by Citigroup recommending the company as a buy.
In Japan, a strengthening yen hit most exporters, such as
Canon
(CAJ) - Get Canon Inc. American Depositary Shares Report
and
Sony
, but
Nintendo
(NTDOY) - Get Nintendo Co. Ltd ADR Report
bucked the trend amid excitement over the launch of the best-selling video game,
Mario Kart
, for the Wii console. The game is now available in Europe and Japan, and will be released in the U.S. later this month.
Nintendo represented one of the few gainers in the region during the day, adding 0.7% to 55,900 yen. Canon lost 5% to 4610 yen, and Sony fell 4.5% to 4050 yen. The yen was trading at 100.57 yen vs. the dollar by the end of Asian trading, up from around 101.25 yen Friday.
Markets elsewhere in the Asia-Pacific region fell, but India rose. Taiwan's Taiex lost 0.2% to 8892.68, and South Korea's Kospi fell 1.9% to 1746.71. The Bombay Sensitive Index gained 0.7% to 15,087.64.
Be sure to check out the Far East Portfolio at Stockpickr.com to find out which Indian and Chinese companies are making big moves and announcing major news.
Daniel M. Harrison is a business journalist specialising in European and emerging markets, in particular Asia. He has an MBA from BI, Norway and a blog at
. He lives in New York.