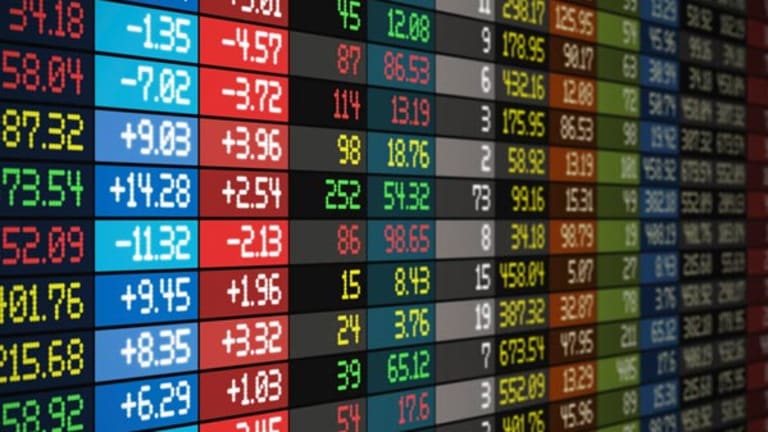 Stocks Reclaim Year-to-Date Gains as China Talks Monetary Easing
Stocks begin the holiday-shortened week with a bounce following a deluge of big pharma M&A deals on Monday morning.
NEW YORK (TheStreet) -- Stocks rallied into the holiday-shortened week with all major indexes on Monday returning to positive territory for the year.
The S&P 500 added 1.1% and the Dow Jones Industrial Average saw its biggest one day gain since early February, gaining 1.5% or 274 points. The Nasdaq popped 0.8%.
A deluge of big pharma M&A deals on Monday morning, residual goodwill from Federal Reserve Chair Janet Yellen's speech on Friday and signs China might introduce further monetary easing helped power markets higher.
UnitedHealth (UNH) - Get UnitedHealth Group Incorporated Report said it would buy pharmacy-benefit management company Catamaran (CTRX) for $12.8 billion, or $61.50 a share, a 27% premium to Catamaran's recent close. UnitedHealth spiked 2.9%, while Catamaran surged 24.2%.
Israeli drugmaker Teva Pharmaceuticals (TEVA) - Get Teva Pharmaceutical Industries Limited Sponsored ADR Report announced it would buy Auspex Pharmaceuticals (ASPX) for $3.2 billion, or $101 a share in cash, a 42% premium to its recent close. Auspex climbed 41.8%. 
Horizon Pharma (HZNP) - Get Horizon Therapeutics Public Limited Company Report rocketed 14.9% higher after announcing it will buy Hyperion Therapeutics (HPTX) for $1.1 billion. Small-cap Hyperion jumped 8.6%.
Late Friday, Intel (INTC) - Get Intel Corporation (INTC) Report surged more than 6% on reports it will buy fellow semiconductor company Altera (ALTR) - Get Altair Engineering Inc. Class A Report, according to The Wall Street Journal. If a deal comes to pass it would mark Intel's largest takeover yet. Intel and Altera were giving back some of Friday's gains on Monday. 
Positive momentum from Yellen's speech on Friday continued into Monday's session. Speaking at a conference in San Francisco, Yellen said a "gradual" return to the normal funds rate was likely and underlined that the central bank would move cautiously. Yellen said she expects conditions to "warrant an increase ... sometime this year."
"While she again confirmed rates are headed higher, she sounded a word of caution about the pace of future rate increases after the FOMC's initial move," said Chris Gaffney, president at EverBank World Markets. "Yellen is obviously trying to 'soften the blow' of the initial rate increase, setting the markets up for a change in policy but not wanting investors to read too much into the first rate hike in a decade."
China's Shanghai Composite rocketed 2.6% higher on Monday after the People's Bank of China cut downpayments on second homes to 40% from 60%, a move to spark growth in the property sector. PBOC Governor Zhou Xiaochuan suggested on Sunday that the central bank had further "room to act," a hopeful sign of more monetary easing on the horizon.
U.S. personal income for Friday rose 0.4% month on month, according to the Department of Commerce. Economists had expected a 0.3% increase on top of a 0.4% increase in January. Personal spending rose 0.1% in February, below expectations, but better than a 0.2% decline a month earlier.
Pending home sales climbed 3.1% month on month in February to its highest level since June 2013 and far higher than an expected 0.4% increase. Year on year, the measure increased 12%. 
Crude oil prices fell as negotiations for an Iran nuclear deal closed in on the deadline. Six countries are discussing a nuclear deal in exchange for the removal of economic sanctions which, if approved, would likely lead to more crude added to global oversupply. West Texas Intermediate slid 1.5% to $48.16 a barrel.
"Any deal which provokes the unwinding of oil-related sanctions -- regardless if over a protracted period -- will likely spur on a bearish reaction, while the absence of a deal will likely encourage a knee-jerk short-term bounce," said Schneider Electric commodity analyst Matt Smith. 
Germany said on Monday that Greece would receive no further financial aid from the euro zone until the country presents more details of proposed reforms and introduces some into law. The debt-saddled nation has until April 20 to secure funding before running out of money, according to Reuters. Fitch analysts cut Greece's credit rating two notches to "CCC" on Friday, a level indicating default as a "real possibility."
Broader European markets rallied as the European Commission's Confidence Index rose to -3.7 from -6.7, its highest reading since mid-2007. Economic sentiment came in a 103.9, its best level since 2011.
Germany's DAX surged 1.6%, France's CAC 40 was up 0.84%, and the FTSE 100 in London added 0.6%.