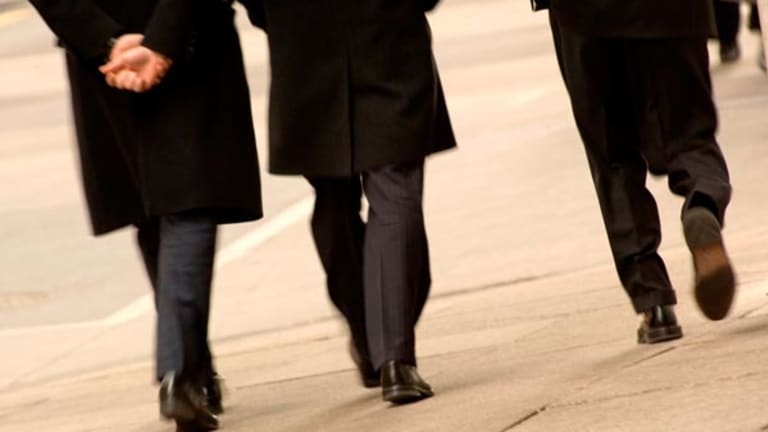 S&P 500, Dow Slip From Records as Energy Selloff Trumps Tech Rally
The S&P 500 and Dow move off record highs.
NEW YORK (TheStreet) -- The S&P 500 and Dow Jones Industrial Average moved off record highs set over the week as a selloff in energy stocks overshadowed a boost across the tech sector. 
The S&P 500 fell 0.26%, down from a record level of 2,119 set on Tuesday. The Dow was down 0.17% from an all-time high of 18,244 notched on Wednesday. The Nasdaq added 0.28%, boosted by technology stocks including Google (GOOGL) , Avago Technologies (AVGO) and Salesforce (CRM) . 
Crude oil prices fell back after Wednesday's rally. West Texas Intermediate was down 4.4% to $48.73 a barrel, following a 3% spike a day earlier. The commodity had been rallying despite the latest data showing the amount added to U.S. inventories over the past week was more than double estimates, exacerbating global oversupply.
"Oil is the story for the first half of 2015 ... That's the overlying theme to the markets right now is how long oil will trade at these levels," said Kevin Mahn, chief investment officer of Hennion & Walsh Asset Management, in a call. "The price of oil is, in fact, more important to the future direction of the stock market than the timing of the next interest rate hike."
Large oilers Exxon Mobil (XOM) , Chevron (CVX) , Royal Dutch Shell (RDS.A) and BP (BP) were all more than 1% lower, while the Energy Select Sector SPDR ETF (XLE) plummeted 2.4%.
Oil overshadowed any trading moves made after the Federal Communications Commission approved Chairman Tom Wheeler's "net neutrality" guidelines. FCC members voted 3-2 to treat the Internet as a public utility to ensure it remains an open and fair platform. Cable and telecom companies had hoped for lighter regulation. 
Cable and telecom shares barely reacted to the ruling, maintaining levels seen before the announcement. Verizon (VZ) and AT&T (T) were higher, while shares of Comcast (CMCSA) , Time Warner Cable (TWC) and Charter Communications (CHTR) dropped.
Radio frequency chipmaker Avago Technologies led the Nasdaq higher and helped to minimize losses on the S&P 500. The company surged more than 13% following a better-than-expected first quarter and the announcement of its $609 million purchase of Emulex, a developer of ethernet-connectivity hardware.
Google spiked nearly 2% after announcing it will invest $300 million in SolarCity's (SCTY) fund to finance residential solar projects. The two companies had previously teamed up on a residential solar project in 2011. Salesforce surged 9.9% after meeting fourth-quarter estimates and showing strong growth in deferred sales. Earnings guidance came in slightly weaker than expected.
IBM (IBM) was down 1.3% after announcing at its annual analysts' meeting that it has earmarked $4 billion in 2015 spending to invest in cloud, analytics, mobile social and security technologies. Those segments brought in $25 billion in revenue over 2014, more than a quarter of total sales. 
Morgan Stanley (MS) was 1.6% lower after it reached a $2.6 billion settlement with the Department of Justice concerning the sale of mortgage-backed securities. The settlement ate into full-year 2014 profits, reducing income by around 46%.
Kohl's (KSS) jumped 1.2% after quarterly earnings of $1.83 a share beat by 3 cents and revenue climbed 4%, exceeding forecasts. Sears (SHLD) fell 5.1%, though plunging sales and quarterly losses weren't as deep as expected. Comparable-store sales across the chain fell 7%, while Kmart's comparables slipped 2%.
Consumer prices for January slid 0.7%, largely a result of a 18.7% month-over-month decline in gas prices. Stripping out volatile items such as gas and food, core CPI increased 0.2%, better than an expected flat reading and it leaves the annual rate of core inflation was unchanged at 1.6%.
"That is still below the Fed's 2% target, but it is currently being depressed by the indirect pass-through of lower energy prices and the stronger dollar," said Paul Ashworth, chief U.S. economist at Capital Economics. "As those effects fade, core inflation should rebound to 2% early next year."
Durable goods orders in January rebounded from a 3.3% decline in December to jump 2.8%. Economists had expected an increase of 1.7%. Initial jobless claims for the week ended Feb. 21, came in worse than expected with 313,000 new claims for unemployment benefits. A week earlier, the indicator had shown an increase of 283,000 and economists had expected a weekly gain of 290,000.
--Written by Keris Alison Lahiff in New York.