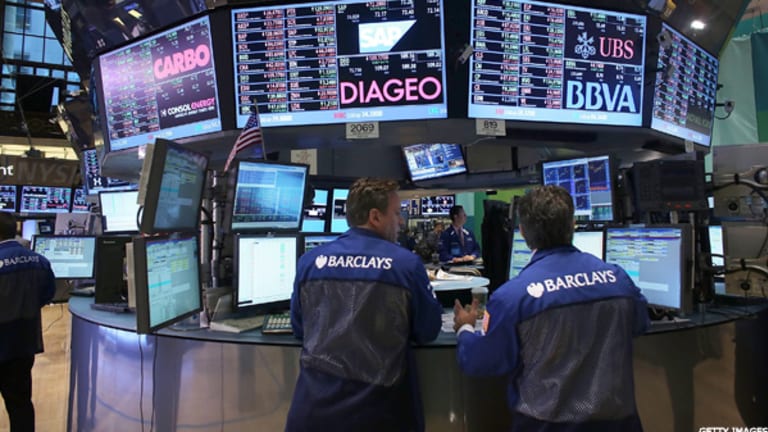 Stock Market Today: U.S. Stocks Maintain Gains as ECB Announces Its Own QE
U.S. stocks maintain gains early Thursday afternoon after the European Central Bank fulfilled market hopes with its own version of a quantitative easing program.
NEW YORK (TheStreet) -- U.S. stock markets maintained gains early Thursday afternoon after touching fresh highs after the European Central Bank fulfilled market hopes with its version of a quantitative easing program and economic data continued to bolster confidence that the low interest rate environment in the U.S. is here to stay.
Watch the video below for a closer look at how U.S. markets are doing in midday trading Thursday:

WATCH: More market update videos on TheStreet TV
ECB President Mario Draghi announced on Thursday that the bank would launch an asset-backed securities purchase program as well as begin buying covered bonds in October to help boost liquidity in the financial markets and stimulate lending. His statement came after the ECB cuts its benchmark interest rate to 0.05% from 0.15% and deposit rate to -0.2% from -0.1%. Draghi had fueled hopes last month of more action to combat deflationary risks in the slowing eurozone economy during a speech in Jackson Hole, Wyo.
"Investors are embracing the potential of more liquidity coming from Europe to drive up stock prices," said Sica Wealth Management founder and president Jeff Sica.
The Dow Jones Industrial AverageI:DJI was up 0.22% to 17,115.58, trading as high as 17,161.55. The S&P 500undefined was up 0.26% to 2,006, hitting 2,011.17 during the day. The NasdaqI:IXIC was up 0.32% to 4,587.02. London's FTSE 100 added 0.06% to 6,877.97, while the CAC 40 in Paris added 1.65% to 4,494.94. In Frankfurt, the DAX climbed 1.02% to 9,724.26.
The Guggenheim CurrencyShares Euro Trust (FXE) - Get Invesco CurrencyShares Euro Trust Report was down 1.57% to $127.60 after the euro dropped to a 14-month low against the dollar after the ECB announcements. Guggenheim CurrencyShares Japanese Yen Trust (FXY) - Get Invesco Currencyshares Japanese Yen Trust Report was down 0.58% to $92.47.
The Bank of Japan decided after its two-day meeting to maintain its massive monetary stimulus program. The Bank of England kept its main interest rate at a record low of 0.5% and the size of its stimulus program unchanged at 375 billion pounds ($617 billion).
The ADP private payroll employment report for August said 204,000 jobs were added last month in the U.S. vs. the expectation of 220,000. That's down from July's 212,000 rise.
The Labor Department said weekly initial jobless claims rose 4,000 to 302,000 last week vs. the average estimate of 300,000. The four-week moving average increased by 3,000 to 302,750.
The ISM non-manufacturing index jumped to 59.6 in August, the highest level since August 2005, vs. the consensus 57.5 estimate. The employment index portion of the report increased 1.1 percentage points to 57.1. The new orders index part of the release fell 1.1 percentage points to 63.8.
The Markit PMI services index registered 59.5 in August, down from 60.8 in July, but was still much higher than the neutral 50 value.
"If you really look at the underlying trends in the economic numbers, there's still a lot of structural weakness in them," said Sica. "In the nonfarm payrolls numbers tomorrow the numbers on the face will be okay, but we'll see a very, very low participation rate. That is giving investors the enthusiasm the that the Fed will not back off their low interest rate policy."
Amazon (AMZN) - Get Amazon.com, Inc. Report  shares added 2.46% to $347.17 after Bernstein predicted that the retail and tech giant's 2015 profits and margins will exceed expectations. Goldman Sachs (GS) - Get Goldman Sachs Group, Inc. Report rose 0.5% to $180.47 after TheWall Street Journal reported that the firm has landed the role of "stabilization agent" in Alibaba's upcoming initial public offering.
--By Andrea Tse in New York