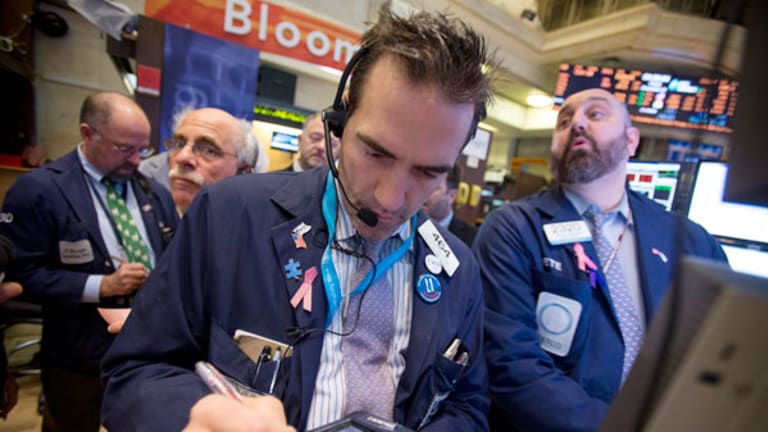 Stock Market Today: Ukraine-Russia Overshadows Good U.S. Data
U.S. stock markets end the day lower as concerns about flaring Ukraine-Russia tensions and Europe's deflationary pressures encourages more protective positioning on Thursday.
U.S. stock markets end the day lower as concerns about flaring Ukraine-Russia tensions and Europe's deflationary pressures encourages more protective positioning on Thursday.
NEW YORK (TheStreet) -- U.S. stocks had a lower close Thursday as investors fretted about renewed geopolitical risks, which also fed into concerns that there have been increased signs of deflationary spiral dangers coming out of Europe.
Watch the video below for a closer look at how U.S. markets ended on Thursday:

WATCH: More market update videos on TheStreet TV
Geopolitical caution seeped into the markets after Ukraine President Petro Poroshenko's statement that Russia has invaded Ukraine. The event added to jitters about eurozone deflationary pressures after the single-currency bloc's largest economy posted disconcerting data amid a spate of low national inflation reports. Germany reported an unexpected rise in unemployment in August and a low annual inflation rate of 0.8% for August. Meanwhile the decline in Spanish consumer prices accelerated and Belgium's inflation rate dropped to its lowest level in nearly five years.
The Dow Jones Industrial AverageI:DJI was down 0.25% to 17,079.57. The S&P 500I:GSPC was down 0.17% to 1,996.74.The NasdaqI:IXIC was down 0.26% to 4,557.69.
While much of Thursday's chatter had been about Russia and Ukraine, tepid data out of Europe also was a big driver of the defensive action, a much deeper problem in the long run and particularly bad for those who are long equities, said Charlie Bilello, director of research at Pension Partners. Europe doesn't need Ukraine's help to continue experiencing a further slowdown, one that could hurt the U.S. In the bigger picture, the Ukraine-Russia situation appears more contained by comparison than many would want to admit, said Bilello.
"Ukraine is being used as a scapegoat for any equity weakness," said Bilello.
The hunt for safety pushed the Guggenheim Currency Shares JapaneseYen Trust (FXY) - Get Report up 0.19% to $93.95 and the SPDR Gold Trust (GLD) - Get Report up 0.54% to $124.
The United States Oil Fund (USO) - Get Report rose 0.83% to $35.32 and the Guggenheim CurrencyShares Euro Trust (FXE) - Get Report fell 0.08% to $130.01, influenced by worries about the impact rising Russia-Ukraine tensions could have on the single-currency bloc and how the fallout could affect global oil exports.
In London, the FTSE 100 slipped 0.36% to 6,805.80. In Frankfurt, the DAX declined 1.12% to 9,462.56. The CAC in Paris gave up 0.66% to stand at 4,366.04.
U.S. economic data was better than expected, with the second estimate of U.S. second-quarter GDP revised up to 4.2% vs. the 4% consensus estimate. Weekly initial jobless claims fell to 298,000 last week vs. the average estimate of 300,000. Pending home sales rebounded by 3.3% in July. The Kansas City Fed Labor Market Conditions Indicators showed continued improvement, increasing in July to -0.6.
In Thursday's corporate news, American International Group (AIG) - Get Report fell 0.77% to $55.73 after Robert Benmosche told Bloomberg that he is stepping down this weekend after five years as AIG's CEO after learning in May that he had nine months to a year to live.
JPMorgan Chase (JPM) - Get Report slipped 0.72% to $59.16. TheWall Street Journal reported that the FBI is investigating a computer-hacking attack on JPMorgan Chase and as many as four other banks.
Abercrombie & Fitch (ANF) - Get Report lost 4.84% to $41.87 after reporting a 7% drop in total same-store sales and 6% decline in revenue to $891 million. Dollar General (DG) - Get Report rose 0.78% to $64.20 after posting second-quarter earnings of 83 cents a share, which matched estimates. The company on Thursday reiterated its bid for rival Family Dollar (FDO) . Earlier this month, Dollar General bid about $8.95 billion for Family Dollar in an attempt to trump Dollar Tree (DLTR) - Get Report , which agreed to acquire Family Dollar for $8.5 billion in July.
The S&P 500 ended Wednesday almost where it was after Tuesday's closing -- just above 2,000, after flitting in and out of positive territory throughout the day in the absence of any new economic catalysts. 
--By Andrea Tse in New York