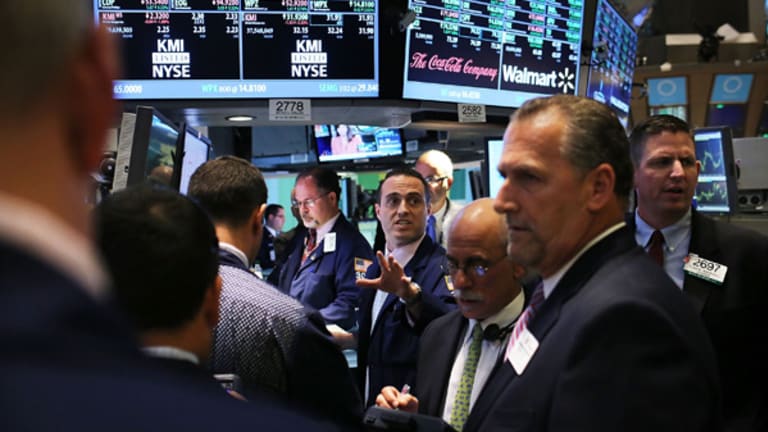 Stock Market Today: Nasdaq Leads Losses as Chipmakers Short Circuit
The Nasdaq leads Monday's losses, dragged lower by a selloff among chipmakers.
NEW YORK (TheStreet) -- Solar stocks and chipmakers led U.S. markets lower Monday with the tech-heavy Nasdaqundefined and small-cap index Russell 2000  undefined leading the losses. Positive sentiment created by robust jobs data last week helped to fuel positivity throughout the morning session, but it faded fast in the afternoon.  
With the session moving into the final hour of trading, the S&P 500undefineddeclined 0.04%while the Dow Jones Industrial Average (I:DJI) dipped 0.02%. The Nasdaq declined 0.25% and the Russell shed 0.33%.
"Today is very much a trading day," said Quincy Krosby, market strategist with Prudential Financial. "You can see at work the high-frequency trading, the algorithms at work. To get a real sense of the market, you're going to have to wait as the earnings come in ... When a market doesn't have much to go on (as today), it's a market that tends to drift and in essence can go in either direction."
Watch the video below for a closer look at how U.S. markets are doing in midday trading Monday:
Semiconductor stocks Micron (MU) , SanDisk (SNDK) and Altera (ALTR) fell after Samsung announced its $14.7 billion investment in a new chip factory in South Korea. Micron dropped 4%, SanDisk shed 3.1% and Altera fell 2%.
Solar stocks, often susceptible to downswings in the market, tumbled on heavy volume. Yingli Green Energyundefined dropped 3.2%, Trina Solar (TSL) fell 4.3% to $10.95, and ReneSola (SOL) tripped 4.6%. 
H&R Block (HRB) was the worst-performer in the S&P 500 and dragged on the consumer services sector. The tax preparation company slid 5% after announcing its deal to sell its banking arm to BofI Federal Bank would not receive regulatory approval until after the 2015 tax season. Nike (NKE) , the worst-performing stock on the Dow, fell 1.1%.
"We [see] a lot of fear being generated consistent with the amount of fear we've seen in past pullbacks," said Todd Salamone, senior vice president of research at Schaeffer's, of the mood of the market. "Even though that buy-the-dip mentality has been a proven strategy, we're not seeing that mentality in the options market."
The Chicago Board Options Exchange Volatility Indexundefined climbed 3.2% to 15.22, after a 7.9% drop since the beginning of the month. 
Wall Street-listed Brazilian stocks remained some of the best performers after support for conservative, pro-business candidate Aecio Neves surged in the first round of Brazil's elections. Neves, who swept 34% of votes from a previous pre-election poll of 26%, failed to unseat incumbent President Dilma Rousseff but will have another chance to do so in the second round of voting on Oct. 26. Exchange-traded fund iShares MSCI Brazil Index (EWZ) spiked 6.1%, while Rio-based oiler Petrobas (PBR) jumped 14%, Itau Unibanco (ITUB) climbed 8% and steelmaker Vale (VALE) added 2.8%.
After 12 consecutive weeks of gains, the U.S. dollar paused on Monday morning as a fortified job market raised prospects the Fed could increase interest rates by mid-2015. The euro was up 0.89% in relation to the dollar, trading at $1.26 to 1 euro.
In economic data, U.S. consumer spending fell to $87 per day in September from an average $94 per day over the previous two months, according to the Gallup U.S. Consumer Spending Measure. Though sequentially lower, the measure came in higher than $84 in September 2013 and is an improvement on the $60 to $70 range seen from 2009 to 2012.
Hewlett-Packard (HPQ) was dominating business headlines Monday. The tech company confirmed plans it will separate its personal computer segment from its enterprise-geared business. Shares were up 5.6%.
In M&A news, medical supplies companies Becton Dickinson (BDX) and CareFusion (CFN) were surging after the former agreed to buy the latter in a cash-and-stock deal worth $12 billon. Becton Dickinson was up 7.6%. CareFusion popped 23.2%, the best-performing stock on the S&P 500.
Liberty Ventures (LVNTA) , one of John Malone's many spinoffs, announced that it would receive $1 billion in cash after its board approved splitting partner company Liberty Interactive's (LINTA) cable shopping and digital commerce businesses. Liberty Interactive shares were up 6.2%, while Liberty Ventures sank 11.6%.
RadioShack (RSH) was the benefactor of an $120 million investment from shareholdersStandard General and Litespeed Management, a capital infusion that will help sustain operations through the holiday-shopping season. Investors are bearish despite the last-ditch effort to save the retailer. Shares were down 11.1%.
While Alcoa (AA) heralds the unofficial kickoff of earnings season on Wednesday, The Container Store (TCS) will showcase its most recent quarter with an earnings report out after Monday's closing bell.
--Written by Keris Alison Lahiff in New York.